Baseball Hall of Fame: Tim Raines Deserves Enshrinement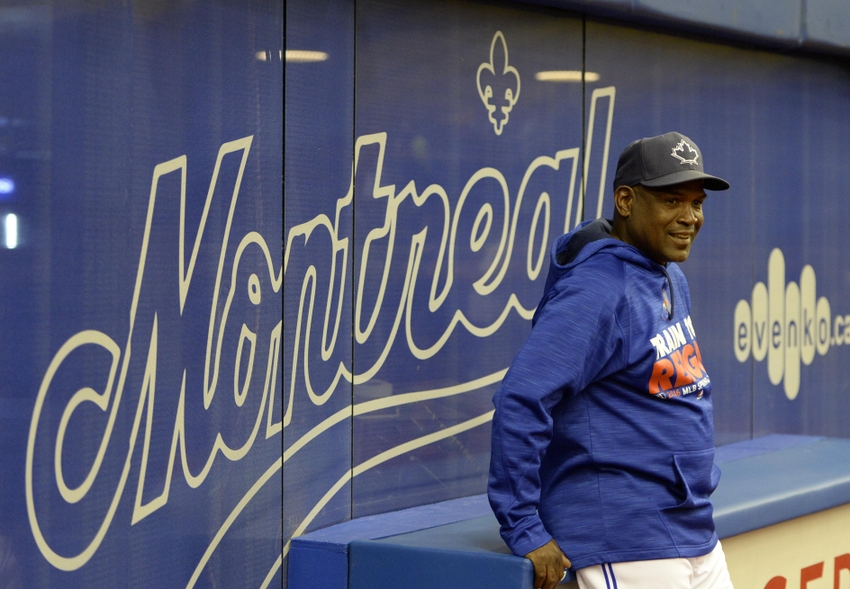 The Baseball Hall of Fame voting results will be released in a couple of months, and a former Montreal Expos star may be the voting favorite.
Voting for the next class of inductees into the Baseball Hall of Fame will take place over the next couple of months.
One of the leading contenders for enshrinement in 2017 will be former Montreal Expos outfielder Tim Raines. One of baseball's biggest stars during the 1980s, Raines is in his final year of eligibility to be considered by the regular voters.
When you examine Raines' career, it becomes increasingly difficult to determine why he is not already enshrined at Cooperstown.
Raines played in parts of 23 seasons in Major League Baseball from 1979 through 2002. He became a starter for the first time in 1981, and played with the Expos through the 1990 season after which he was traded to the Chicago White Sox.
He then played with the ChiSox through 1995 after which he was dealt to the New York Yankees. Raines would win the World Series with the Yanks in both 1996 and 1998.
More from Call to the Pen
Raines would hang on for a few more seasons, making stops with the Oakland A's, Baltimore Orioles, and Florida Marlins.
He also made a brief return to Montreal in 2001, and finally retired after playing in 98 games at age 42 during the 2002 season in Florida.
Raines led Major League Baseball in stolen bases every year from 1981 through 1984, stealing 70 or more bags in every one of those seasons and then on through the 1986 campaign.
He led all of baseball in runs scored in both 1983 and 1987, and scored 90 or more runs on eight occasions.
Raines led the National League in doubles in 1984, and won an NL batting title in 1986 when he also led the league in on-base percentage.
The 1981 NL Rookie of the Year runner-up, he won the Sporting News NL Rookie of the Year honors that season.
Raines was an NL All-Star each year from 1981-87, and received NL MVP votes seven times, finishing 5th in the voting for the 1983 season.
He won a Silver Slugger Award in 1986, and was the Most Valuable Player of the 1987 MLB All-Star Game.
The Montreal Expos became an expansion team in the National League for the 1969 season, the first franchise outside of the United States. The club existed north of the border through the 2004 campaign after which the team was relocated to Washington, becoming today's Nationals.
Raines is second in all-time career WAR in Expos/Nationals franchise history to Hall of Famer Gary Carter, and just ahead of Hall of Famer Andre Dawson. In 2013, Raines was elected to the Canadian Baseball Hall of Fame.
He is the Expos' all-time career leader in runs, singles, triples, walks, stolen bases, and runs created. Raines holds the club single-season records for plate appearances and runs, and shares the single-season triples record.
The trio of Raines, Carter, and Dawson played together from 1981 through the 1984 season. In 1981 they led the Expos to their only postseason appearance. That year, Montreal defeated the Philadelphia Phillies in a dramatic five games in the first-ever NLDS before losing a tough five-game NLCS to the Los Angeles Dodgers.
A speed player, Raines' final career numbers reveal 808 stolen bases and a career .294/.385/.425 slash line with 1,571 runs scored, 430 doubles, and 113 triples.
Per the Daily Ace Report (subscribe here), Raines had four seasons in which he produced 70+ steals and 50+ extra-base hits, more than any player in baseball history. In 1983 he became the first player in the 20th century and one of only three all-time to record a 90+ steals and 50+ extra-base hits season.
He has a career 69.1 WAR figure, ranking as the 108th highest player of all-time. He is 73rd all-time among position players.
Raines served as a minor league manager and a big league coach after retiring, and was the White Sox first base coach when the club won the 2005 World Series.
The lone controversy in Raines' career involves his use of cocaine during the 1980s. That was the recreational drug of choice for many players in those days. Raines was one of many players to testify in the Pittsburgh drug trials of 1985, a catalyst for a major MLB drug scandal at that time that included other high-profile players including Keith Hernandez, Dave Parker, and Vida Blue.
Raines was first eligible for the Hall of Fame voting in 2008 when he received just 24.3 percent of the vote. His case has been taken up by sabermetricians in recent years, and his vote share has steadily risen.
Last year, Raines finished fourth in the voting for Hall of Fame induction behind the two men who were ultimately enshrined, Ken Griffey Jr. and Mike Piazza, and former Houston Astros first baseman Jeff Bagwell.
Receiving 69.8 percent of the voter support, just a bit short of the 75 percent required for enshrinement, Raines is considered a favorite this time along with Bagwell, who received 71.6 percent, and one of the game's great closers, Trevor Hoffman, who received 67.3 percent of last year's vote.
Tim Raines was a difference-making player for the entirety of the 1980s, and is on the Montreal Expos' symbolic "Mount Rushmore" as an all-time player. In my opinion, it is time for the voters to honor him with a bust in the Baseball Hall of Fame.
This article originally appeared on