Baseball Hall of Fame 2017 ballot: Who's in and who's out?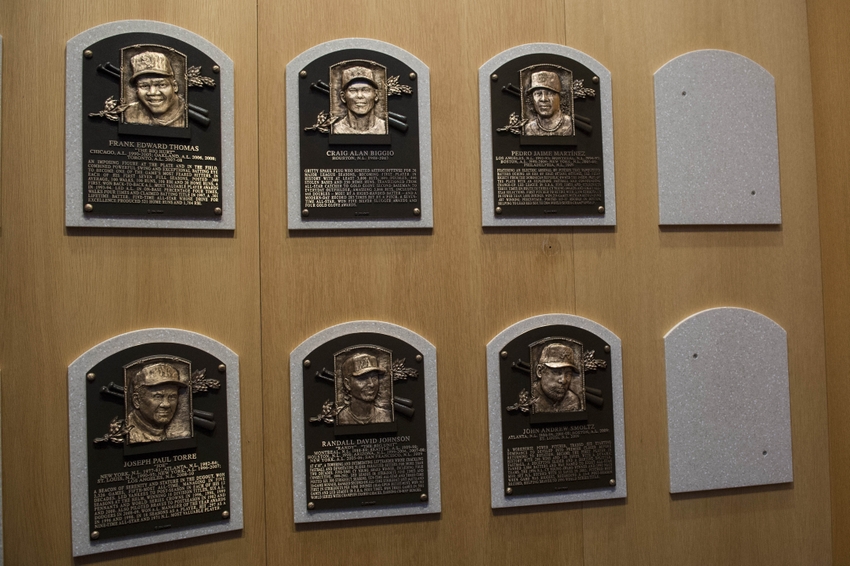 Major League Baseball and the BBWAA have announced the ballot for the 2017 Hall of Fame class. Who has the best shot at being inducted?
Baseball's Hall of Fame ballot for the 2017 class has been released and features 34 players. There are several very interesting candidates on the ballot, including first-timers Vladimir Guerrero, Ivan "Pudge" Rodriguez and Manny Ramirez. To stay on the ballot for a second season, eligible players must receive at least five percent of the vote.
The 2016 vote sent two players to Cooperstown, Ken Griffey Jr. and Mike Piazza. Jeff Bagwell came up just 15 votes short of induction, while Tim Raines and Trevor Hoffman both topped 65 percent. The only player to miss out on the Hall of Fame after receiving 65 percent of the vote at least once is pitcher Jake Morris, so that bodes well for Hoffman and Raines.
Once again, questions regarding steroid and performance-enhancing drug use will surround the ballot. Barry Bonds, Roger Clemens, and Sammy Sosa remain on the ballot. Ramirez's career obviously ended in disgrace after two positive tests, but he is one of the best right-handed hitters in baseball history. Rodriguez was also tied to steroids by admitted user Jose Canseco and offered a weak non-answer when questioned in the past. Steroids will continue to be a prickly subject for voters, but support for Bonds and Clemens rose last year with the removal of older voters.
So, let's start at the top with the most likely candidates for the Hall and break down who's in and who's out.
Jeff Bagwell
Every player who has gotten as close to Cooperstown as Bagwell did last year has eventually gotten in, and he is a sure lock to join Houston Astros teammate Craig Biggio in the Hall this year. Between the two of them, Bagwell and Biggio helped give the Astros one of the most potent lineups in the league.
Bagwell debuted on the ballot in 2011 and received 41.7 percent of the vote. His candidacy has been climbing gradually, as voters become more accepting of players from the height of the steroid era. It must be noted that Bagwell was never linked to PEDs and did not fail the league's anonymous survey drug test in 2003.
The longtime Astros first baseman will go into the Hall with many accolades. He is one of only 12 players in league history to hit 400 home runs while recording an OBP over .400. Bagwell is also the only first baseman with 400 homers and 200 steals. He is also the only first baseman with two 30-30 seasons. Bagwell made the All-Star team four times, won the Rookie of the Year and MVP awards, and led the league in at least one offensive category in four separate years. After the age of 32, Bagwell's numbers tailed off significantly, only lending more credence to the belief that he did not use steroids.
Verdict — Bagwell is inducted easily
Tim Raines
Raines is in his tenth and final year on the ballot. His candidacy has received a major boost in recent years thanks to the increased acceptance of advanced metrics. Raines should see the final-year bump and climb over 75 percent and enter Cooperstown.
It's hard to understand why Raines was never embraced as an easy Hall of Famer. He gets knocked down a peg because he was only the second-best leadoff hitter of his generation, behind only Ricky Henderson. That's an unfair comparison as Henderson is one of the best ever. Raines did not reach the mythical 3,000 hit barrier, but he did record 2,605 hits and 1,330 walks. In total, he was on base more often than slam-dunk Hall of Famer Tony Gwynn.
Raines has had a long path to Cooperstown because he can be viewed as a "compiler," a player who hung on well past his prime to rack up numbers. There is some validity to that claim; Raines played over 130 games only once after the age of 32. Regardless of how many years it took him to compile those numbers, Raines rates as a Hall of Famer, and will finally be enshrined this year.
Verdict — It took long enough, but Raines is in
Trevor Hoffman
Hoffman retired as the all-time leader in saves with 601. Mariano Rivera has since eclipsed that record, but Hoffman still holds a handful of MLB records. He has the most 40-save seasons overall, most consecutive seasons with 40 saves and the all-time highest strikeout rate for a reliever. In his first season on the ballot, Hoffman came up just short with 68.3 percent of the vote.
Unfortunately, Hoffman came up against some bias as a closer. He is the first elite closer since the full acceptance of one-inning specialists in baseball to test the ballot and was still turned away. Designated hitters encounter the same line of thinking from voters. Unlike Rivera, who will walk in easily on his first time on the ballot, Hoffman did not have a lengthy track record in the postseason. He spent most of his career in anonymity pitching for the moribund San Diego Padres.
The second time will be the charm for Trevor Hoffman, but it is unfortunate that it took two attempts in the first place. If the closer has been widely accepted in MLB front offices and clubhouses, why must one of the best closers in league history be forced to wait his turn to enter Cooperstown? How far down the all-time saves list will voters be willing to go given all of the dominant relievers who have emerged over the past two decades? Billy Wagner, way down the ballot with 10.5 percent last year, deserves more consideration.
Verdict — Hoffman gets his spot in the Hall, one year late
Ivan Rodriguez
It took Mike Piazza a few attempts to reach the Hall of Fame due to one reporter's insistence that he saw acne on the catcher's back during the height of the steroid era. Piazza never tested positive. If that speculation was enough to keep Piazza out, arguably the best offensive catcher in league history, Pudge Rodriguez may also have to wait his turn for induction.
Based strictly on numbers, Rodriguez is a first-ballot Hall of Famer. He made 14 All-Star teams, won an MVP, claimed seven Silver Sluggers, and took home 13 Gold Gloves (including ten straight from 1992 to 2001). Spending almost his entire career behind the dish, Rodriguez nearly reached 3,000 hits while batting close to .300. He also won a World Series with the Florida Marlins in 2003.
Rodriguez got more hits and scored more runs than anyone who has suited up behind the dish in league history. During his time in the league, he had the best arm and threw out 46 percent of base stealers. That should all add up to an easy induction, but it is far too easy to believe the entire Texas Rangers roster of the mid-to-late nineties was on the juice.
Verdict — Close, but the ties to steroids are too strong for a first-ballot induction
Vladimir Guerrero
During his time in the big leagues, Vlad Guerrero was one of the most exciting players to watch. Had he spent the early years of his career with any team but the Montreal Expos, Guerrero would have won more than one MVP award. As it is, he garnered MVP votes in 12 of his 16 years in the league.
Guerrero's first five full seasons in the big leagues compare very well to two-time MVP and current gift to baseball Mike Trout. Guerrero hit 197 home runs while driving in 582, stole 111 bases and slashed .325/.391/.602. Trout checks in with 163 homers, 481 RBIs, 139 steals, and a .310/.410/.564 line. The numbers Guerrero put up are taken with a grain of salt by some, however, as they came during the height of the steroid era, but most view him as one of the best clean hitters in the history of the game.
Vlad had it all early in his career — power, speed, high batting average, remarkable hand-eye coordination, and personality. When he left the Expos and joined the Los Angeles Angels, he was given a bigger stage on which to perform, and hardly disappointed. As a Hall of Fame candidate, however, Guerrero may encounter some tougher sledding than he ever did in his career. He does not check off the major boxes for 3,000 hits or 500 home runs and did not win a World Series. He hit more than 40 home runs in a season only twice. As an all-around batter, few can match Guerrero's prowess. The 3,000-hit club and 500 home-run club would have been well within reach had Guerrero's body been able to hold on for three more seasons, but it let him down.
Verdict — Missing 3,000 hits and 500 home runs keeps Vladdy out for now, but he will have his day in the sun
The Steroid Guys
Even the most cynical baseball fan or reporter cannot tell you with a straight face that Barry Bonds and Roger Clemens are not two of the greatest baseball players in the history of the world. Did steroids turn Bonds into a freakish combination of plate discipline and power past the age of 40? Without a doubt. Would he have hit 600 home runs and stolen over 500 bases without steroids? Most would say yes. Same goes for Clemens. Not a seven-time Cy Young winner without steroids, but still one of the best pitchers in baseball history without them.
Drawing the line with these two is tough. The Hall of Fame has always held itself up for something more than a place to worship baseball players for their pure numbers. For that reason, Bonds and Clemens are not enshrined, even though the bulk of their steroid abuse came before the league had instituted a full-scale drug testing policy. Now, those semantics should not give them a free pass for using drugs that are illegal in the United States of America. It was wrong to use steroids regardless of the rules and everyone knew it.
Bonds and Clemens were still hovering below 50 percent in the 2016 vote, and might get another bump this year. At some point, everyone who is willing to accept them in the Hall has cast that vote, and the other side will not be convinced. Manny Ramirez, who failed two tests at the end of his career while also being named on the anonymous survey, gives the voters another tainted name to chew on. Ramirez might have an even harder time being inducted than Bonds and Clemens because his numbers are good, but not so good that steroid use can be overlooked.
Verdict — Not this year, but support for the steroid users grows again
Mike Mussina
Mussina had a memorable career for the Baltimore Orioles and New York Yankees, winning 270 games. He also went out on top at the age of 39, winning 20 games in his final season in the major leagues. Mussina left wins on the table by not pitching at least one more seasons and that has probably cost him during his first three years on the ballot.
The problem with Mussina as a Hall of Fame candidate is the quiet, unspectacular way he went about his business. He never won a Cy Young, but finished in the top-five six times. Mussina also won seven Gold Gloves, and was always one of the best fielders in the league. The right-hander from rural Pennsylvania never dominated the league, but was remarkably consistent in a difficult era for starting pitchers.
Over 18 seasons, Mussina accumulated 83.0 WAR according to Baseball-Reference's formula. That ranks him 23rd all time, ahead of names like Nolan Ryan, Tom Glavine, Bob Feller, and Don Drysdale — all Hall of Famers. Mussina's 83 WAR is over 12 percent better than the average for starting pitchers in the Hall of Fame. Mussina's peak years rate below the average Hall of Famer, but even by the outdated win statistic, he still rates ahead of many Hall of Famers.
The only knock on Mussina is that he was never one of the "it" pitchers in baseball. There's truth to the notion that Mussina was never the best pitcher in baseball, but he was almost always among the top 10. What he lacks in wow factor, Mussina more than made up for with shear consistency over an 18-year career.
Verdict — Not this year, but Mussina leaps over Curt Schilling and gets closer to Cooperstown
Curt Schilling
Deep down, most writers probably believe Curt Schilling is a Hall of Famer based on his baseball performance. Unfortunately, Schilling has come completely undone in the public eye during his post-career days. He has shown his true colors, spouting wildly xenophobic, bigoted and downright incorrect opinions. Having been fired by ESPN, Schilling is now working for right-wing news site Breitbart News.
Not exactly the type of things one should be doing when the Hall of Fame still has a nebulous character clause.
Whether or not you agree with Schilling's political views or believe fully in the right to free speech, he has to be smarter. Yes, the Hall of Fame already has more than a few bigoted, racist players within its ranks, but they were inducted in a different time. Fair or not to players whose views do not align with the mainstream media, sharing Islamophobic or transphobic memes on Facebook is not the right way to reach the Hall of Fame. The numbers are there, but Curt Schilling is the one keeping Curt Schilling out of the Hall of Fame.
Verdict — Your crazy uncle on Facebook might vote for Schilling, but the baseball writers take a pass

Edgar Martinez
Let's talk for a second about two awards handed out by the BBWAA and Major League Baseball — the Edgar Martinez Award for the best DH in the game and the Trevor Hoffman Award given to the best closer in the National League. Neither player, who the league felt so strongly about to name an award after them, is in the Hall of Fame. Hoffman will get in this year, but Martinez still has a wide margin to close before induction.
Martinez is facing an uphill climb as a DH who never really played the field or slugged home runs left and right. Frank Thomas was inducted, but did spend the early years of his career playing a passable first base. Thomas also hit over 500 home runs and won an MVP award. Martinez could not fully establish himself as a major leaguer until age 27 because of his defense.
David Ortiz reaching 500 home runs should all but guarantee his place in Cooperstown. Will that help Martinez up his vote total? if voters are willing to accept Ortiz because he hit 500 home runs, played well in the playoffs and smacked his gloves together and said funny things sometimes, then there has to be a place for Martinez in the Hall of Fame. Martinez wipes the floor with Big Papi when it comes to most advanced metrics, and even played more defense than him early in his career.
Verdict — Ortiz gives Martinez a boost, but it still takes another year or two for him to reach the Hall.

The Best of the Rest
Outside of the players mentioned on the previous slides, no one else on the ballot has a legitimate shot at making the Hall. That being said, there are still a handful of interesting candidates to touch on.
Larry Walker and Fred McGriff both had very productive MLB careers, but Walker is hurt by playing his prime years in Coors Field. McGriff fell just short of 500 home runs, and was never one of the most dominant hitters in the league. In a different time, McGriff's 492 home runs and stellar defense would have gotten him into the Hall of Fame, but the bloated numbers of the steroid era make it harder. Sammy Sosa has never come close to matching the support of fellow steroid users Barry Bonds and Roger Clemens. Sosa really only did one thing well in his career, namely hit home runs. Without the juice, Sosa may have made a few All-Star teams, but would never have produced multiple 60-homer seasons.
Among the other first timers on the ballot, Jorge Posada, Edgar Renteria, Jason Varitek, Mike Cameron, and Magglio Ordonez all stand a chance to top five percent and stay on the ballot for at least one more year. None are first-ballot Hall of Famers.
This article originally appeared on