Baltimore Orioles: Time to Rebuild or Reload?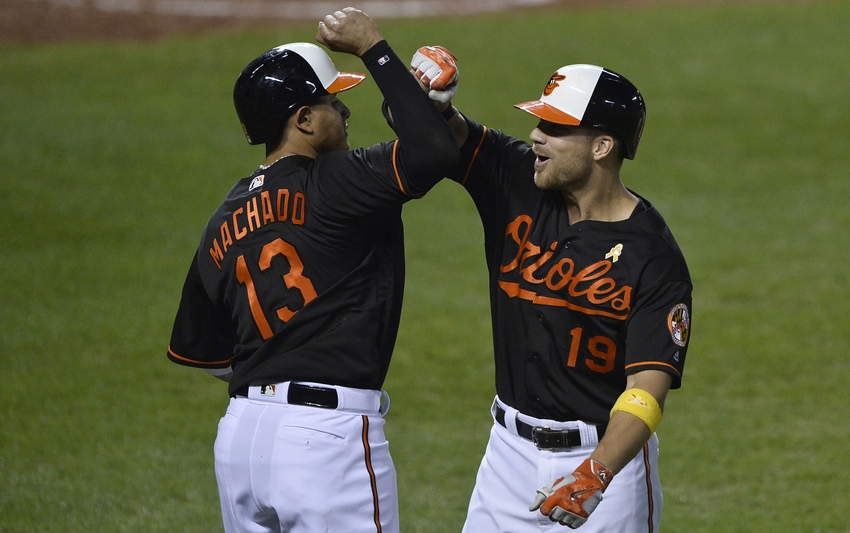 The Baltimore Orioles have many questions to answer this offseason about free agents, the makeup of their team and more. But the first one is that timeless query: Should they tear it all down, or stay the course?
You wouldn't think a team that just came off an 89-win season and a Wild Card berth would be seriously considering a rebuild. But for a variety of reasons, the Baltimore Orioles could mull such a plan over as they plot their course for this offseason and beyond.
The O's are in a bit of a tough spot in terms of how their team is constructed and the long-term sustainability of their model. This is a club that likes to hit home runs – and they've been really good at it. They led the league with 253 round-trippers this year, 28 more than the second-ranked St. Louis Cardinals. However, Baltimore finished at a less remarkable 12th place in terms of runs scored, with 744. Despite their power-hitting prowess, they were somewhat of a one-dimensional offense.
Mark Trumbo led the team (and all of MLB, for that matter) with 47 homers, but he's now a free agent. And there hasn't been a whole lot of talk about the Orioles making a play to keep him. Matt Wieters, Pedro Alvarez and Steve Pearce – who combined for 55 home runs – could all make their exits as well. Those are a lot of homers to replace, meaning the O's will be even more hard-pressed to replicate their success next year.
MLB Free Agency: Best Options for Dexter Fowler
Part of the problem is that the team's offense propped up a lackluster pitching staff. Orioles starters posted a 4.72 ERA as a unit, good for just 24th in baseball. Chris Tillman did a solid job leading the rotation, but he's not a number-one on most teams. Baltimore was ultimately bailed out by its bullpen, on the strength of a third-ranked 3.40 ERA and a season for the ages from closer Zach Britton.
One of the franchise's biggest issues is that its farm system hasn't really been able to support the major league roster on the pitching end. It seems lately that most of their starting pitching success stories happen somewhere other than Baltimore – case in point, Jake Arrieta. The O's minor league system was ranked a lowly 27th overall prior to the start of the season by MiLB.com.
The club could make a blockbuster move this offseason that would help restock its minor league coffers, but it would be a hard pill to swallow. After a campaign that even garnered some Cy Young buzz, Zach Britton's value will likely never be higher. The Orioles saw what the Yankees got in return for dealing Aroldis Chapman and Andrew Miller at the deadline. If you could get a couple bona fide pitching prospects in return, why not consider trading Britton?
Britton is under team control for two more years, meaning interested teams would likely be more willing to pay a higher price for him than if he was a rental. Heck, just three months of Aroldis Chapman netted Gleyber Torres for the Yanks. This winter's free agency class has its share of top closers, but if the O's hold off for a bit, and maybe even wait to dangle him at next season's trade deadline, it's not too hard to imagine them being able to secure a formidable haul for Britton.
Such a move would hurt in the short-term, denting the team's chances in 2017 and 2018. But it would allow Baltimore to look forward to its next potentially franchise-altering crossroads: the 2018-19 free agent class. Their own superstar third baseman Manny Machado will be one of the most coveted names in that period, and for good reason. He's building a compelling case to be considered the game's best overall player, and he will still only be 26 years old when he hits the market.
More from Call to the Pen
Some are already counting out the traditionally frugal Orioles from the future Machado bidding, but they have shown that they're willing to spend to retain players they view as franchise cornerstones. Last offseason they gave seven years and $161 million to slugger Chris Davis, a favorite of owner Peter Angelos. In 2012, they inked Adam Jones to a six-year, $85.5 million extension.
Machado should absolutely fit into that category. It wouldn't make sense for them to go to the well for others and not him. That might be easier said than done, though. His contract will likely dwarf Davis' and Jones' in terms of both money and years. Plenty of high-spending clubs will be vying for his services.
That said, re-signing Machado should be the Orioles' number-one long-term priority. They will need to flex their financial muscles like never before, but he is one of the few talents truly worth it. Even if they fall short, that offseason's free agency pool is deep with marquee players, providing them a solid safety net for improving their club.
The Orioles are in a position where they can perhaps have it both ways. Cashing in on Britton now wouldn't necessarily be the harbinger of a full-on rebuild. It could instead be the pathway to an improved farm system and more financial flexibility heading toward the 2018-19 offseason.
Going all-in on a player is always risky, but Manny Machado is exactly the kind of player you do it for. There's no guarantee he'll sign, but the O's shouldn't lose out for a lack of trying. At the very least, they will have set themselves up to be a younger, more dynamic team.
This article originally appeared on