Baltimore Orioles: Adam Jones Concerned About Low Attendance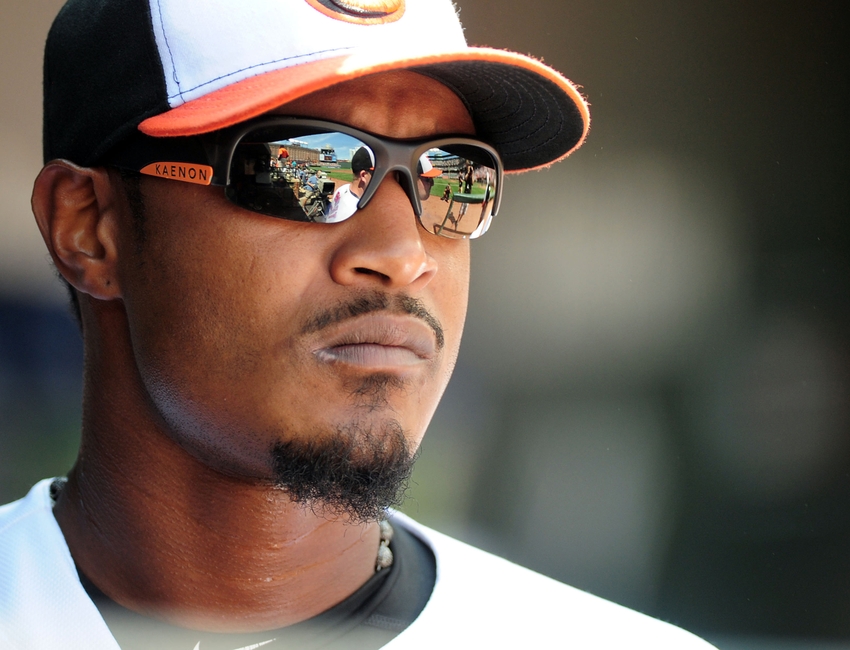 Baltimore Orioles outfielder Adam Jones critiqued the lack of attendance at O's games this season, questioning why fans have not shown up to support a winning team.
Baltimore Orioles outfielder Adam Jones voiced his opinion on poor attendance at Camden Yards this week, calling the lack of fans "eerie".
Jones is not incorrect about the decline in fans at the ballpark. Typically, the Orioles are somewhere in the middle of the pack in terms of AL attendance. This season, they rank 10th – ahead of sub-.500 clubs like the Rays, Athletics, White Sox and Twins. They also rank above the Cleveland Indians, who have had notoriously poor attendance the last several seasons.
More from Call to the Pen
To put some numbers on it, so far this season the O's are averaging 26,445 fans per game. Last year, Baltimore averaged over 29,000 per game. In 2014, when the O's made it to the ALCS, their average was 30,426 tickets sold per night.
So why aren't fans coming out to show their support?
Jones lists a few possibilities: school has started, the weather has not been good, and ticket prices have increased. He also mentions that some fans are not as comfortable coming downtown as they were in previous seasons.
But in his comments (as reported by ESPN), Jones voiced concerns that the novelty of having a winning club in town has worn off for Baltimore fans:
"I get all that. I'm just saying, the city wanted a winner — the last five years we got 'em a winner. I don't if know if they've gotten complacent already on us winning. I wish they haven't. I hope they haven't. Because winning is fun every single year, and being in this race is exciting every single year."
The theory that fans are bored by so much winning seems unlikely:
In July, Nielsen data showed that the Orioles had the third-highest television rating in MLB. On an average night, 79,000 households in the local viewing area tune in to MASN to catch the game. That's a huge jump over previous seasons.
With television viewership at such high levels, there is absolutely an interest in what Jones and the O's are doing on the field – even if fans aren't showing up to the stadium. The issue is likely more about tangible, correctable factors than a lack of fan support overall.
For Jones, that's likely small comfort. It's disappointing to come home and play to a mostly empty stadium, after playing to packed crowds on the road.
Jones addressed the importance of fans' energy in his comments:
"The fans' impact at Camden Yards is unbelievable. I think they know that. I think they understand that, and the players understand that…

"We've fought our tails off for 145 games to put ourselves into a unique situation as of September, and that's what you say. You want to play important September baseball. And part of September baseball, especially if you're in the heat, is fans. That just is what it is. Every place you go, the fans are going to be there."
For the Orioles' marketing and promotions teams, this is a golden opportunity to improve next season. With only one weekend series left in the season, there's little they can do this year to fill the stadium for the final three regular-season games. Next season, however, the O's staff needs to focus on converting those television viewers into stadium visitors by addressing things that impact fans most, like promotions, pricing and safety concerns.
While there will certainly be fans who take issue with Jones speaking out, the concerns he voiced are real issues for the Orioles. A winning team should draw big crowds, especially this late in the season.
This article originally appeared on