Atlanta Braves: #VoteFreddie (again)!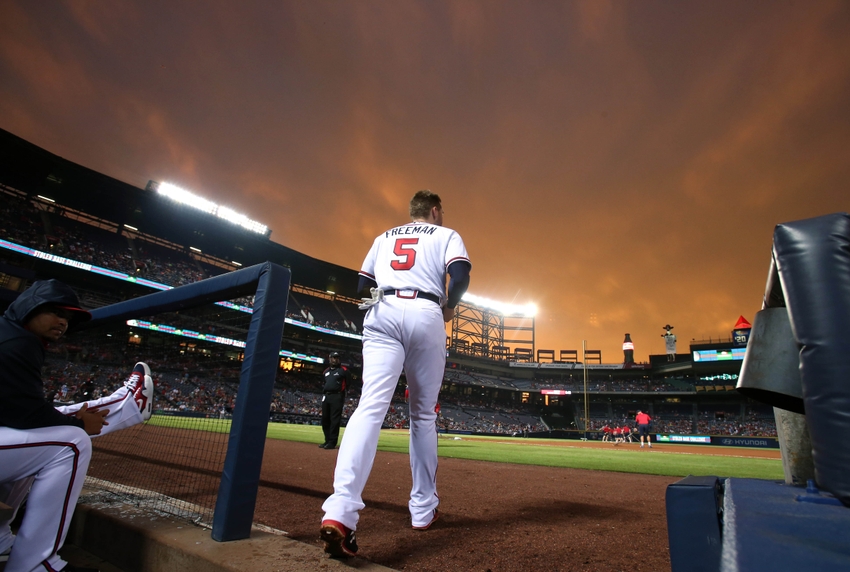 Braves'  fans have an opportunity to help reward our best hitter with a trophy befitting his 2016 season's accomplishments.
It's That Time of the Year Again – It's awards season.
While us Atlanta Braves' fans can do nothing more than twiddle our thumbs as the Baseball Writers' Association of America chooses each leagues' MVP, Cy Young, Rookie of the Year, and Manager of the Year, we do play a part in some of the other awards.
Right now, it's time again for us to #VoteFreddie (Trivia: on how many occasions has that hashtag been used?). Freddie Freeman represents the Braves as a nominee for the Hank Aaron Award, which is given to "two players who kept swinging better than anyone else in each league," according to MLB.com.
Why Freddie?
If you're not into stats, you might've missed a couple of key numbers for why Freddie deserves this award.
Among the field of NL nominees for the Hank Aaron Award, Freddie ranks…
1st in Extra Base Hits (83).
4th in Average (.302).
3rd in Home Runs (34)
3rd in  OPS (.968)
He was also the only player nominated by either league to hit for the cycle this season, for what it's worth (John Jaso and Rajai Davis hit for the cycle this year, too. Still cool, though).
By finally adding elite power into his repertoire, Freddie is the balanced hitter in the NL right now. His numbers are extremely impressive, especially when taking into account the fact that he started out slowly (.080 average through the first eight games).
After the poor start, Freddie validated why John Coppolella would rather trade his right arm than trade Freddie, as he was scorching hot for essentially the rest of the season.
His 30-game hit streak was the longest in the majors this season, third all-time for an Atlanta Braves' player (Dan Uggla 33, Rico Carty 31), and tied for 5th best this century.
How To Vote
Thankfully, it's super easy to cast your vote.
Option 1:  #VoteFreddie on Twitter. Tweet your heart out.
Option 2:  Follow the link in the tweet below (up to 10 votes per day).
In a season in which Freeman wasn't an All-Star and (unfortunately) doesn't look to be a front-runner for MVP, hopefully us fans can do our part to make sure his best season yet doesn't go unrewarded.
Voting Ends 10/14!
(Trivia Answer: 4.  #VoteFreddie for the 2013, 2015, and 2016 All-Star Games and now for the 2016 Hank Aaron Award.)
This article originally appeared on