Atlanta Braves Sign Lefty Reliever Jacob Lindgren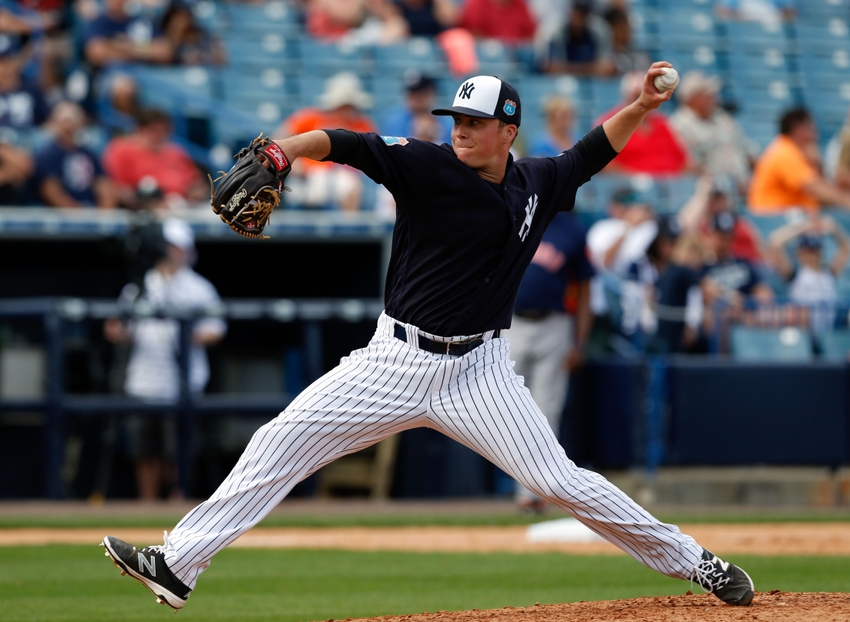 The Atlanta Braves today announced the signing of former Yankee farmhand Jacob  Lindgren to a one year major league deal.
Lindgren in recovering from ligament replacement surgery and won't pitch in 2017. His signing fill the last empty spit on the Atlanta Braves 40 man roster.
Historical Lindgren
The Cubs selected Jacob Lindgren (@JLindgren19) out of high school in the 12th round of the 2011 Draft but he elected to attend Mississippi State University instead. Baseball America's pre-2014 draft scouting report  ($)  indicates that an injury – line drive off the knee and rolled ankle in the same play – at the end of the 2013 season cost him his Friday starter job.
That summer he used a "93-94 mph with his fastball with heavy life and arm-side run" and "and his hard, plus slider in the low to mid 80s" as a reliever in the Cape Cod league. He made six appearances that summer including one start and struck out 18 while walking one in 14 IP, a precursor of things to come.
Pitching from the pen in his junior year at Mississippi State Lindgren showed Craig Kimbrel like dominance and earned him the nickname "The Strikeout Factory"." He had some control issues throwing 18 wild pitches but it didn't affect the results. According to the Baseball Cube, in his 55 1/3 IP over 26 appearances he struck out 100, walked 25 and posted a 0.81 ERA, 0.87 WHIP and 16.27 K/9.
That season earned him selection as a finalist for the C Spire Ferriss Trophy, given to the best college baseball player in Mississippi. Understandably is also convinced the Yankees to ignore his 5'11, 210 pound frame and select him in the second round (their first pick that season) of the 2014 draft for a reported $1,018,700 signing bonus.
Minors
Lindgren's first year provided him a tour of Florida, Carolina and New Jersey. Like most rookies Lindgren began his professional career in rookie ball with the GCL Yankees; that lasted one inning. He clearly over matched the opposition there and was immediately moved to low A ball.
It took four appearances – five IP, 11 K, no walks –  in low A to convince the Yankees he was too good for that group as well and promote him to the A+ Florida state league.In Tampa he appeared in six games, threw 7 1/3 innings, struck out 17 and walked four.
That performance booked him a flight to AA Trenton. The move to AA slowed him down a bit but not much. He saw action is 15 games for Trenton, threw 11 2/3 innings struck out 18 and walked nine.
He started 2015 in AAA and appeared in fifteen games throwing 22 innings striking out 29 and walking 10 with a 1.23 ERA and 1.18w WHIP before getting the call to come to New York.
Hello New York
The wildness that he displayed in college didn't effect his progress through the lower levels of the minors but his walk rate continued to creep up as he move towards the top. He made his major league debut against Kansas City on may 25th and threw two scoreless innings striking out two and walking two.
He made six more appearances for the Yankees in 2015 striking out six, and walking two but he also allowed three home runs. On June 12th the Yankees sent him back to AAA but before he on the 21st they announced he would have surgery on his elbow to remove a bone spur ending his season.
He began this year rehabbing that elbow in A+ ball but after six games the ligament came apart and on August 5th he had surgery to replace it.  The Yankees nontendered him on December second to clear a roster spot and the Braves pounced.
That's a Wrap
The Lindgren signing is without doubt the result of having former Yankee scouts on the Braves staff. He's a Mississippi native and the offer of a major league contract and the personal involvement of scouts he knew made his decision to ditch the pinstripes in favor of the Tomahawk an easy one.
His progress will resemble that of Max Fried. Both had August TJ surgeries and spent their first year with the Braves rehabbing. Fried made a successful return this season and looks like a good investment for the future.
Lindgren is under team control through 2023 so the Braves have time to help him through rehab and find out if he can get back to being a dominant reliever again.
He does take a roster spot but he'll be put on the 60 day DL as soon as it's possible to do so and open that spot again. Those worried about lacking a roster spot for the rule five draft should really relax.
As I pointed out in my post on the subject. the players available have had five years earn a 40 man spot and failed. When  suggesting taking a rule 5 player think about whose place on the 25 man roster he would take. There are players there who could be replaced but would your rule five player be worth replacing – and possibly losing – that player?
As we saw today the roster is still in flux and the front office is very aware of who is available where.  Lindgren is a perfect example of that; a potential reliever with closer stuff for virtually nothing. I'd say that's a pretty good pickup.
This article originally appeared on