Atlanta Braves Run into the Teeth of DeterminedTigers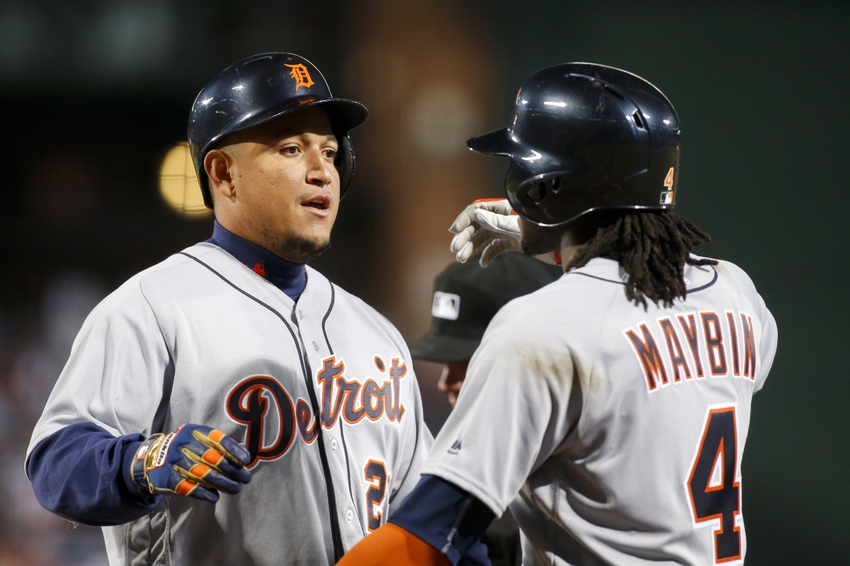 With all of the offense the Braves have generated over the past couple of months, Friday night's contest stood in stark contrast and underlined the job done by Tigers' starter Daniel Norris.
It was Homecoming Night Friday for the game between the Detroit Tigers and Atlanta Braves with a number of players getting to exchange greetings with former teammates.  But it was Miguel Cabrera and Daniel Norris who lead the parade and kept the Tigers in the thick of their pursuit of an AL Wild Card berth.
The Braves got to re-unite with Erick Aybar, Justin Upton, and Cameron Maybin… assuming that they actually recognized more than a handle of the remnant of Braves still on the roster from their varied playing time in Atlanta.
One of those – Upton – got in on the visitors' festivities with a home run deep in the seats of left-to-left-center field.  However, it was his bigger-hitting mate Cabrera who's red-hot right now and lead the attack tonight.
After a lead-off jack by Ian Kinsler and single by Maybin, Cabrera took the first pitch he saw from Matt Wisler and scalded it to center for a homer, giving Detroit an all-too-quick 3-run lead.  He then repeated the feat in the third inning to make it 4-0 as Wisler simply had trouble missing bats tonight.
After scoring again in the 5th to make it 5-0, Cabrera seemingly was content to allow others to finish up… and thus Upton's long ball to make it 6-0.
A Pitching Performance
How good was Norris?  Pitching into the seventh inning, he and reliever Bruce Rondon managed to hold Freddie Freeman both hitless and off the basepaths for a second straight game… an exceedingly rare feat this month.
On top of that, Norris struck out 8 batters, scattered 5 hits, and walked only two tonight.  Dansby Swanson had one of each of those, but little support around him.  Norris is a bit quirky – perhaps eccentric in his story – but everything was working for him as he held the Braves' bats at bay.
So for the night – the life was cut out of the Braves' bats:
2 strikeouts on Freeman
2 strikeouts on Garcia
2 strikeouts on Markakis
2 strikeouts on Swanson
Not what we've been used to seeing!
Wisler pitched into the fifth inning, but gave up 9 hits and 3 homers against just 3 strikeouts.  5 runs of Detroit's fuel belonged to him.  He just didn't have the command needed and Detroit exploited that weakness…. early and often.
Limited Amps
In that lower half of the seventh inning, Atlanta did manage to square one up against Norris.  It was from an uncanny source:  Brandon Snyder.  He's hitting only .239 for the year in limited duty, but thanks to his pinch hits – only one being a single – his slugging rate is a whopping .652… for a robust .907 OPS.
Tonight:  Snyder's 4th homer of the year got the Braves on the board.  It was 6-1.
Matt Kemp drove the ball deep three times tonight… and just missed with two of them.  The final swat did find the left-center seats in the 8th inning, another solo shot that made it 6-2.

6

2
The Possibly Very Bad News
With two outs in the top of the eighth inning, Tyrell Jenkins was pitching to Cabrera… and something happened to his pitching arm… based on the video, I would guess it was something in his elbow, but for sure:  Tyrell's body language was not good after the injury.
Jenkins is already a Tommy John survivor, having had the surgery in 2012 as a Cardinal.  I recognize that I'm getting way ahead here in the absence of a diagnosis, but the pitcher's heart-breaking reaction suggested a look of pained familiarity.  I dearly hope that's incorrect.
K-Rod (Francisco Rodriguez) came in after a long layoff to get tuned back up with a 1-2-3 ninth inning (3 strikeouts) to secure the victory for Detroit.
In related play, Toronto lost, the Orioles won, and that brings the Tigers within a half game of the second Wild Card position.  Seattle needs to win to keep pace:  they are leading Oakland early.
This article originally appeared on