Atlanta Braves of the Past Grace 2017 Hall of Fame Ballot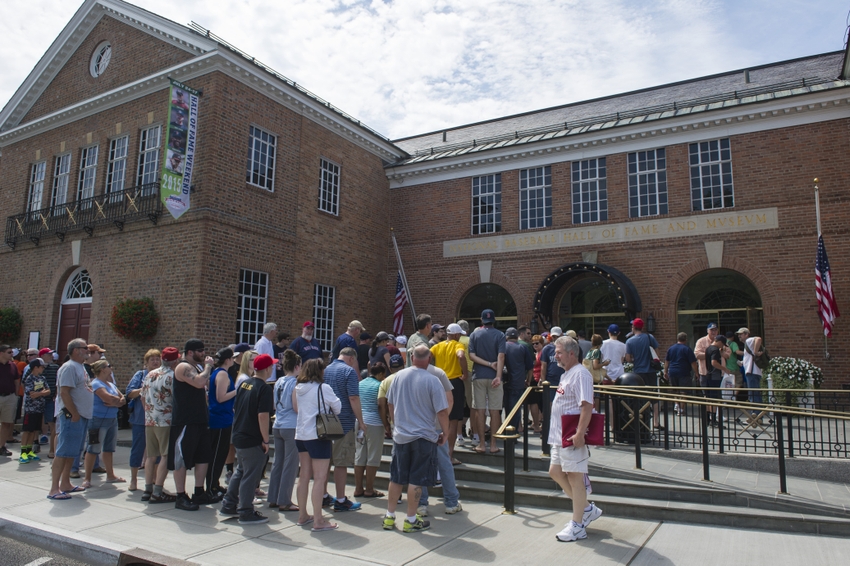 The 2017 BBWAA Hall of Fame Ballot carries six former Atlanta Braves. So, too, does the IBWAA ballot. Three first-timers and three returners. Do any of them have a shot?
The Atlanta Braves and the Hall of Fame; yes, it's that time of year again. The six former Braves on the list include three returning candidates and three new candidates.
Both the Internet Baseball Writers Association of America (IBWAA) and the Baseball Writers Association of America (BBWAA) have the same number of former Braves listed.
What's not the same are those eligible. On the IBWAA ballot, three names are missing; Edgar Martinez, Tim Raines, and Jeff Bagwell. This is because the IBWAA have already voted these very deserving guys in.
The former Atlanta Braves returning are Gary Sheffield, Fred McGriff, and Billy Wagner. Newcomers to the ballot are J.D. Drew, Derrek Lee, and Edgar Renteria.
The most prominent and by far, longest tenured former Brave, is the Crime Dog, Fred McGriff.  The Crime Dog spent his age 29 to 33 age seasons in a Tomahawk and today serves as a Special Assistant in the organization.
McGriff spent five years in three different places; Toronto, Atlanta, and Tampa Bay. Of those three, his most productive came with the Braves. He actually played approximately 300 more games in Atlanta than in Tampa and Toronto.
Josh wrote a nice, interesting piece on the case for McGriff yesterday. He goes into a lot more detail as to his chances, comparisons and more.
BBWAA Ballot
Of the former remaining Braves, at least to me, none stand a chance of getting in based on last years voter numbers. McGriff finished with the highest percentage with 20.9%.
Behind him was Gary Sheffield at 11.6% and Billy Wagner at 10.5%. It's still to be seen where Drew, Lee, and Renteria end up, but I don't see any of them reaching more than 25%-30% of the votes.
Last year, the writers only voted in two players; Mike Piazza and Ken Griffey, Jr. "The Kid" received 99.3% while Piazza garnered 83%. As many of you know, 75% of the votes have to be received in order to earn a trip to Cooperstown.
Highest vote recipients last year not elected were; Jeff Bagwell (71.6%), Tim Raines (69.8%), Trevor Hoffman (67.3%), and Curt Schilling (52.3%). All others got less than 45%.
I expect some numbers to go up for Bagwell, Raines, and Hoffman. However, they have a tough road to hoe ahead of them. For 2017, there are 19 new players eligible, headlined by Ivan Rodriguez, Manny Ramirez, and Vladimir Guerrero.
You can find out more about the newcomers and returning players eligible on the National Baseball Hall of Fame's website.
IBWAA Ballot
As a member of the IBWAA, I get to vote in our Hall of Fame inductions. Before I get into our ballot, which isn't much different, you can learn more about the IBWAA by going to IBWAA.com.
In 2016 we, the members of the IBWAA, voted in Ken Griffey, Jr. and Edgar Martinez. Piazza wasn't on the ballot for us because he made it in 2013.
Jeff Bagwell did not appear on the ballot either since he was voted to the Hall of Fame in 2015. Also, Tim Raines made it in on our ballot the same year.
In 2016, we had 230 votes cast. Ken Griffey, Jr. was named on all 230 ballots. Edgar Martinez was listed on 75.2% or 173 ballots.
Trevor Hoffman received 70.87%, followed by Mike Mussina (68.26%), Roger Clemens (66.09%), and Barry Bonds (65.65%). The IBWAA has 423 members and only 230 votes were cast.
How I Voted
In 2014, the IBWAA voted among ourselves to expand the votes allowed from 10 to 15. 2015 was the first year we could vote for that many.
This year, I submitted 11 names on my ballot. Of course, with any Hall of Fame vote, there will always be controversy or questions. The argument against PED users, whether suspected, admitted, or rumored. I have a hard time casting a vote for those suspected.
That changed, I think, this year. Admittedly, I have not read the Mitchell Report or the highly, critically acclaimed tell-all by Jose Canseco — pick up on the sarcasm?
I think my stance changed a little, simply because, well, we're running out of pre-PED era guys to vote for. If I'm having this problem, I wonder if the writers whose votes actually count are having it, too?
Either way, things will change, and I think this year you see the uptick. More "PED users" will start getting votes they didn't get in the past.
All that said, here is how I voted and the names I submitted in no particular order:
Vladimir Guerrero, Trevor Hoffman, Jeff Kent, Fred McGriff, Mike Mussina, Jorge Posada, Ivan Rodriguez, Lee Smith, Billy Wagner, Tim Wakefield, and Larry Walker.
So, there you have it. My 2017 IBWAA Hall of Fame ballot. Let the consternation and disagreements commence.
This article originally appeared on