Atlanta Braves News: The Morning Chop, Could Nick Markakis Be A Fit For The Toronto Blue Jays?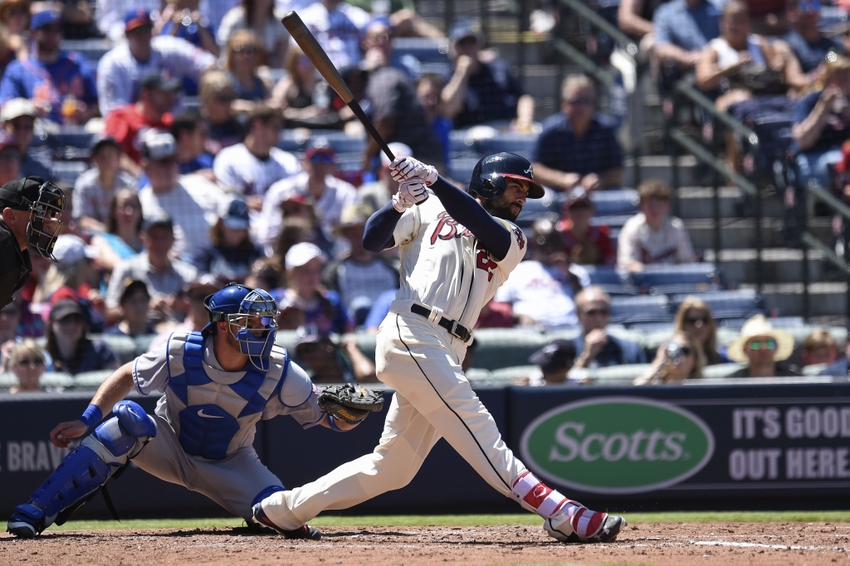 Toronto Blue Jays could look to Atlanta Braves for outfield help
Tomahawk Take Editor's Note: Interesting here…the Blue Jays will be looking for outfield help now that Jose Bautista will most likely join the free agency pool.  If the Jays still feel as though they have a season or two left to be competitive, Markakis may be the perfect fit.  The 32-year-old is signed through 2018 and has a lot of experience playing in the AL East.  Markakis played with the Baltimore Orioles for nine seasons prior to joining the Braves in 2015.  The Braves will have to decide if trading Markakis helps or hurts the direction of the team.  Does Mallex Smith need more seasoning in the minors or is he ready to be given the keys.  I'm not sure, I'm on the fence about this one and will just have to trust GM John Coppolella.  Markakis is a great leader, middle of the order guy, and still plays solid defense.  If the Jays offer something that interest the Braves — they do have a catcher in Reese McGuire who could be MLB ready by next year or we can dream big with Vladimir Guerrero Jr. ???? — Coppy may jump all over it.
Currently, the Braves are set to roll with a veteran outfield of Matt Kemp, Ender Inciarte, and Nick Markakis, with youngster Mallex Smith waiting in the wings. It's doubtful the Braves would deal Inciarte, and Kemp would be redundant for the Blue Jays… but what about that other guy?

Markakis will be 33 when the 2017 begins, and has two years remaining on a four-year, $44 million contract he signed in 2014. There was concern when he joined the Braves because he had to undergo a neck fusion surgery, but he has since bounced back and continued to post positive numbers.

The 2003 7th overall pick finished last season with a line of .269/.346/.397 including 13 home runs, 89 RBI and 38 doubles while playing in 158 games. He's a two-time gold glove winner, and is nominated again this season alongside Jason Heyward andCarlos Gonzalez. He didn't rate as highly as he has in the past, but he'd be a sure-fire defensive upgrade over Bautista and/or Saunders.
680/93.7 The Fan signs 10-year deal to keep Atlanta Braves there until 2026
Tomahawk Take Editor's Note: The Braves haven't made the splash yet this offseason player wise, but they have bolstered their pitching coaches and then signed an agreement with radio stations 680 and 93.7 to continue to cover the Braves for another 10 seasons.  I'm a big fan of listening to Jim Powell and Don Sutton cover a ball game.  So much so that sometimes I listen to them while watching the game on mute.  I've always found that radio coverage offers more insight, more analysis of the game and these two are great together.
680 and 93.7/The Fan's parent company Dickey Broadcasting has signed a new 10-year deal with the Atlanta Braves, ensuring the partnership will last through 2026.

The sports talk station has been the radio home for the Braves since 2010. Games are also aired on NewsRadio 106.7, which is owned by Atlanta-based Cumulus. (From 2010 to 2013, Rock 100.5 was the FM simulcast partner.)

Dickey Broadcasting is also moving its headquarters from Buckhead to space near SunTrust Plaza Park next to the new Coca-Cola Roxy Theater. The actual 680/The Fan studios have been in the same place as Cumulus headquarters off Johnson Ferry Road off 400, now a crowded space which includes Rock 100.5, Q100, Kicks 101.5 and NewsRadio 106.7.
Was Their Strong 2016 Finish For Real?
Tomahawk Take Editor's Note: Yes, absolutely!  That finish we had to the 2016 season was great to watch after so many months of depressing and ugly baseball.  We had something to watch each night and be proud of.  We had something to call ours!  We were winning ball games and beating good teams.  If we roll over to the 2017 season, the Braves will be competitive all year and make a playoff run.  It would be great for the organization to get off to a winning start at their new facility at SunTrust Park.
So as the Atlanta Braves and their fans prepare to move into their new home in 2017, it does indeed appear that the winning ways of the final six weeks of the 2016 season could well carry over.

I would expect that club management will look to try to move Kemp at next year's trade deadline if they are not contending. The same could happen with Nick Markakisas well.

Atlanta hopes are much higher entering this off-season than they were a year ago. A new ballpark, a new star in Swanson, a stud pen arm in Cabrera, and the proven bat of Kemp could help make it a fun first summer at sparkling new Sun Trust Park.
This article originally appeared on