Atlanta Braves Morning Chop: Motivation from Babies… and Tebow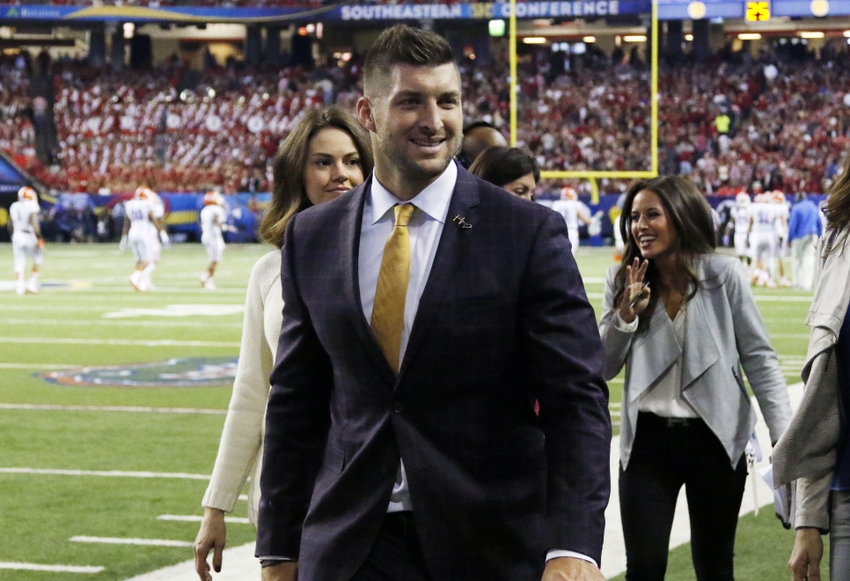 The Atlanta Braves took advantage of the gifts offered by the Padres last night for a rare win at Turner Field.  Julio Teheran the hitter supported Julio Teheran the pitcher in a 7-2 victory.
Off-days at home are often helpful in recharging the batteries – especially at this time of the year.
That's certainly the way it looked last night as the entire team just looked more relaxed, the offense worked counts, walked a lot and produced a lot via the smaller-ball path.
Dansby Swanson was the big run-producer with a 2-for-4 night and 3 RBI.  Even Julio Teheran got into the act with a double as he started – and ultimately finished – the decisive 3rd inning. Finally, he got a "W" at home – his first since the last start of the 2015 season.
Perhaps that home cooking was augmented a bit?
The Braves beat up on Padres starter Edwin Jackson for 7 hits, 3 walks and 5 earned runs as he didn't finish that third inning.  Their bullpen didn't fare well, either:  5 more hits, 4 walks, and 2 more runs.
Teheran went 7 strong innings with Jose Ramirez and Ian Krol finishing up for him.
The Braves are now at 49-83 and have caught the Minnesota Twins (or the other way 'round?) for worst record in the league.  Minnesota is now on a 10-game losing streak while the Braves are 5-5 over their last 10.
Thus it is starting to look like Atlanta pick #2 in 2017.  But just in case:  the next teams in line are Cincinnati and… the aforementioned Padres:  both tied and 6.5 games ahead of the Braves.

Atlanta Seems to Have More Interest in Tebow than You Might Think
The worst-kept secret in baseball happened yesterday:  the Tim Tebow Tryout Showcase.  27 teams sent representatives (SEA/SF/CUBS did not), and that's not counting the media – which outnumbered the scouts.
There were hot takes in abundance, and twitter was atwitter with every one of them.
But it appears that my own take from yesterday was wrong.
I called Atlanta's participation merely a formality… an exercise in "due diligence", figuring that whatever baseball issues Tim would have would almost certainly be too much to overcome… so why disrupt the progression of the "real" prospects already in the system.
Then this came up:
That's not a perfunctory look-see, then:  while we don't know if this pair just happened to be in the area, it's actually more likely that they had to drop whatever they were doing, fly to Los Angeles, and they fly back.
What Did They See?
Tim is still very raw, in baseball terms – no doubt.  These are guesstimates from numerous competing sources, but my best guess is that his scouting grades might be something like this:
Hitting:  30-35 (swing needs work)
Power:  70-75 (there was at least one 80 reported)
Run:  55 (above average)
Field:  30 (route-running an issue)
Throw:  50 (strong arm; accuracy questionable)
Intangibles:  80 (the kind of kid you would always want your daughter to find)
Tim looks to be a corner outfielder – some were suggested LF only.  If he could get that hitting tool up and running, then he could be a viable DH, perhaps.  That will be the key part:  he hasn't seen quality pitching, and thus has no concept of pitch recognition.  How long that will take to develop is probably the deciding factor of whether this train ever leaves the station.
That said, it would seem that someone thinks the Tim Train is steaming up for a run…
The Window
Yes – Tebow is 29… and frankly, it would have been a lot easier to discuss this had he thought about baseball 2 years ago.  It would seem that he has a 1-2 year window of opportunity… if somebody wants to open up their coaches and farm system to let them do it.
So… deep breath…
I'm about to change my mind here… but give me some room, as this truck doesn't turn on a dime.
An ESPN commentator suggested last night that the Atlanta Braves specifically might be the best spot for Tim Tebow to work into becoming a baseball player.  I don't know his reasoning, but I will give you mine now.
You see that Intangibles score I gave him? … and really, that wasn't only my grade.  The Braves – perhaps more than any other club – care about this aspect of their athletes most highly.  That is why we've been told repeatedly that Yasiel Puig is not a player of interest (and David O'Brien repeated that Puig was not claimed on waivers by the Braves, by the way).
"Make Up" is what helps drive a player to be the best he can be.  It's an internal, self-motivation that allows the coaches to teach effectively and keeps them from having to play 'Dad' as much.
Tim Tebow is the Babe Ruth/Hank Aaron/Ted Williams of "Make Up".  He oozes charisma, confidence, discipline and motivation.  Even if he never makes it above the Carolina League, his presence alone should teach others in this incredible class of new acquisitions about how to get the most out of themselves.
Tim would hold court on bus trips.  He would celebrate with teammates.  He would be a constant cheerleader.  He would counsel the despondent.  He would make everyone around him better.  Heck, he could motivate Dansby Swanson – the other 80-grade make-up guy in the organization.
Is that alone worth trying to sign Tebow?  Heck, yeah.
In the process, he might even become a ball player.  And that because he wants to be.  Oh, and it seems he can also hit baseballs into orbit.
Tim's "floor" is probably "motivator".  That's probably enough for the Braves right there.  But his athleticism allows for so much more than that as well.  Can he make the majors?  Some think so, but it's not a reach to give him that shot either.
The media believes this is all a circus, a side-show, a PR-stunt… whatever.  I've never actually believed that myself:  I don't believe that's in Tim's character in any way shape or fashion.
From everything I've seen and read over the past couple of days, I don't believe Atlanta thinks that either.  Don't be surprised if the Braves offer him a deal and get him into an instructional league quickly.
This article originally appeared on