Atlanta Braves Morning Chop: Looking for Answers at GM Meetings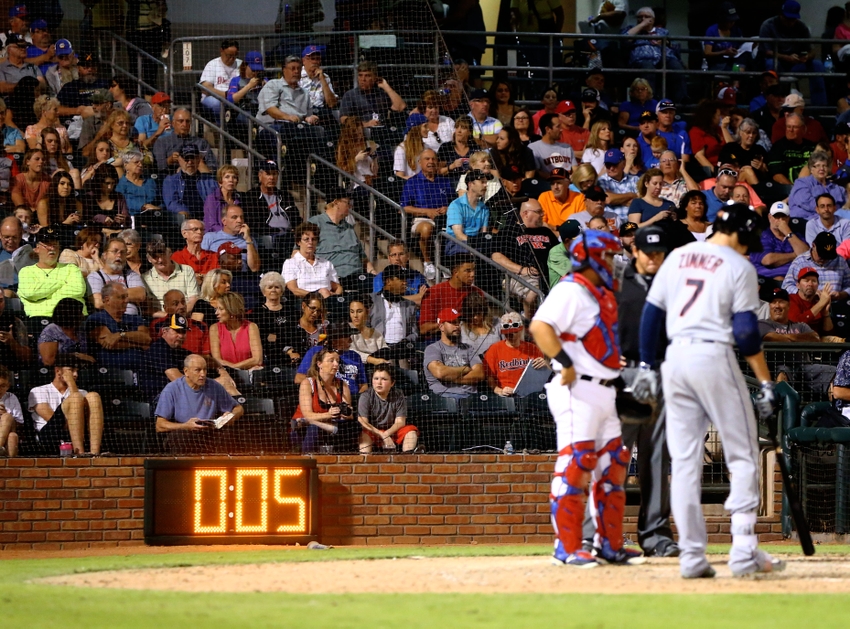 Let's see… a national election, option decisions, on-going negotiations on a new Collective Bargaining Agreement, and General Manager meetings in Arizona.  Just a routine week for the sport of baseball as the Hot Stove is cranked up.
IT'S TIME.  The off-season is now, unequivocally and officially on.  There's a lot of little newsy bits out there today, so let's go with a 'news and notes' format as we sort through things that could impact the Atlanta Braves this Fall.
Nationals
"[Nats GM Mike Rizzo] has until 3 p.m. Scottsdale time Monday (5 p.m. Eastern) to offer Wilson Ramos the qualifying offer of $17.2 million. It seems unlikely the Nationals would commit so much to Ramos, who is unlikely to be ready for Opening Day after having surgery on a torn anterior cruciate ligament in his left knee in October."
…
"If they do not make Ramos a qualifying offer, the Nationals will not be compensated with a draft pick if he signs with another team. If they do make one, he might take it, meaning the Nationals would owe $17.2 million to a player who might not be ready until May or June — and even then, by his own admission, might not be able to catch every day anymore."
Ed. Note:  this isn't just about who the Braves might have catching for them in the next couple of years, but maybe more about what our chief NL East rival might be doing.  That decision is obviously still up in the air for the Nats, here on deadline day.
As has been widely reported, the Cubs declined their option on pitcher Jason Hammel, which instantly makes him a candidate for the Braves… if he's take a 1-2 year deal, which I suspect will not be the case.
Rather than write a lengthy check on whether Hammel might be a fit, I'll defer to someone else who already did so with the appropriate level of clinical aloofness.
The key with Hammel… and the rest of the free agent pitching market… will be in the demand for pitching by all teams.
The Braves clearly do not wish to go out and spend 'Ace' money, and particularly for non-Ace pitchers.  What Coppolella may find, though, is that the price of even the 1-2 year stop-gap players he wants may approach the point at which he starts thinking "bigger could be better".
ALSO THIS MORNING:
Sources: jeremy hellickson will be receiving the $17.2M qualifying offer today #phillies

— Jon Heyman (@JonHeyman) November 7, 2016
Just an educated guess here, but me thinks (1) Hellckson will remain a Phillie; and (2) this alone probably justifies my thoughts above on Coppolella and the pitching market.
Yankees See a Role for McCann
The Yankees are preparing to hang onto Brian McCann, it seems… using McCann in harness perhaps 2-3 games per week and DH'ing the rest of the time.
This may explain their extraordinary demands for the one-time Brave catcher in trade talks… they truly don't feel the need to move him.
Moreover, Brian Cashman explained to the media that the Yankees are in a payroll situation that's good enough to justify continuing to carry McCann's contract, so he's comfortable both with what Brian can bring to the park and in the team's bottom line.
So unless that's posturing on the part of Cashman (and it is, to some extent… but you can't call a bluff unless somebody is actually bluffing in the first place), then you can put this down in black-and-white (with pinstripes) come next April:  McCann is staying with New York.
The Calendar
Today – Deadline for teams to make Qualifying Offers to their free agents.
Today – Finalists for remaining off-season awards
Today – Thursday:  GM Meetings, Scottsdale, AZ
Tomorrow – Free agency begins
Tomorrow – Gold glove winners announced
Thursday – Silver Sluggers
Nov. 14 – Qualifying Offer responses deadline.
Nov. 14+ – Awards week.  ROY, Managers of Year, Cy Youngs, and MVPs.  One major pair per day.
Nov. 18 – Roster deadline for Rule 5 Draft protection.
Dec. 1 – the CBA expires.  Cue Darth Vader theme music.
Dec. 2 – Non-tender deadline for arbitration-eligible (and pre-arbs, for that matter)
Dec. 5-8 – Winter Meetings, Washington, DC
Dec. 8 – Rule 5 Draft
Oh, and if you're early to work/school/etc today… yeah, Daylight Savings Time finished up on Sunday morning!
This article originally appeared on