Atlanta Braves Morning Chop: Injuries to Rehab, Contracts to Mull
Alan Carpenter/FanSided via Tomahawk Take

Fansided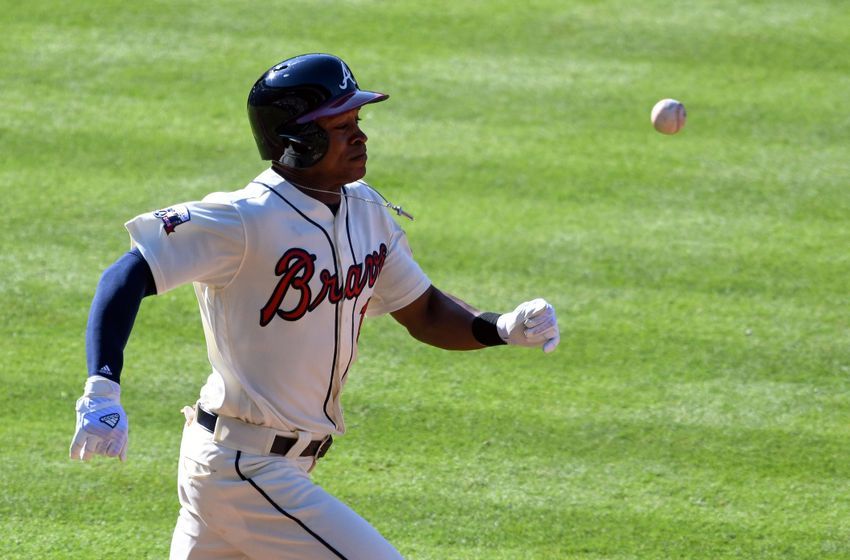 The New Year is now upon us and there's a couple of injuries that could play a role in some Spring personnel decisions for the the Atlanta Braves.
The Atlanta Braves have traditionally erred on the side of caution with respect to injury rehab schedules and bringing players back from the disabled list. Bobby Cox's routine was to wait until the player said he was ready to go… and then add one more day.
That could be tested a bit with two players that fans might like to see a lot of in 2017… though for various reasons, their re-entry into baseball might need to be slowed.
Braves' Mallex Smith: Reinjures Oblique
CBSSPORTS.COM / ROTOWIRE STAFF [DEC 27]
Smith left his Puerto Rican league team after a recurrence of a strained oblique, the Atlanta Journal Constitution's David O'Brien reports.
The oblique injury undermined his brief stint with a Mexican league team in October, as he has been unable to overcome the injury this offseason. Smith apparently wanted to continue to play in Puerto Rico, but the Braves brought him home as a precautionary measure.
[Ed. note: this didn't get a lot of play when DOB first reported the issue, but there's a couple of important points:
First, we thought Mallex was getting winter ball time for the sake of getting reps after his broken thumb from earlier in 2016.

That didn't happen

.
Instead, he messed up an oblique… twice.
Because of this, Smith is probably shut down for the remainder of the Winter so that he can be ready for Spring. That said, his entire off-season readiness routine – whatever that may have been – is bupkis.
So if you had any thought of Mallex Smith being on the Atlanta Braves Opening Day roster (that was already in serious doubt), then you might wish to reconsider. The team will need to start him slowly and perhaps insure that he is careful about pre-stretching and such to care for those muscles.
Two oblique injuries in a row is a cause for concern – a concern that could sideline Smith for a lot longer than the off-season if this becomes a chronic issue. ]
Braves prospect Albies will have surgery for elbow fracture
DAVID O'BRIEN / AJC.COM [SEP 9]
Braves second-base prospect Ozzie Albies will miss the rest of the Double-A playoffs and the Arizona Fall League season after fracturing his right elbow Wednesday in a playoff game at Pensacola, Fla.
Albies, 19, will have surgery next week to repair a fracture of the olecranon bone at the tip of the elbow. The Braves said he's expected to resume baseball activities at some point after Jan. 1.
They hope that he'll be ready for spring training, where Albies was expected to compete for a starting job on the major league team prior to the injury.
He was injured in the sixth inning Wednesday when he hit a hard foul ball that outside the left-field line on a pitch that was in on his hands. Albies immediately hopped from the batter's box while grabbing his arm in pain.
[ Ed. note: this was still one of the strangest injuries I can recall: breaking a bone – that bone at the tip of the elbow – during a swing.
Here's another injury rehab that could take a while… or maybe "should". The last heard on this was that Albies was ahead of schedule and likely would be ready to resume baseball activities for Spring Training.
Frankly, I hope they reconsider.
Something about Albies' swing is generating a lot of force that is focused on that part of his elbow. That's not likely to change. Yet there's not that much surface area at the olecranon to absorb that energy.
The recovery time on the olecranon fracture wasn't specified, though recent examples of such fractures, including Gavin Floyd and A.J. Pollock, were able to return in late August (Pollock) and September (Floyd) after fracturing their olecranon bones in March (Floyd) and early April (Pollock). That suggests that in an ideal scenario, Albies could be back up to speed come Spring Training next season, where he could well compete with Jace Peterson for the second base job.
Floyd's injury came via the force of pitching; Pollock's was a re-injury.
A lot more information came out about A.J. Pollock's elbow injury yesterday, including in particular the history of the ailment, and it's clear both that there was significant structural damage to the elbow, and that it was an area of concern. The origin of the problem dates all the way back to spring training in 2010, his first camp after being drafted by Arizona the preceding June. At that time, he broke his elbow, and had a plate inserted into the joint to stabilize the fracture.
The article goes on to suggest that Pollock's original fracture failed to heal correctly, eventually leading to his re-injury last Spring.
I think you can connect the dots of where I'm now going with respect to Ozzie Albies.
In short: don't rush it. ]
The Nationals are open to extending Dusty Baker's contract beyond 2017
JORGE CASTILLO / WASHINGTON POST [JAN 3]
…
[Nationals' Manager Dusty Baker] finished third in National League manager of the year voting, and, more importantly, the Nationals returned to the postseason, with 95 victories, though the season ended in a familiar, disappointing fashion.
Baker, who turns 68 in June, will return in 2017 seeking his first World Series title in his 22nd season as a manager. But his future beyond 2017 is unclear because his contract is slated to expire after the season. He is, essentially, a lame-duck manager at the moment. But that could change before Opening Day, because the Nationals are willing to talk to Baker about extending his contract. The two sides haven't broached the topic yet, however, according to people with knowledge of the situation.
[Ed. note: I am still of the personal opinion that the Nationals erred in not choosing Bud Black as manager, but they also could do a lot worse than Baker.
Though the article is long on speculation and short of specifics, this seems like a quite reasonable match. That said, the reason the Nats didn't get Black a year ago is that they opted to allow the men to effectively bid against themselves for a contract.
Black told them to go pound sand. Baker took the offer. It will be interesting to see how much of a raise he's ultimately offered this time 'round. ]
This article originally appeared on