Atlanta Braves Morning Chop: CBA Rumblings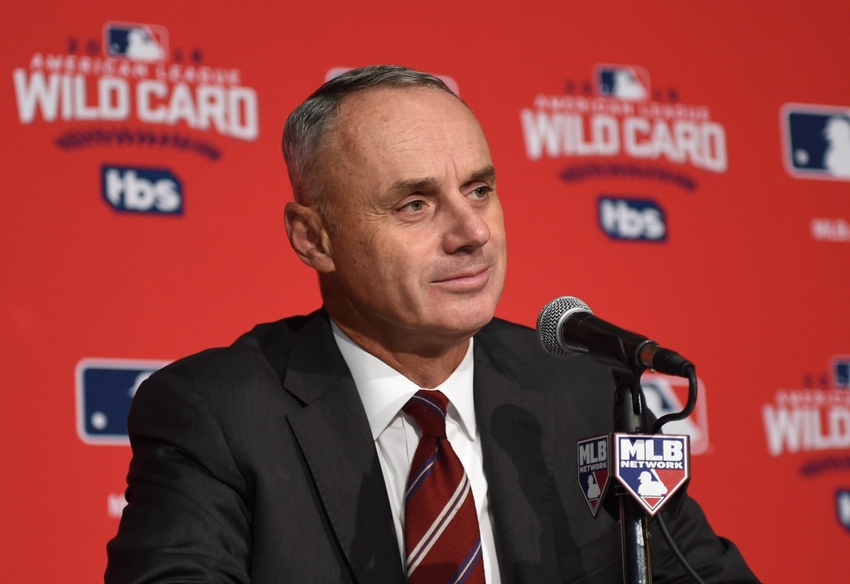 What would the Braves do with an extra player on the roster?  This and some other topics are reportedly in play as CBA negotiations continue.
Baseball's Collective Bargaining Agreement expires in December, and representatives of the MLB and the Players Association are working on a replacement.  So far, nothing big is coming from the rumors, but there are a couple of things that could tangentially favor the Atlanta Braves.
Susan Slusser, beat writer for the Oakland A's and past President of the Baseball Writer's Association of America, has been keeping track of these things, and thus far she says that a few elements stand out in discussions:
Revenue Sharing could be modified or even eliminated for certain clubs… namely her Oakland A's.
The idea of a 154 game schedule… and more off-days during the season
a permanent 26th player on the roster
Slusser mentions that Oakland received something close to $34 million in the form of a revenue sharing check in 2016.  That despite being in one of the largest media markets in the United States (6th overall; Atlanta is 9th, by the way).
The blame for their revenue woes is falling on the Oakland-Alameda County Colesium… the "O.co" Park.  Sure, it's old and not built for baseball, but the real reason for their attendance and revenue issues (29th in 2016) is that their team sucks… with no foreseeable plan to improve.
Sure, there's Money ball Billy Beane still running the show out there, but (a) he's still doing that because he has no options; and (b) others caught on to his game… and are now beating Beane at it.
Grumblings around baseball are that the penny-pinching owners of the A's simply do not wish to spend a lot of money on the team.  So far, their 2017 commitments amount to $33 million… before accounting for 11 arbitration cases (7 of which are on their third and final arb year).
After releasing Billy Butler, no one of the roster is getting over $7.5 million, and the total payroll has never exceeded $90 million.  Free agents are rarely courted and higher-priced arbitration players are traded away with regularity.
In case you're wondering, Braves' fans … no.  Sonny Gray is actually not even arb-eligible until next season.
So the owners are pushing back… they could choose to withhold some or all of future shared monies slated for Oakland… which could save a few bucks for the rest of the league… and serve as a warning to others in that same boat.
It's not a game changer for teams like the Atlanta Braves – but it could put one of their rivals (the Marlins) on notice.
The 26th Man
This is interesting… though given talent issues around the league, I'd have to wonder exactly how much impact it have on the game… except in slowing it down further.
Early thoughts are that most teams would use this position to further extend their bullpens.  That doesn't exactly come as welcome news to those who have been watching playoff contests with seemingly endless parades of relievers stretching the lengths of late innings to the breaking point.
Ostensibly, the reason for this extra player is to allow more rest for everyone else.  However, there's a more practical – and perhaps a little cynical – reason:  the owners are throwing the union a bone in negotiations so that they can get something needed from the players.
No word on what that might be, though if revenue sharing is on the table, then changing the luxury tax probably isn't too far behind.
Either way, if the Braves were to add a 26th man to the roster… I would personally prefer another bat first… but that likely would not happen.
But congratulations, Commissioner: you may have just slowed the game down further.
The Schedule
Of all the changes I thought I might see, a return to the 154 game schedule was not one of them.
The idea of giving up 4 home dates per team (on average, 5% of the general fan revenue) seems shocking. This could be one of those "I'll believe it when I see it" moments.
Before such a thing might come to pass, I'd expect scheduling 2-4 double-headers per team per year – not giving up games.
Ah, but it seems that the purpose here is to allow for more off-days… at least one more per month… not actually shortening the schedule.
Between this – and the 26th man idea – Slusser thinks this could relieve some pressure on getting players back from the DL too quickly.
For sure: no changes to the schedule for 2017 – it's already out and events are being scheduled around it.  So IF something happens here, it would be for 2018+.
Again, the cynic in me thinks these are mere chips being passed around in a shell game before the 'big' negotiation item is thrown onto the table for debate.  Very curious to see what the owners have in mind.
After all, talks seem to be going way too smoothly at this point.
This article originally appeared on