Atlanta Braves Matt Wisler Was Fantastic In 2nd Straight Victory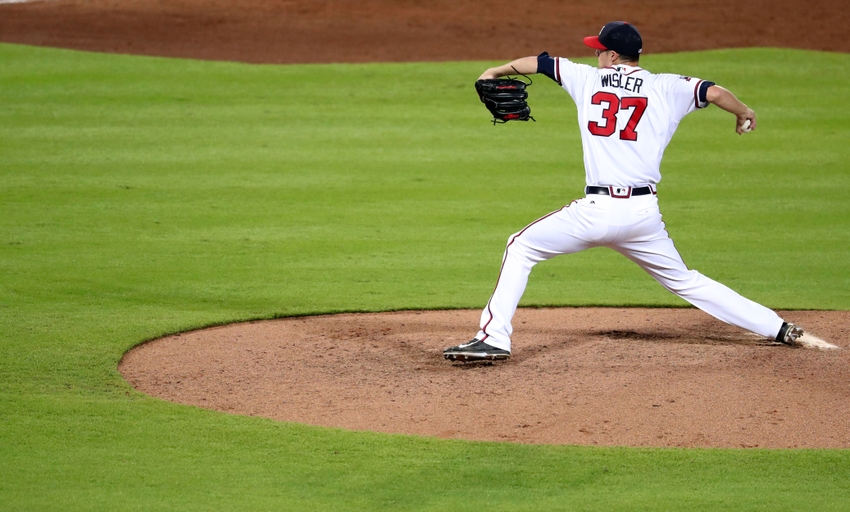 Matt Wisler was electric for the Atlanta Braves against the team that traded him. Revenge is a dish best served with a side of 10 strikeouts.
The San Diego Padres have to be sick of the Atlanta Braves.  And for us, can we keep playing them?
That's not necessarily for anything that's happened in the win-loss column this season—following Wednesday night's contest, Atlanta is 3-2 on the season against the Friars. Both teams are going nowhere, as far as 2016 is concerned, with the highest stakes for this late-August matchup being whether or not Atlanta would win and cede pole position for the 2017 No. 1 overall pick to Minnesota.
But for San Diego—having dealt to Atlanta two top-20 prospects, its super-utility player, its starting left fielder, a starting outfielder if he wasn't hurt and a mid-rotation starter for a bunch of dudes who don't play in San Diego anymore—losing in Atlanta has to hold a special level of bitterness. Padres faithful must have levels of disdain for GM A.J. Preller similar to those of their neighbors in the desert regarding Dave Stewart.
It was Matt Wisler—one-time San Diego farmhand who was sent to the Braves as part of the Craig Kimbrel/Melvin Upton Jr. deal—who toed the slab for Atlanta and he was as good as he'd ever been in a Braves uniform. Over six innings, Wisler scattered four hits and struck out a career-high 10 to show his former employer just what it was they were missing when they included him for a rental of Kimbrel and the opportunity to revive Melvin's career.
Wisler mixed his slider extremely well in this one, using it as his punch-out pitch on eight of his 10 K's. Aside from a fourth-inning fastball to Oswaldo Arcia that caught far too much of the plate and was launched over the wall in right, Wisler was extremely sharp.
10 strikeouts for @wisler233 tonight, a new career-high! #ChopOn pic.twitter.com/2XtaKHlVZE

— Atlanta Braves (@Braves) September 1, 2016
His offense took a little while to catch up, unfortunately. The Braves scored the game's first run via balk and took a 2-0 lead in the third thanks to an RBI double.
But it could've been much, much worse for San Diego, with Paul Clemens working out of a jam following Garcia's double—Freddie Freeman drew a walk, but Clemens' wild pitch bounced right back to catcher Derek Norris, who was able to apply the tag on Ender Inciarte at the plate. Two pitches later, Matt Kemp grounded into a double play and the Padres emerged more or less unblemished.

8

1
The Braves loaded the bases thanks to a pair of walks sandwiched around a Tyler Flowers single in the fourth, chasing an ineffective Clemens early. Jose Dominguez fanned Dansby Swanson, the first man he saw in relief, then got Wisler to ground into a 6-4-3 to end the threat.
Two innings, multiple men in scoring position… one run to show for it. DOB said it best:
#Braves are majors-worst 20-for-102 (.196) with bases loaded.

— David O'Brien (@DOBrienAJC) September 1, 2016
Atlanta hung a crooked number up in the sixth, plating four runs to break the game open. Pinch-hitter Gordon Beckham plated Nick Markakis and Tyler Flowers with a bases-loaded, pinch-hit shot into the right-center gap. Inciarte would bring home Swanson and Beckham with a single three pitches later.
Freeman tacked on another run with a single in the eighth, and Kemp drove in Garcia with a sac fly to make it 8-1. With three base knocks, Garcia paced a 12-hit Braves attack, with Inciarte, Kemp and Flowers each contributing multiple hits.
Braves WIN!

Final: #Braves 8, Padres 1. #ChopOn pic.twitter.com/699h1jV35B

— Atlanta Braves (@Braves) September 1, 2016
The Atlanta Braves and the Friars wrap the series Thursday afternoon with a 12:10 p.m. (ET) matinee from the Ted. Mike Foltynewicz, looking to build on a tremendous outing Saturday against San Francisco, takes on Jarred Cosart, who left after five innings his last time out with blister problems.
This article originally appeared on