Atlanta Braves John Schuerholz Elected Into The MLB Hall of Fame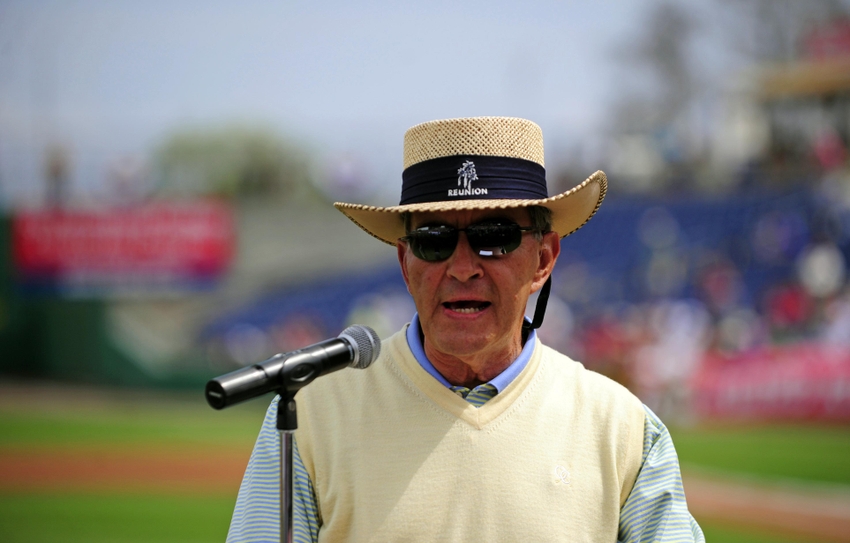 Braves Executive Enters Elusive Group
Two members of the 2017 MLB Hall of Fame class were announced this afternoon as John Schuerholz and Allan H. "Bud" Selig join a special group of players, managers, umpires and executives.  These two will join the other members from the BBWAA ballot which we will find out Wednesday, January 18, 2017.
Schuerholz was an unanimously selection into the HOF and Selig got 15 of the 16 votes.  12 votes are needed to be elected.  Lou Piniella received seven votes and George Steinbrenner, Davey Johnson, Harold Baines, Will Clark, Orel Hershiser, Mark McGwire and Albert Belle each received votes, but were under five.
Starting in 1990, Schuerholz spent 17 years as the Braves' general manager.  In 2007, he took over as the team President.  Today, he holds the position of Vice Chairman for the Atlanta Braves.
Schuerholz, 76-years-old, helped the Braves win 14 consecutive division championships from 1991 to 2005 and the 1995 World Series.
Big acquisitions that Schuerholz brought to Atlanta were Greg Maddux, Terry Pendleton and Fred McGriff and drafted Chipper Jones with the number one overall pick in his first year with the Braves.
"John was the man to do that job. … It was a miracle."

— Hall of Fame @Braves manager Bobby Cox on John Schuerholz's front-office genius pic.twitter.com/s2A04bA357

— FOX Sports South (@FOXSportsSouth) December 4, 2016
Congrats to longtime Braves GM, John Schuerholz on his election to the Baseball Hall of Fame. It was a no brainer and well deserved!

— Chipper Jones (@RealCJ10) December 5, 2016
Schuerholz on MLB Network "I'm speechless almost. What a remarkable honor and I'm so very, very proud and honored to have received the call"

— Kevin McAlpin (@KevinMcAlpin) December 4, 2016
Schuerholz, who played briefly in the minor leagues with the Philadelphia A's organization, began his front office career with the Baltimore Orioles after he sent a letter to a chairman.  He was hired as a personal assistant to the Director of Player Development, Lou Gorman.  Two years later, he left Baltimore with Gorman to join the expansion team, the Kansas City Royals.
"The very first day I started in that job (with the Orioles), my goal was to become a general manager of a Major League Baseball team," Schuerholz said. "I gave myself five years, after which I would assess where I was in my career – because I felt I could always go back to teaching if I didn't succeed." (source National Baseball Hall of Fame)
Schuerholz moved his way up the Royals organization and in 1981, he was promoted to General Manager.  The organization needed a reshaping and that's exactly what Schuerholz and the FO did.  They rebuilt the team with younger talent and prospects…sound familiar?
In 1985, the Royals won the World Series.
Then, after Bobby Cox tried his hand as the Braves General Manager, he wanted to go back into the dugout.  Schuerholz accepted the job in Atlanta, which he inherited a team that had losing records from 1984-90 and was the worst team in the MLB in 1990.
This man has done a lot for the Braves organization and for the MLB.  He was the first General Manager to win World Series in both the American League and the National League.
He joins other Braves greats from this time period into the HOF as we saw Maddux, Glavine, Smoltz and Cox.  Chipper can be included into this elite group in 2018…cough, cough
This article originally appeared on