Atlanta Braves Have Catching Options in 2017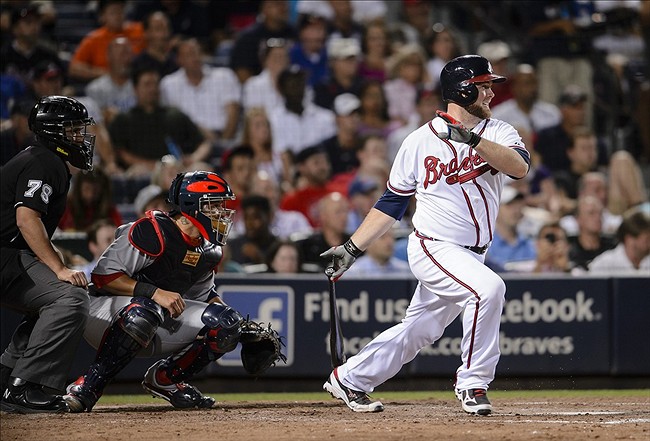 The Atlanta Braves are dead set on contending in 2017 when they open their new ballpark. Though they have some up-and coming talent, the all important position of catcher seems to be an empty void waiting to be filled.
With the incredible arrival of New York Yankees catcher Gary Sanchez, the future of incumbent starter Brian McCann is up in the air. And the Atlanta Braves are interested.
In mid-August, FanRag Sports reporter Jon Heyman reported the Braves had preliminary discussions about bringing McCann back to the team he had spent his first nine years with.
Heyman has also linked Atlanta to upcoming free agents including Wilson Ramos and Matt Wieters. Many expect the Braves search for a veteran backstop to span far and wide.
Currently, the team employs 39 year old AJ Pierzynski, along with Tyler Flowers and Anthony Recker. While this list leaves a lot to be desired, both Flowers and Recker have performed admirably this season.
With that in mind, let's take a look at all of the options the Braves will look at for their starting catcher next season. I have ranked the following players by the likelihood that they will be behind the plate when the Braves open their new ballpark in April of 2017.
Anthony Recker
Current Team: Atlanta Braves
Years Controlled: 2017-2018
Career: .196/.277/.346
Salary Estimation: $800K, 2nd ARB year
We start this list with a name that won't excite many Atlanta fans. A career .196 hitter, Recker has never played more than 58 games in a season (2014).
He finds himself on his fourth team in five season after bouncing around from the Oakland Athletics, to the Chicago Cubs, and to the Mets.
The reason for his inclusion on this list is his hot start of the season with the Braves. In 24 games Recker has slashed .277/.385/.431. This easily trumps his career numbers, so whether or not it is sustainable remains to be seen.
Recker's numbers have been boosted by a .362 BABIP, which is most likely unsustainable for a catcher with average speed at best (three steals in 192 career games). If Recker is able to continue his hot start and improve upon it in September, he may be considered for a roster spot next season.
The chances that general manager Jon Hart slates him as the starter next year will be slim to none regardless. If he somehow channels his inner Gary Sanchez, maybe it will be a possibility, but that is highly highly doubtful for anyone, especially a catcher with a .346 career slugging percentage (Gary Sanchez has a .782 SLG).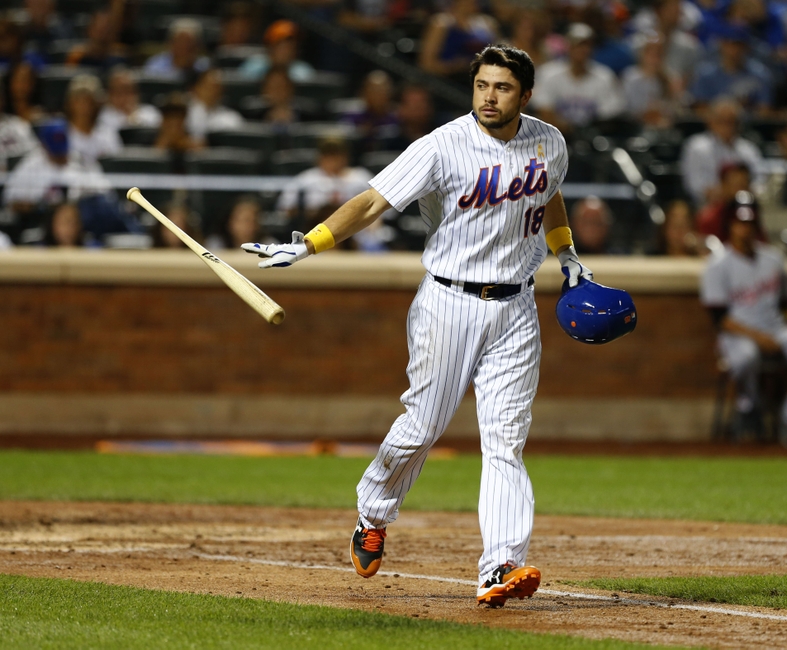 Travis d'Arnaud
Current Team: New York Mets
Years Controlled: 2017-2019
Career: .247/.311/.401
Salary Estimation: $3 Million, 1st ARB Year
Travis d'Arnaud has been a disappointment in his first four years as the Mets starting catcher. A heralded prospect, d'Arnaud was a main part of trade packages for Roy Halladay (Phillies to Blue Jays), and R.A. Dickey (Blue Jays to Mets).
d'Arnaud has fought injuries in the beginning of his career, and it seems the team does not trust him. The Mets front office reportedly spoke to the Brewers about Jonathan Lucroy at the deadline, before he was dealt to the Rangers. It was also reported that d'Arnaud would have been the main piece in a trade for Lucroy.
Seeing as the Mets were willing to part with d'Arnaud, it is certainly a possibility that the Braves could go after him. Though New York would be possibly selling low on a former premium asset, the team may want to start anew with someone else, possibly someone else on this list. They also have Ali Sanchez, a top 10 prospect in their system.
The Braves could seemingly get d'Arnaud relatively easily depending on how he finishes the year. Still at 27-years-old, the young catcher still has time to resurrect his once promising career. He could be a very nice addition to a young Braves core.
While they do have the pieces to make a deal, it would be surprising if the Braves dealt any sort of premium asset to get d'Arnaud. Hence why he is so far down the list, despite his possible premium talent.
Current Team: Chicago Cubs
Years Controlled: 2017
Career: .258/.342/.414
Salary: $14 Million
Miguel Montero could be a fallback option for the Braves depending on what the Cubs decide on his future. With the emergence of Willson Contreras, Montero and his $14 million salary may not be welcome on the Cubs in 2017.
I would imagine the Braves would be able to acquire Montero rather easily if the Cubs were looking to get rid of him. He has a rather ugly slashline of .200/.322/.313 this year, but had a useful .754 OPS in 2015.
Montero is also a veteran catcher who is well liked by his teammates. A steady, experienced presence would be welcome on the young Braves, and Montero could work nicely with the young pitching staff.
As a two-time All Star, Montero has had some very good offensive seasons in his past. He also rates amongst the game's best at pitch framing. Any team, like the Braves, acquiring Montero would be betting that his hitting decline this year is not due to age, and instead due to bad luck or some sort of mechanical issue.
Current Team: Oakland Athletics
Years Controlled: 2017-2019
Career: .260/.317/.421
Salary Estimation: $4 Million, 1st ARB year
An All-Star in 2015 and 2016, Stephen Vogt is wasting his best years away in the rebuilding years of Oakland. As a 31-year-old with three years of team control left, Vogt can be had for cheap during the rest of his prime years.
Though there have not been many rumors about Vogt on the trade front, Billy Beane and the A's are known for being open to dealing anyone. Especially a 31-year-old on a team years away from contending.
A catcher with good power combined with good on-base skills is hard to find, but Vogt does receive negative pitch framing ratings and is not as experienced a catcher as many others on this list.
Nonetheless, Vogt could be a nice trade acquisition as a middle of the order hitter for the Braves to put with Freddie Freeman and Matt Kemp.
Current Team: San Diego Padres
Years Controlled: 2017-2018
Career: .235/.310/.382
Salary Estimation: $3.5 Million, 2nd ARB year
Rumored as a trade piece all summer, Derek Norris remains on the Padres for a reason nobody really knows. With Austin Hedges wasting away with a strong season in Triple-A, Norris does not have much of a future in San Diego.
The explanation for his little trade interest is most likely due to his horrible season thus far in 2016. While flashing his normal home run power, Norris has struggled to a .185 AVG.
Though his walk and strikeout rates have been trending in the wrong direction since his All-Star season in 2014, Norris still holds promise.
He has received positive marks for his pitch framing, and has been known as a good pitcher's catcher. He has also faced misfortune with a .235 BABIP this year, well below his career mark of .292.
Norris could most likely be had for next to nothing from the Padres, if he is even offered a contract.
If the Braves strikeout on bigger targets, Norris could be a great buy low candidate for GM Jon Hart and company.
Current Team: Houston Astros
Years Controlled: NA
Career: .234/.311/.392
Salary Estimation: $6 Million, Free Agent 
The first free agent on the list, Jason Castro has had three below-average seasons since being an All-Star in 2013. At the same time, he is an experienced backstop who receives very high ratings for his pitch framing. He also helped pitchers Dallas Keuchel and Collin McHugh to breakout last season during the Astros playoff run.
Castro is higher on this list than others due to the fact that the Braves would be able to sign him without giving up anything this winter. He has accumulated a positive WAR in each of his five seasons as the Astros primary catcher. While his numbers do not jump off the page, Castro is on pace for his fourth consecutive season with double-digit home runs.
With very little salary on the books in 2017, Atlanta would easily be able to pay Castro whatever his market price is. I would predict him to receive something in the range of 3 years and $20 million.  A good comparison would be the three-year, $21 million Jarrod Saltalamacchia signed with the Miami Marlins in his first opportunity at free agency in 2014.
Evan Gattis has begun catching yet again, possibly making Castro expendable for Houston this offseason. If the team is tired of Castro's middling production over the last couple of years, he may be let go without a fight, allowing the Braves to step up and find their new starting catcher.
Tyler Flowers
Current Team: Atlanta Braves
Years Controlled: 2017-2018
Career: .230/.300/.383
Salary: $3 Million
The second and final incumbent Braves catcher on the list, Flowers has a much better chance at sticking around compared to Anthony Recker. While his career numbers are ugly, Flowers has a career-high .794 OPS this year in his limited work prior to his injury.
Flowers is another player with a very high pitch framing score from statcorner.com. He has struggled at throwing out base stealers, as runners are 42/44 against him this season.
If Atlanta decides to shell out their available cash to other positions on the diamond, they could proceed next season with Flowers as the main guy behind the plate.
That would be far from the worst thing to happen as Flowers is already familiar with many on the Braves pitching staff.
Flowers seemed to have turned the corner in his career this season before going down, so giving him a chance next year could be interesting.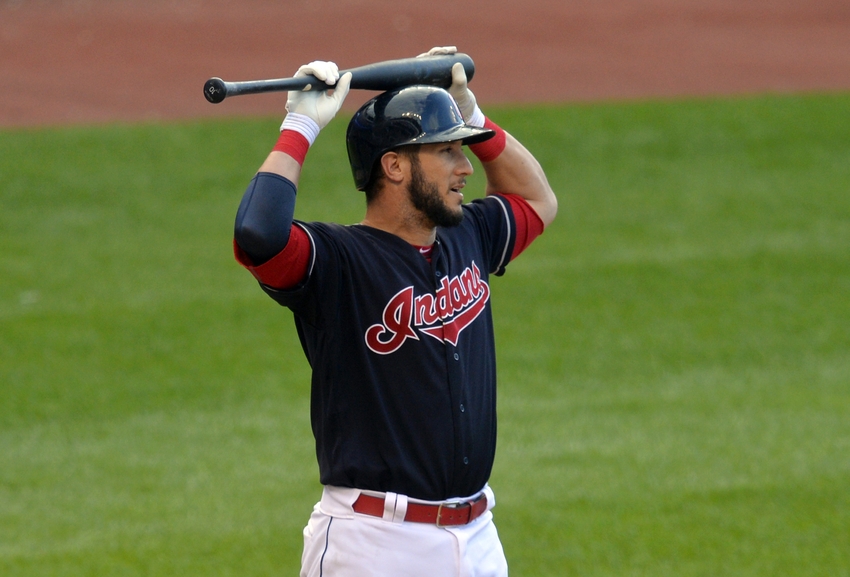 Mandatory Credit: David Richard-USA TODAY Sports
Yan Gomes
Current Team: Cleveland Indians
Years Controlled: 2017-2021
Career: .246/.286/.421
Salary: $4.5 Million
Yan Gomes bursted onto the scene in 2014 and ended up winning the Silver Slugger award. Since then he has a sub .600 OPS, and has yet to match his home run total from that season alone (21 HR in 2014, 20 since).
After hitting a miserable .165 in 71 games this year, Gomes went to the disabled list with a shoulder injury. In response to the DL stint, Cleveland struck a deal for All-Star Jonathan Lucroy. Infamously, that deal never went through due to Lucroy's no trade clause. It is still telling that the Indians were pursuing an upgrade.
It's hard to blame the Indians for wanting more production at catcher, but it begs the question if the front office in Cleveland is beginning to give up on Gomes. He did not have a particularly productive 2015 season as he hit to a .659 OPS in 95 games after struggling with injuries.
If the Indians are willing to make a deal, the Braves could acquire a premium talent at a less than premium price.
The problem with a move like this is that the Indians have no replacement ready if Gomes departs. Roberto Perez and Chris Jimenez have done a nice job defensively, but have struggled immensely with the bat. It would be surprising for the Tribe to part with Gomes without another addition made for a backstop.
Nevertheless, Gomes would be a great addition as a talented catcher under affordable control through 2021.
Matt Wieters
Current Team: Baltimore Orioles
Years Controlled: NA
Career: .246/.286/.421
Salary Estimation: $10 Million
The second free agent on the list, Matt Wieters is playing this year with the Orioles after signing his qualifying offer last season.
Though he was an All-Star, this year has been a struggle for the 30-year-old. Wieters is on pace for a career-low .689 OPS along with finishing just the second season of his career with a sub .300 OBP.
Baltimore does not have a ready made replacement at catcher. At the same time, it has been rumored that Wieters will not receive another qualifying offer (if such a thing exists) after the year. This would allow the Braves to enter a bidding competition for a catcher who has made four All-Star games.
Still at only 30-years-old, Wieters could be in line for a four year contract, worth $40-50 million. It would be surprising if the Orioles allowed their long-time backstop to walk, but they may choose to spend their money on starting pitching. If the team fails to make the playoffs, there will be no doubt the team will look to find more pitching in the offseason.
Regardless of the Orioles needs, Wieters would be a good fit for the Braves. His contract would not cost any draft pick compensation, if there is no qualifying offer, and it would not break the bank. The experienced catcher is still young enough to fit in with and grow with the young Braves core.
Brian McCann
Current Team: New York Yankees
Years Controlled: 2017-2019
Career: .266/.340/.458
Salary: $17 Million
The most intriguing player on the list, McCann does not have much of a future with the Yankees anymore. It has been reported that the Braves had preliminary discussions involving acquiring their former All-Star catcher.
In his nine years in Atlanta, McCann slashed an impressive .277/.350/.473 with seven all-star appearances. After three years in New York, McCann now has a lot of catching miles on his legs. He has still been a productive player, but has seen his average take a tip with his venture to New York.
Even if McCann is not able to live up to his first stint with the Braves, he would be a terrific addition for a team without veteran leadership. He still has 20 home run power, and has great contact skills as he has never struck out over 100 times in a season. The shifts teams have pulled on him have affected his average for the worst, but he is a productive hitter nonetheless.
The best part of this deal would be that the Braves would not have to give up much in return. The Yankees would most likely eat some of McCann's salary, and expect a mid-level prospect in return.
With Greg Bird coming back next season to man first base, McCann may only have a spot at DH with the Yankees. This makes him expendable and the Braves will most likely re-open discussions for their former catcher in the offseason. Having McCann behind the plate for the opening of the new stadium would be a great way to excite Braves fans who have been sad ever since Chipper Jones retired.
Wilson Ramos
Current Team: Washington Nationals
Years Controlled: NA
Career: .269/.313/.430
Salary Estimation: $17-18 Million
Nationals catcher Wilson Ramos is having the definition of a career year. He is on track to top his career high in nearly every statistical category. This has been perfect timing as he is set to enter free agency this offseason.
Right behind Yoenis Cespedes and a crew of closers, Ramos may be the most intriguing player on the free agent market. A good baseline for the contract he will receive is the five-year, $82 million contract Russell Martin signed with the Blue Jays before 2015, or the previously mentioned Brian McCann and his five-year, $85 million contract with the Yankees.
Though Ramos does not have the track record of either of these players when they ventured into free agency, he is having a better year than either of them have ever had. McCann could have an argument that his 2008-2010 stretch was better, but Martin has never approached the OPS or AVG Ramos has put up.
The Nationals would love to have Ramos back, but that may not be possible. With Stephen Strasburg signing a huge extension, and Bryce Harper eligible for free agency after 2017, the team may not want to tie up money to a catcher with one good year to his name. Max Scherzer, Ryan Zimmerman, Jayson Werth, and Daniel Murphy are also under contract in 2017 with money totals ranging from $12 million to $22 million.
Since the Nationals are not the Yankees, they may have to let Ramos walk. This would allow the Braves to scoop in and acquire one of the top five catchers in the MLB. With strong defense and even better offense, Ramos is still only 29 years old. He got lasik eye surgery this past winter which he credits for his improved offense. This proving that this year may not be a fluke and Ramos may be a top catcher in baseball for the foreseeable future.
If the Braves have a chance at locking him up, they should do whatever it takes.
*All pitch framing stats found on statcorner.com. All contract info found on spotrac.com
This article originally appeared on