Atlanta Braves General Manager John Coppolella Is Still Shopping…Wont Stop, Don't Stop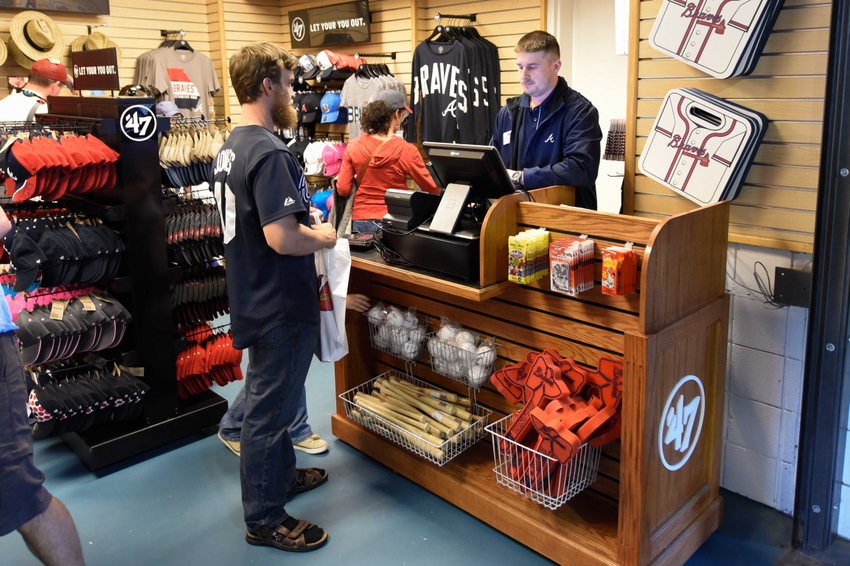 Braves Still Wheeling, Dealing, Calling and Shopping
It's only November 30th…the Atlanta Braves front office still has plenty of time for additions, subtractions and all of the above!  The Braves have already signed and approved many deals this offseason, but they're not done yet.
The Braves made it known that starting pitching was a necessity going into this offseason.  We've already signed veteran pitchers R.A. Dickey and Bartolo Colon, but does the search continue?
Atlanta's rotation sits today with four pitchers slotted in — Julio Teheran, Mike Foltynewicz, Colon and Dickey.  Then during Spring Training, a competition between Josh Collmenter, Matt Wisler, John Gant and Aaron Blair will take place.
Is that good enough for John Coppolella?  It doesn't sound like it!
Yesterday we heard the news that the Miami Marlins agreed to terms with Edinson Volquez.  This is a two-year deal worth $22 million.  Wow.  Good for him.
We all saw the news about Volquez, but didn't think it affected us at all.  Until Buster Olney tweeted the following this morning…
The Braves were serious bidders for Edinson Volquez, before Volquez worked out a deal with the Marlins.

— Buster Olney (@Buster_ESPN) November 30, 2016
Now, I for one, am glad that Volquez and the Braves couldn't agree to terms.  The 33-year-old would bring a 4.44 ERA, his strikeouts continue to slide every year and his walks continue to rise.  In 2016, he gave up a career high amount of hits with 217.  I don't know, maybe he still has something left in the tank, but I'm glad he didn't sign on our dotted lines.
What's interesting to me is that Buster said "Braves were serious bidders".  What this says to me is that Coppy isn't done looking for starting pitching.
The free agent pool for starting pitchers is slowing deteriorating, but there are still a few names out there we can wait on.
To name a few pitchers still available…Jason Hammel, Rich Hill, Doug Fister, Tim Lincecum.
My guess is that Coppy is waiting to see if any other trades develop, what happens in the Rule 5 draft and the craziness of the Winter Meetings before deciding to picking up another free agent pitcher.
Friday Deadline
This Friday will be the deadline to tender a contract to their arbitration-eligible players.  This is another set of huge decisions the front office will have to make.  The Braves have seven players on the board to decide on what to do.
The Braves will most likely tender the contract of Ender Inciarte (guaranteed at $2.8 million), and relief pitchers Ian Krol ($1 million) and Arodys Vizcaino ($1.6 million).  Those are the easy ones.
Players still up in the air are Chris Withrow ($1.2 million), Paco Rodriguez ($900,000), and catchers Anthony Recker ($1 million) and Tuffy Gosewisch ($600,000).
Rule 5 Draft
The Rule 5 draft is quickly approaching — December 8th — and the Braves still have 39-men on the roster.  We have 39 players currently on the 40-man roster because Sean Rodriguez hasn't been added yet.  Not sure why, but he should be added something soon.
This means the Braves won't have any spaces on the 40-man roster heading into the Rule 5 draft. The Braves have the #3 pick overall so the chances of picking someone with value are mid-to-high.
It's very possible the Braves make a few moves and continue to tinker with the roster within the next few days.
That One Player To Be Named
Remember that trade from way back yesterday?  The Seattle Mariners sent Alex Jackson to Atlanta plus a player to be named later.  It's yet to be known who that PTBNL will be, but we'll have to keep that in the back of our minds as well.
In many cases that PTBNL is irrelevant, but it's possible the Braves get some sort of talent out of this.  If we do, this trade could be exceptional compared to just "okay, let's see what happens".
Check out Alan's thoughts on the PTBNL.  At this point of the year, there are many different aspects to jump through for this player.  Because of this, instead of receiving an irrelevant player, the Braves could end up with a value player that we just have to wait on.
In any case, isn't it fun being a Braves fan right now?  The 2015 and 2016 rebuild is behind us, let's move forward and prepare to be competitive again.  With many key dates ahead of us on the calendar, it will be interesting to see what the Braves and the front office will do.  One thing I can guarantee is for sure, the roster won't stay the same.
This article originally appeared on