Atlanta Braves: Five Moves to become Playoff Contenders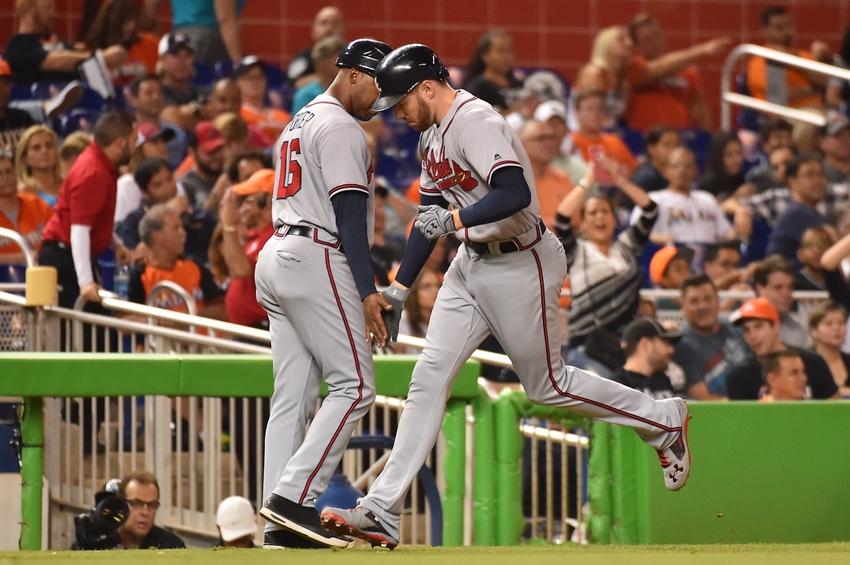 The Atlanta Braves have been very active this offseason. Already signing R.A. Dickey and Bartolo Colon, Atlanta is looking to make a statement.
A brand new stadium brings a brand new time for the Atlanta Braves. Despite making the playoffs nine times, the turn of the millennium has not been kind to the Braves. Since 2000, Atlanta has only won one playoff series. That win was a sweep of the Houston Astros in 2001, and since there has been no success in October. This past season was woeful, if it wasn't for a never-made-up postponed game with the Cubs, the Braves very well could have been tied for the worst record in the National League. However, the Braves finished the season 12-2, mainly because of the promising young shortstop Dansby Swanson.
Despite showing signs of improvement and boasting one of the best farm systems in baseball, Atlanta must continue to be active this offseason to succeed. It is obvious that the team wants to win now in their new ballpark, and they have the pieces to make moves. With so much talent available in the farm system, the free agency pool, and the trade market, the Braves will have no problem constructing a brand new team for 2017. This major transition may mirror the changes the Miami Marlins went through before 2012. Surely the Braves will want a different result in terms of success.
Signing R.A. Dickey and Bartolo Colon is a good start. It brings a veteran presence into a fairly young pitching staff. Atlanta can't stop there though, as Dickey won't serve any more purpose than a five-man or a bullpen guy, and Colon can only give so much to the starting rotation. So, if Atlanta is serious about challenging the Nationals for the NL East crown in 2017, here are five moves they must make.
Sean Newcomb is six-foot five left-hander that throws in the high nineties. Sean Newcomb is Atlanta's best pitching prospect, received in the Andrelton Simmons deal with Anaheim. One could even go out on a limb and say that Newcomb can bloom into a talent like Chris Sale (We'll get back to that later). Overall, Newcomb seems like a monster amongst men, and he must join former rookie Dansby Swanson in leading the way for Atlanta.
Newcomb's stats arent stellar for the Mississippi Braves though. Newcomb posted an 8-7 win-loss record, with a 3.86 ERA. The thing that stands out with Newcomb however is his tremendous strikeout rate. In 140 innings pitched, Newcomb struck out 151 batters. His high velocity fastball mixed with an above average curveball and an improving change-up can prove deadly for opposing hitters. The reason Newcomb's numbers aren't what they should be was his high walk rate.
If Newcomb was allowed the chance to work at the big league level with fellow world-class talent, his command may benefit. As he matures and familiarizes himself in Atlanta, he may gather more confidence leading to better command. Newcomb can come out of the bullpen at first, eventually transitioning into a middle of the rotation arm. Newcomb may as well find himself in a very similar role to 2016 Julio Urias. If Atlanta does opt to keep him down, he will definitely be up before seasons end. Whether it is because an arm goes down, or due to the rosters expanding, Newcomb will find himself in Atlanta in 2017. However, if Atlanta wants to maximize their success, Newcomb should find himself on the opening day roster.
4. Avoid Trading for Chris Sale
Yes, you read that right. The Atlanta Braves should avoid trading for the most coveted trade chip this off-season. It's nothing against Sale, it's just at the stage the Braves are in they would be naive to give what the White Sox would request. The popular consensus seems to be that Sale can turn Atlanta around, the costs of obtaining him would far outweigh the reward.
In order to get Sale from Chicago, Atlanta would have to give an arm and a leg. While trading away some prospects is logical, the likely asking price for Sale would be through the roof. Atlanta could  afford it to, likely having to give up Sean Newcomb, Ender Inciarte, and Mallex Smith to name a few. Chicago is in complete rebuild mode it seems, and they are already notorious for asking for hefty returns in trades.
Instead of going all in on one ace, Atlanta should instead look to grab other quality arms that can fill out their rotation. Not only can they minimize the effect on their club long-term, they can develop more depth for less cost. They can likely pick up an arm like Brett Anderson, Jason Hammel, or Rich Hill for relatively cheap. Although the risk for injury is higher for these arms, this would allow them to make bigger moves on the trade market. Despite having a down year, Sonny Gray could be an option for the Braves. His value won't be as high and his potential still has tremendous upside. Even Cy Young candidate Justin Verlander has been rumored to be on the market. Obviously, Atlanta doesn't necessarily have to target these exact arms, but should look to bolster their depth behind Julio Teheran.
While the benefits of this trade could make this number one on the list, not pulling the trigger still leaves Atlanta in a good position. This is due to the fact that the Braves have Ozzie Albies, a highly touted middle fielder in their organization. Albies is a natural shortstop, and we all know that is Dansby Swanson's position to lose. However, Atlanta can cash in on Albies' high value to receive a star second baseman for three more seasons.
Obviously, Atlanta would have to package a few prospects with this deal. If they bolster their depth they could afford to trade away some mid-level pitching prospects. Throw in Albies, and a big league talent such as Matt Kemp or Jace Peterson, and this deal makes sense for both parties. Dozier and Swanson then could provide one of the best middle infield hitting duos.
Dozier slashed a .268/.340/.546 line, slugging 42 homers and 99 runs batted in. If you put him into a reconstructed Braves line-up with more talent, pitchers then couldn't pitch around him and his slash would further increase. Although being a career .246 hitter, putting Dozier in a star-studded line-up (just wait for slides 1 and 2) would directly help his numbers. Dozier could bat around .280, which would help get him into the conversation for the best hitting second baseman in baseball.
It hurts me to say, but Justin Turner may no longer be in Dodger blue in 2017. Turner has turned himself from a utility talent, to the most sought out third baseman on the free agency market. Atlanta, who coincidentally has a hole to be filled at third base, may offer Turner the money he wants with the promise of a young successful ball club.
Turner, according to his Wins Above Replacement, was ranked as the fifth most valuable third baseman in MLB. Turner slashed a .275/.339/.493, with FanGraphs predicting his average will jump to .284. Not only is his bat great, Turner was a finalist for the Gold Glove Award. This would obviously help an Atlanta team, who after losing Andrelton Simmons finished 23rd in fielding percentage.
Turner is a reliable option for Atlanta. Turner played in 144 games for Los Angeles last season, and would be a good addition with not too high of a cost. Yes, Turner will ask for a big contract, but it likely won't be extreme. Atlanta could likely sign him to a four-year, sixty million dollar contract. Which would leave enough salary space for one more big signing.
As previously noted, Mark Trumbo has several suitors that could reel in the power hitting bat. Trumbo, coming off a career year, should sign with Atlanta to fully complete the Braves lineup. Trumbo would serve as the power-hitting bat in the middle of the line-up, and would benefit every other bat.
Freddie Freeman, Brian Dozier, and Justin Turner would benefit the most from the addition of Trumbo. All three of those men could post career numbers while hitting around each other, as pitchers don't really have a favorable match-up. Pitchers could not pick and choose who to pitch to, because if they put someone on base then there will always be a bat behind him to drive the runner in.
Trumbo could serve as the face of the brand new SunTrust park, and could be a building stone around the franchise for years to come. He is still relatively young, 31 before the season starts, and is in the prime of his career. Plus, they also opened up an outfield spot by trading Matt Kemp (See: #3) so he would fit in perfectly.
With these changes, here is a potential 2017 Atlanta Braves line-up:
Mallex Smith CF
Dansby Swanson SS
Freddie Freeman 1B
Mark Trumbo RF
Justin Turner 3B
Brian Dozier 2B
The Braves have so many options, and this line-up would be a winning one. As long as they pair this with a starting rotation with depth, they are bound for success.
More from Call to the Pen
This article originally appeared on