Atlanta Braves Decide to Skip Next Blair Start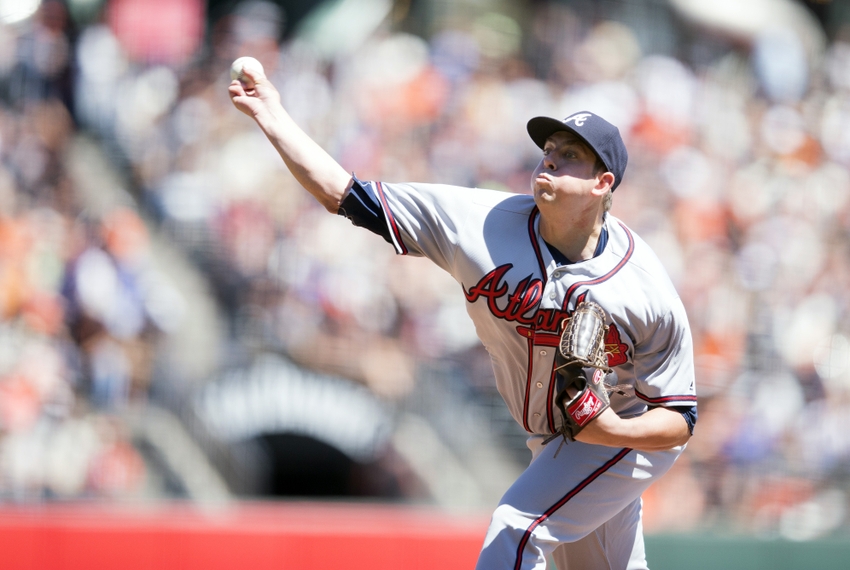 Atlanta Braves Decide to Skip Next Blair Start
According to David O'Brien the Atlanta Braves will skip Aaron Blair's next start and maybe more.  Blair was ineffective in his first start back from AAA against the Giants last Sunday giving up five runs in four innings, three on home runs.
Blair's Promise Remains Unfulfilled
Stop me if you've heard this before, Blair was the Diamondbacks first round selection in the 2013 draft – 36th overall.  Following a 2014 when he split time between A , A+ and AA finishing  with a combined 3.56 ERA, 1.143 WHIP he was a universal choice as one of baseball's top 100 prospects. He continued to perform well in 2015 when he split time between AA and AAA posting a combined 2.92 ERA and 1.196 WHIP and retained his spot in the top 100.
Rough at the top
He made five starts including a six inning two hit, one run performance against the Cubs on April 29th. Following that he made a five inning three run start against his old team but his next two starts weren't good and the Braves sent him back to Gwinnett.
He made one start there – three innings, one run – then returned to Atlanta on May fifth when injury attacked the rotation. His next six starts saw him allow 2, 6, 2, 6, 3 and 8 runs in 29 1/3 innings which comes out to an 8.28 ERA and a 1.670 WHIP walking 17 and striking out 21.  That earned him a trip back to Gwinnett to work things out unfortunately he didn't.
Diminishing returns?
While some of his nine starts were pretty good, overall he threw 49 2/3 innings with a 5.39 ERA, 1.715 WHIP striking out 45 and walking 24. The Braves were however in need of a starting pitcher after a couple of not so good starts and called him back to start against the Giants.
As noted above the Giants treated him rudely and side work since convinced the coaching staff he shouldn't start again for a while and the manager told O'Brien in the article linked above.'
"We weren't going to (skip Blair), then were talking and I think Rog and (bullpen coach) Marty (Reed) and we all (agreed) he needs some mechanical work right now," Braves interim manager

Brian Snitker

said. "There's things … they want to back him off starting and do some work with him mechanically. Rog has seen some things that he thinks will help him down the road . . How we got there, I don't know, good, bad or ugly. I think we need to back off, I think there's things the kid could work on to help him."
"I'm a pitcher that needs to be down in the zone and create movement," he said. "When I'm up it's just flat, it goes a long way."
He also said he knows he has to get better to stay.
"I had my name on the map early," he said. "I kind of faltered middle months; I'm trying to get my name back on the map again."
The Braves haven't decided who will start Saturday but John Gant was recently recalled and was a member of the rotation before going down with an oblique strain.  Before the injury he made four starts throwing 18 2/3 innings with a 3.38 ERA. 1.179 WHIP striking out 17 and walking six.
Two who won't be making the start are Jed Bradley and Tyrell Jenkins who started games just a couple of days ago. There was a rumor that Bradley would replace Joel De La Cruz in the rotation but De La Cruz will start Friday,
Other News Bits
In another article O'Brien reported that A.J. Pierzynski and Chris Withrow will likely be the only two call-ups tomorrow.  He also noted that Jenkins and Williams Perez will rejoin the team at some point but whether Albies and Ruiz will is an unanswered question.
That's A Wrap
There's really nothing to be gained by sending Blair out to be beaten up and with roster expansion Roger McDowell can personally oversee Blair's work.
I think the roster crunch will prevent an Albies and/or Ruiz call-up but we might see Kyle Kubitza. Kubitza is already on the 40 man roster and the Braves could want an up close look to see if they leave him on it after the season ends.
That's the latest info. Stay turned here at the Take for more updates as we get them
This article originally appeared on