Atlanta Braves Dansby Swanson To Play For Team USA? Freddie Freeman For Canada?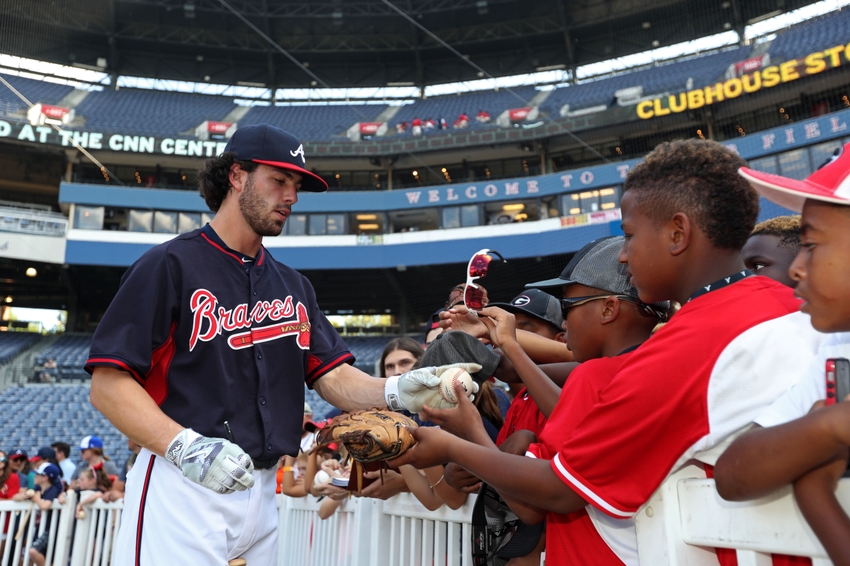 Team USA Selecting Players
In 2017, we'll get to watch fantastic baseball players from all over the world compete in one tournament called the World Baseball Classic.  Ball begins on March 6, in Seoul, South Korea
Team USA will start the tournament in Pool C and will play first Colombia at Marlins Park on March 10 at 6 p.m. ET.  A round-robin format will be played to determine who moves on out of the first round.  The two top teams from each Pool will move on to the second round.
Since the beginning of the WBC, Team USA has never performed up to our standards.  Our highest finish was fourth place in 2009.
In hopes of winning this tournament or at least playing better, stars of the MLB are already accepting their invites to play.  Max Scherzer, Chris Archer (cough, former Brave), Nolan Arenado and Jonathan Lucroy have all said yes to playing in the spring.
No list has been provided to the public yet about who Team USA is asking to play, but we can always speculate!
Yesterday, Matt Whitener of Yardbarker posted a "projected" 2017 lineup for Team USA.  He said at shortstop, it could be Brandon Crawford and young Dansby Swanson.
Here are his comments about the shortstop position…
There is a plethora of young talent at the shortstop position today, but most originate from outside of the United States. Corey Seager stands out as the most productive native-born talent in the game today, yet he is not necessarily the best fit in this scenario.

However, Crawford is a perfect fit. Crawford is the premier defensive shortstop in the game today and as big of a difference maker with the glove as, saym an Arenado is at the plate or Posey is behind the dish.

And that brings us to perhaps the most surprising selection for the team in Swanson. He is the "Christian Laettner" pick of this group: very young but proven at every level he as competed at thus far. The already-franchise player in Atlanta brings a clear level of talent to the team, and the experience would serve him well, as he could be a future cornerstone of Team USA in upcoming years.
No telling if Swanson would consider playing in this tournament or if Team USA will even ask, but it's definitely a possibility.
The 22-year-old played in 38 games for the Atlanta Braves in 2016, but only had 129 at-bats — the criteria for being considered a rookie the next season is exceeding 130 at-bats or 50 innings pitched (for pitchers) in the Major Leagues.
I think there are pros and cons to Swanson playing in the WBC.  Getting some experience with the top players in the MLB and getting extra work outside of the Braves organization are pros.  Cons would be not being with his real team for Spring Training, getting more work with Ozzie Albies before the season starts and playing in front of the home crowd.
Because this would be Swanson's technically rookie year, I'd rather him be in Spring Training with his team and not traveling elsewhere probably sitting behind someone else at short.
Freeman To The North?
Freddie Freeman has expressed numerous times over the past years that he would like to play in the WBC and for team Canada.  His parents are both from up north — Freddie was born in California — and because of his origins he's eligible to be on the roster.
"My parents, my grandparents, everybody's from Canada," said Freeman, who himself was born in California. "My dad would come up to Toronto from Windsor [Ontario] on the train to visit my mom. It's cool to be here, in a place where my parents were 40 years ago."
Freeman's mother passes away in 2000 and he's said in the past that he would play and wear the jersey in her honor.
In the past, he's been blocked at the first base position because of Joey Votto and Justin Morneau.  Votto just had a career year, but Morneau is now 35-years-old and has had back-to-back bad years.
Would Freddie accept the invite to play for Team Canada?  He does have a wife and a new-born baby now so maybe his thoughts have changed about playing in the WBC.
Rosters for all teams are due in January so we'll see shortly.
This article originally appeared on