Atlanta Braves Beat Phillies Earn Second Straight Series Sweep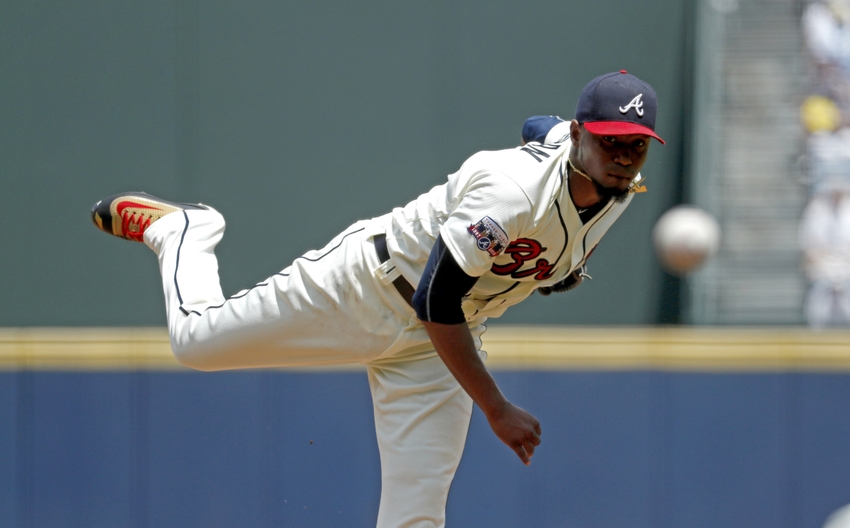 The Atlanta Braves Beat Phillies 2-0 today, their sixth straight win and second consecutive series sweep
The Atlanta Braves swept the Phillies Sunday afternoon at Citizens Bank Park behind six solid innings from Julio Teheran and three shutdown innings from the bullpen. Phillies starter Jake Thompson pitched superbly as well but a hanging slider in the second and a slumping lineup let him down.
Both pitchers breezed through the first inning with Teheran' breaking ball looking particularly sharp.
A darting slider, and @Braves' Julio Teheran has first K of the day vs. Phillies. Tune in NOW on @FOXSportsSouth. pic.twitter.com/9Z8tRmzios

— FOX Sports South (@FOXSportsSouth) September 4, 2016
Here's your run Julio, Go Get 'em
Matt Kemp led off  the second inning with a solo shot to left to give the Braves the lead.
Goodbye baseball!@TheRealMattKemp puts the #Braves up 1-0 with his 28th homer of the season. #ChopOn pic.twitter.com/nT7HUKHrqM

— Atlanta Braves (@Braves) September 4, 2016
The homer gave Kemp a five game hitting streak – .474 over that span – including two homers an eighth RBI.
Overall, Kemp has hit safely 18 of his last 22. #Braves @680_The_Fan
— Kevin McAlpin (@KevinMcAlpin) September 4, 2016
After that the offense went to sleep.  Freddie Freeman led off the fourth with his 200th career double past third to beat the shift but he was stranded.
Freddie Freeman sees your shift, Phillies, and turns it into a double and an 11-game hit streak. @Braves pic.twitter.com/B5gsAeoGmR

— FOX Sports South (@FOXSportsSouth) September 4, 2016
Ender Inciarte led off sixth with a single to center giving him a 15 game streak. Freeman walked with one out and Thompson – perhaps remembering Kemp's earlier homer – pitched so carefully to him that he loaded the bases. Thompson settled down to coax Nick Markakis to hit in to a double play ending the inning without damage.
Better Later or No?
In the seventh Jace Peterson hit a bloop single to center that Altherr appeared to have caught but replay showed he trapped it putting Jace on first.  Dansby Swanson walked and A.J. Pierzynski hitting for Teheran hit a ground ball to third.
Third baseman Maikel Franco attempted to tag Peterson then threw to first to get AJ. Franco did get his glove on Peterson's jersey but the ball was in his other hand and The Braves were still alive with runners at first and second.
The Phillies intentionally walked Inciarte to lad the bases but Garcia grounded out to end the threat without a runner finding the plate.
Thompson was done after seven innings of work spoiled only by that hanging slide to Kemp, replaced my Michael Mariot in the eighth.
Freeman seemed happy to see Mariot taking his first pitch out to dead center putting the Braves up 2-0 and Kemp followed with a line drive single to left.
Markakis hit into a force play and replaced Kemp on first. Tyler Flowers struck out but Peterson got an infield single but Swanson ended the inning with a ground out.
Stop me if you've heard this one. . . The Braves loaded the bases in the ninth on a walk by pinch-hitter Chase d'Arnaud, a single to center by Inciarte and a one out walk to Freeman but the Braves again failed to score with Kemp and Markakis striking out to end the inning.
Teheran's Struggles
Teheran swept through the first the innings without allowing a hit and finished four without a serious threat. The fifth and sixth innings however were a different story.
Freddy Galvis led off the Phillies fifth with a single to center and with one out Peter Bourjos doubled him to third. Teheran struck out Thompson but a slider in the dirt hit Cesar Hernandez on the foot to load the bases.
Franco took strike one the swung aggressively at a Teheran slider and grounded.
The Home sixth started  with a quick out then Cameron Rupp singled and Darin Ruf followed with a single of his own. Julio fell behind Galvis 3-0 but came back to coax a soft fly to center for out number two.
Aaron Altherr walked on five pitches to load the bases and Bourjos hit a screaming line drive to right on a 2-2 pitch but it was also directly at Markakis who caught it and ended the inning.
Teheran finished the day after six innings throwing 106 pitches – 68 for strikes – allowing five hits, striking out seven and walking two.
Teheran was followed to the mound by Chris Withrow in the seventh, Ian Krol in the eighth and Jim Johnson who all pitched scoreless innings to close it out.
The Good and Not So Good
Lots of good things happened today. Kemp extended his hitting streak (5) as did Freeman (11).  He's also hit in 24 of his last 25 games and reached the 29 homer plateau.
Inciarte hit in his 13th straight game; that's 44 of 48 games since the All Star Break. He has 24 hits in his last 13 games; 24-56 is a .428 average folks.
Ender Inciarte with another multi-hit day for @Braves. #ChopOn pic.twitter.com/k0ZFv83mNN

— FOX Sports South (@FOXSportsSouth) September 4, 2016
Meanwhile Julio continues to be Julio, he's allowed two runs or less in 15 of his 25 starts and three or less in 19 starts.
#Braves Teheran has allowed 1 or no earned runs in 7 of 10 starts vs. #Phillies over past 3 seasons.
— David O'Brien (@DOBrienAJC) September 4, 201602
Jim Johnson continues to look like the guy who save 50 games four years ago. Since returning from the disabled list on June 3 JJ's appeared in 39 games throwing 39 innings with a 1.38 ERA, 1.102 WHIP, striking out 42 and walking 12.
The not so good continues to be our failure to deliver with the bases loaded.  Their .196/.239/.267 line is not only the worst in the NL, it's th e worst in MLB by a good margin.
That's a Wrap
Today's victory means the Braves are 17-15 since adding Kemp to the lineup and are 45-55 under Brian Snitker. they were 9-28 under Fredi Gonzalez. I don't think this means Snitker gets the job next year but it is very good job considering the team was a demoralized mess under Gonzalez.
Perspective is important of course. The latest run has been against two teams who aren't exactly at the top of their game.
Tomorrow we move to Washington to visit Max Scherzer, Bryce Harper and company.  We're starting the series by starting Johnny Whole Staff in the first game which has to favor the Nationals and Scherzer always seems to cool down bats.
In the meantime enjoy the six game winning streak and back to back series sweeps. There are 25 games left before the post season begins and the minority sports invade our psyche; enjoy them.
This article originally appeared on