Atlanta Braves Asking About Chris Archer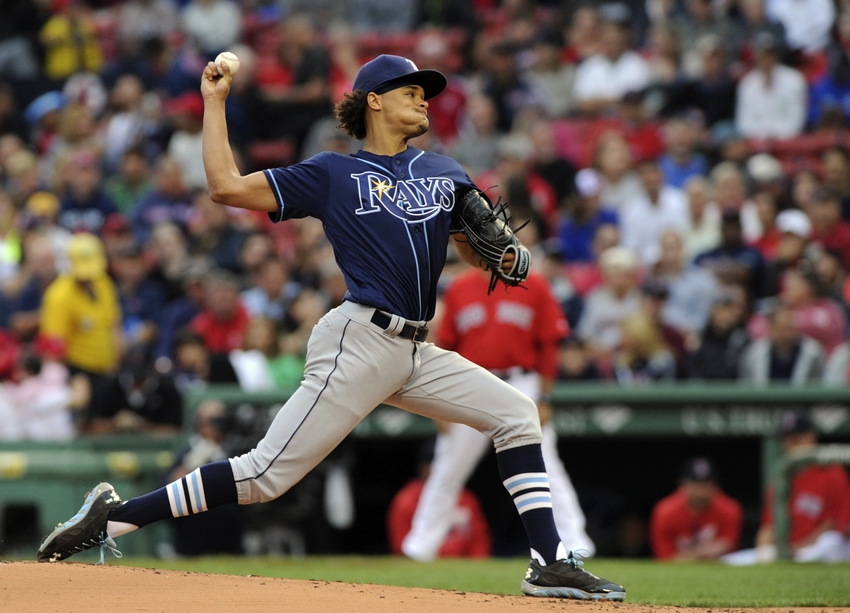 The Atlanta Braves were the worst team in Major League Baseball last season. This off-season, they're going to look to make some huge moves to reinforce their young core.
According to Jon Morosi of MLB Network, the Atlanta Braves are asking to see what it would take to pry Chris Archer away from the Tampa Bay Rays. They have also asked the Rays about a number of other controllable starters.
It is no surprise that the Braves are asking around for pieces to add to their young mix. The Braves currently have the 9th best farm system, according to MLB.com's mid-season farm system rankings. They have reached the point in their rebuild, in which, it is time to add veteran and experienced players to help groom the young prospects. It is time for the Braves to make the next step in their rebuild to become relevant again.
The Rays on the other hand are stuck in the middle. They do not have enough talent to compete for a pennant right now but their farm system is nowhere nearly where it needs to be. They currently have the 17th best farm system in baseball. This does not set them up to rebuild and that is why they are shopping a lot of their young, controllable players. It is not easy for the Rays, considering they play in a very small market and don't have the money to sign players long term. It is time for the Rays to sell their valuable talent and start the rebuild. Trading Chris Archer to the Braves would be a great start.
Archer, 28, had a rough season with the Rays last season. He went 9-19 with a 4.03 ERA and 233 strikeouts in 201.1 innings pitched. Even with the rough season, Archer was able to boast a strong 10.4 K/9. The strong strikeout rate makes it promising that Archer will bounce back next season, whether with the Braves or the Rays.
The price will not be cheap for Archer. Archer will most likely demand a package of top prospects to acquire. If there was any team that could deal for Archer, it would be the Atlanta Braves. They are stacked with talented prospects and would be willing to move some to bring in a top-of-the-rotation pitcher like Archer. The Braves need to get this deal done soon because once the Winter Meetings roll around, everyone will want Archer's services. Acquiring Chris Archer would be a great move for the Braves.
More from Call to the Pen
This article originally appeared on