Athletics Ryan Dull Now in Line for Saves?: Waiver Wire Add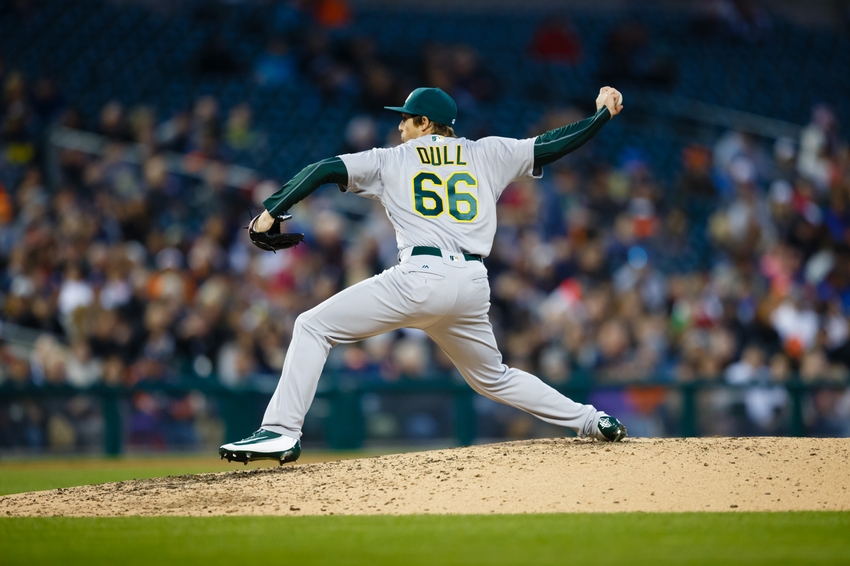 Ryan Dull looks like the next in line for Saves for the Athletics. Can fantasy owners now make him a waiver wire add heading into the second week of the playoffs?
The 2016 season for the Athletics has been a long one, and the team once again looks like they are in transitional stage. While they have some intriguing pieces, at least for now, one player has seemingly flown under the radar all season. Pitcher, Ryan Dull, is easily Oakland's best reliever, and by looking at his numbers, he is having one of the best RP seasons in the league.
For those fantasy owners still alive in the playoffs, finding RP, especially closers, via the waiver wire is nearly impossible. But, could Dull be in the next in line for Saves after Ryan Madson's struggles. Madson has a respectable, 3.43/ 30 SV/49 K line this season, but blew his seventh save this past weekend. Madson slowed down greatly last season in September as well, opening the door for Dull.
Ryan Dull currently sits with a, 2.30/3 SV/14 HLD/67 K/0.81 WHIP line. He has only surrendered one run this month, while striking out seven and walking one, over six innings. Dull tops out at around 93 mph, but the natural sinking action on his fastball allows him to avoid running into trouble. Another positive aspect to his game, is his command, as he has not walked more then four batters in one month since May.
Dull is certainly a speculative add at this point, with no official designation given to him yet, but he was the man called upon to close out the game on Sunday after Madson's collapse. There does not seem to be any other attractive closer that exists on the waiver wire at this point, making Dull a recommended addition since he is only owned in about 15% of leagues.
The only real hurdle that Dull has to overcome, is the question of just how many more games are the A's going to win this season. The rest of their schedule consists of divisional games, potentially offering him plenty of opportunities as the A's always play their AL West mates tough.
Dull has been lights out all season, and the A's would be better off to see if he can handle the closing duties moving forward. He will not offer the crazy K numbers that the elite RP do, even though his 8.6 SO/9 is respectable, but he does provide solid value nonetheless. Make the move.
More from Fantasy Baseball Crackerjacks
This article originally appeared on