Astros: Reymin Guduan and the quiet Stros Rule V draft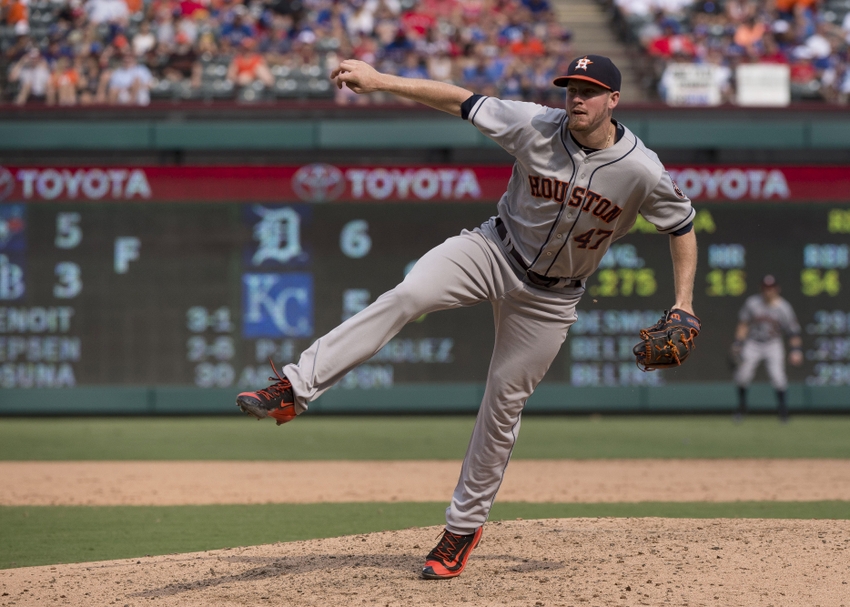 Don't look for too many moves by the Astros regarding the Rule V draft.
The Houston Astros are normally panicking to create roster spots for players not to lose them via the Rule V draft. The organization was stockpiling prospects and had many players who were good enough for a team to take a chance on them. They lost David Rollins and Delino DeShields in recent years, but have been lucky on several occasions. Recent trades have thinned the Astros system of some on the older prospects.
Last season, the team failed to protect Chris Devenski, Brady Rodgers, and Teoscar Hernandez on the 40-man roster. Any team had the chance to steal these players from the Stros but had to carry on the roster all season. Thankfully, nobody drafted these three players who joined the 40-man roster in 2016. Devenski was voted as the team Rookie of the Year by the local baseball writers.
Guduan would have become a minor league free agent if the Astros hadn't added him to the 40-man roster before Tuesday.

— Jake Kaplan (@jakemkaplan) November 5, 2016
Reymin Guduan is added to the 40-man following Neshek trade.
Reymin Guduan is one of those players that the Astros did not protect in 2016. He finished his eighth year as a member of the Astros organization this past season. Had he not been added to the 40-man roster, he would have become a minor league free agent according to Jake Kaplan. Kaplan said they had to add him to the roster before tomorrow.
More from Climbing Tal's Hill
The Astros signed Guduan back in 2009 as a 19-year-old pitcher with the hopes of turning him into a starter. Over the years, he has shown the ability to be a flamethrower with control issues. At this time, he will probably start 2017 in Triple-A to prove he is MLB ready before he debuts. However, the Stros have a big hole in the bullpen from the left side with Tony Sipp's struggles in 2016.
Should Guduan have a good spring, he could put himself in the 2017 plans in Houston. In the past, he has hit 100 mph, but recently as a reliever had settled down to between 94-98 mph. MLB Pipeline suggests that Guduan had to dial his velocity down to find the strike zone more often. The team will access the free agent LHP reliever market, but they have Guduan as plan b.
2016 Rule V draft eligible players.
There are a few carryover players from last year who are eligible to be drafted in the Rule V list. They are Roberto Pena and Kyle Smith. I don't have the complete list of Astros players who are Rule V Draft eligible, but I will list a few of the ones I know. Most of the current group are pitchers who finished last season in Triple-A. They are Mike Hauschild, Jordan Jankowski, Edison Frias, Brian Holmes, and Aaron West.
Don't look for there to be too much risks of losing players this year. Most of the top prospects are either recently drafted/signed or currently on the 40-man roster already. I'm sure there are a few more players that I have not mentioned, but I'll wait for JJ Cooper to release his names. With the Astros seeking to win in 2017, I would be surprised in they drafted someone in the Rule V draft.
***Stats and service time from Baseball-Reference and MLB Pipeline***
This article originally appeared on