Astros reportedly in on 11 time All Star Miguel Cabrera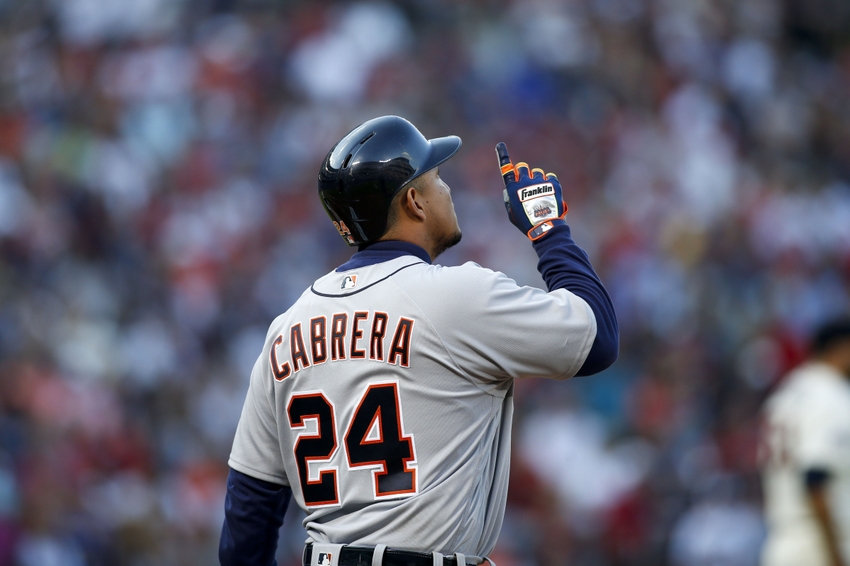 Miguel Cabrera has put together a Hall of Fame career, and the 33-year-old slugger could be on his way to Houston
Miguel Cabrera has established himself as one of the best hitters in baseball over the past 15 seasons. A career .321 batting average and 446 home runs in 14 seasons set him apart from the rest. The Detroit Tigers have made it clear every player on their roster is available through trade, and the Astros are in need of first basemen and a slugger.
#Astros will pursue Miguel Cabrera or Edwin Encarnacion. Payroll increase is coming. They have only two players signed beyond 2017. @MLB

— Jon Morosi (@jonmorosi) November 9, 2016
The Astros struggled to get production at first base and Designated Hitter in 2016, causing problems offensively. Adding Cabrera would add a lot of thump to this already dangerous lineup. A hitter, the caliber of Cabrera, can help balance out a lineup that already includes fellow Venezuelan and MVP Candidate Jose Altuve. With the help of other young stars Carlos Correa, George Springer, and Alex Bregman, the Astros could put together one of the deadliest lineups in Major League Baseball.
Get the FanSided App
Jon Morosi wrote that the Astros will be looking to trade for Cabrera. The 33-year-old can play first base and hit in the DH spot for the Astros. He posted a .995 fielding percentage in 2016, with seven errors committed in 1262 inning played. The Astros would be adding a guy with real proven major league skills and a veteran with experience in postseason play. 11 All-star game appearances and two MVP awards show the caliber of player Cabrera is.
More from Climbing Tal's Hill
Why Cabrera fits.
A trade for Miguel Cabrera would cost a team a lot, and general manager Jeff Luhnow has already said he would rather avoid giving up prospects.
If a player the caliber of Cabrera is available, however, you need to consider him. A deal for Cabrera probably includes 3 or 4 prospects from your top 15. Lucky for the Astros, they might have the farm system that can absorb a hit like that. If this deal is done, Astros fans need to understand to get good players. You have to trade good value.
Cabrera has a full no-trade clause in his contract, which runs through 2023. This means he can veto a trade to any team, so any team the Tigers decide to trade him to has to convince Cabrera that he belongs there.
Altuve and Cabrera are from the same hometown.
Astros star Jose Altuve and Cabrera already have a friendship that can be seen any time the two are on the same field. Both are Venezuelan, and both are premier players at their positions. Cabrera would surely love to play alongside the fiery second base me. The slugger is a good person on and off the field and has shown he genuinely enjoys the game of baseball and plays it to have fun.
Miguel Cabrera has full no-trade clause. Jose Altuve would be key part of sales pitch; they are friends from same hometown of Maracay. @MLB

— Jon Morosi (@jonmorosi) November 9, 2016
Cabrera, all in all, can be a pivotal part of the Astros return to postseason baseball. He is a great mentor and an even better ball player.
Whether the Astros pursue Cabrera or not, the team needs to add a big power bat. Edwin Encarnacion, Joey Votto, or Jose Bautista could be options, but me personally, I would love to see Cabrera in an Astros Uniform. He has a no-trade clause, but he is close friends with Altuve. This is a big off-season for the Astros, and it will be fun following the moves they make.
***Statistics Courtesy of BaseballReference.com***
This article originally appeared on