Astros Jose Altuve New Fantasy No. 1?: 2017 Fantasy Outlook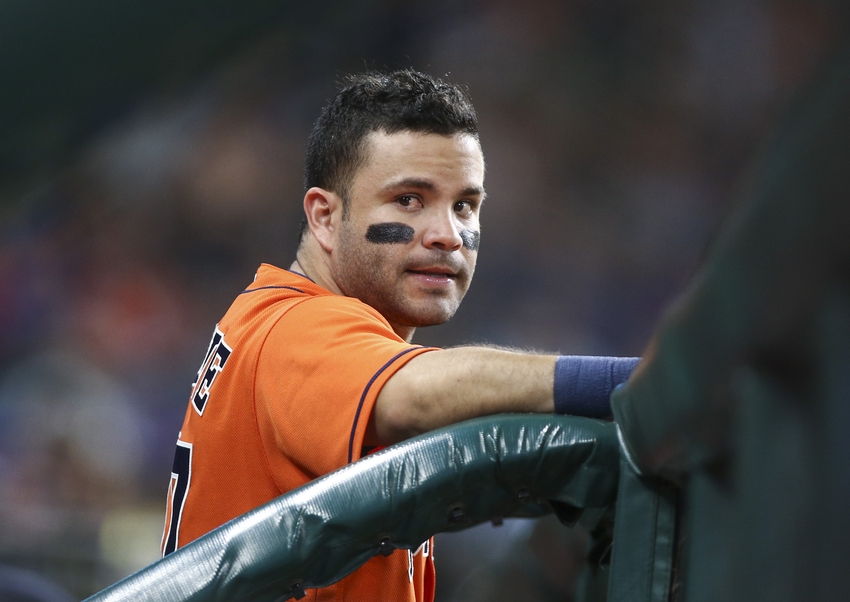 Jose Altuve was somehow even better for the Astros in 2016, offering a top 5 fantasy performance. Is it foolish to think, that he could be worth being taken 1st overall in 2017?
Is it never too early to start looking towards the 2017 season, as the offseason is getting ready to be in full swing thanks to the winter meetings. One of the first fantasy discussions that owners have is, who belongs as the 1st overall selection. The hope is that there is one clear candidate, but that is the not the case in 2017.
Before we even get to Jose Altuve and his case for being the first player taken, Mike Trout is the best player in baseball. Whenever this is up for discussion, people take it as an indictment of Trout's talent, this is not. It is simply an indication that there are elite talents that are knocking at his door, like Joe Altuve.
There are some players in MLB that are just impossible not to like, and Altuve is certainly one. Standing in at 5'6 with cleats on, he has amazingly tuned into one of the best players in the game. For years, he was looked at as slap or speed type of hitter, but last season he muscled up and brought out the power stroke. In 2016 he posted a, .338/24 HR/96 RBI/30 SB/108 R/.928 OPS line.
It seemed that fantasy owners loved owning Altuve, but never at the price tag he usually would go for, because he appeared to be just a AVG/SB producer. But, over the last two seasons, the power and run production has finally surfaced. A large part of that is the Astros are a better team, but Altuve is also evolving at the plate.
If we take a closer look at his batted ball data, Altuve squares the ball up as good as anyone in baseball. He had a 26% LD, 53% Med contact, and 34% Hard contact rates last season. He was hitting nearly everything with authority, add the fact that he dropped his GB% by nearly 5%, and you can see why the power spiked.
Another interesting thing to note, is that as his power has surfaced, he is methodically getting rid of his oppo approach. He has a career 22% Oppo rate, but the last two seasons it has leveled off at 19%, while his Pull rate has jumped to 45%. This wont hurt his AVG, as his speed makes up for the difference, but it is reassuring to see that the sudden power approach is not a fluke.
Altuve will enter 2017 looking for his fifth straight 200+ hit season, and sixth straight 30+ SB season. He did steal a career low 30 SB last season, but he did get caught 10 times, so it is not like he has stopped taking his chances. The one thing that he also has going for him that Mike Trout does not, is that he has a vastly better supporting staff.
Trout basically has to single handily will himself to maintain solid counting stats, because outside of Albert Pujols and maybe Kole Calhoun, the Angels just do not have any firepower. Not to say that Trout is not the safest option, but it just seems that Altuve may have the slight edge in the counting stats area.
The real conundrum is, what is more likely to stay, Altives's  20+ HR or Trout's 30 SB? Trout did steal 30 bags for the first time since 2013, but his power dipped below the 30 HR mark since then as well. Trout is still a stud and is only 25-years-old, he could probably steal 50 SB if he wanted to, but Altuve is showing that he can hang right there with him.
In terms of Altuve's power, alot of people do not want to believe in it because of his size. But, the batted ball data does not lie, and the fact that he has made changes in his approach is telling. The scary part about his game, is that he is spitting on balls out of the zone, and attacking more pitches in the zone.
In 2015, his 0-Swing%, or pitches swung at outside of the zone, was 36%. In 2016, he dropped that to 33%, while maintaining a 71% Z-Swing rate, or pitches swung at in the zone. So, what you have is a guy that is sitting on more pitches in the zone, hitting them hard and pulling them out of Minute Maid. Nothing about his peripherals say that his power is a fluke.
There is no wrong decision here between taking Mike Trout or Jose Altuve, and maybe even Kris Bryant or Nolan Arenado. But, the fact is that the gap has closed on Trout and the rest of the field. We saw this same dilemma with Miguel Cabrera and Trout just a few seasons ago, and it seems like Altuve should warrant that same discussion. It is not crazy to think that Jose Altuve could be the first name hard on draft day.
More from Fantasy Baseball Crackerjacks
This article originally appeared on