Astros' Fans Have Much to be Thankful For in 2017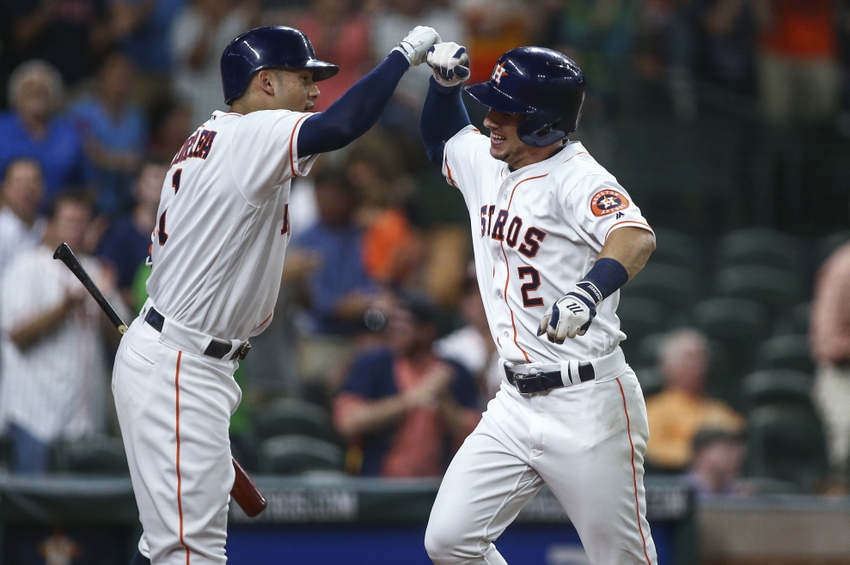 52 reasons that Astros fans can be thankful this Thanksgiving.
As 2016 comes to a close as Christmas approaches, Houston Astros fans have a lot to be thankful for. Houston is on the list of longest World Series winning drought in its 52 years of existence, but that could change soon. After a few seasons of rebuilding, nicknamed the process, the Stros are back to being competitive again.
With the little time I had before dinners, I wrote 52 things to be thankful for as Astros fans. I did so with a little help from Twitter/Facebook. Why 52, this represents how many years the Houston major league team has been around. While there are many other reasons, here are a few.
Carlos Correa represented a change in the organization. He also overtook Adam Everett for the all-time leader in homers by a shortstop in two years. The Astros have never had a shortstop of his caliber before. I'm thankful that we haven't even seen @TeamCJCorrea hit his full potential. – @

zachandlutz

.
Alex Bregman came on the scene after only a year in the minor leagues to become one of our better hitters. I am thankful for his cockiness on the baseball field thinking he can do anything.
The team added Brian McCann, Charlie Morton, and Josh Reddick!
George Springer's ability to catch any ball near a wall in any ballpark! – Travis Allard
Many experts feel like Jeff Bagwell will be inducted into the Hall of Fame this year. I'm thankful for Jeff Bagwell. I will forever be thankful for Jeff Bagwell. – That One Chick.
@

astrogal93

 is thankful how handsome Jake Marisnick is. – Justin Kirk (I think Greis Perez is also a fan.)
For Craig Biggio becoming the first Astro to be inducted into the HOF.
I am

#

Thankful4Astros

young core- Altuve, Bregman, Correa, and Springer. May we enjoy exciting things ahead with them. -Larry Paul.
Marwin Gonzalez is such a valuable piece as a player who can play anywhere
Yulieski Gurriel represented one of the few times that the Stros outbid the competition for an international free agent.
Thankful for how well Evan Gattis has played as a catcher after a year or two playing in the outfield or as a DH.
Thankful that Climbing Tal's Hill covers the Astros 12-months a year, there is never an offseason.
That Tyler White was able to drop all that weight in the season and showed promise in his stint at the end of the year.
While he's not perfect, A.J. Hinch has a great ability to get the team to play together and win. He did not give up after a bad start to 2016.

A park with a retractable roof. – Jake Adkins.

Thankful how personable Tony is in taking the time to connect with fans. He has thanked me for being a fan of his. Great guy. – Steven Neely.
Thankful for Jeff Luhnow because he helped me discover a passion for wanting to become a GM. – Johnny Armstrong.
That we have a GM and ownership that realizes how important it is to develop the farm system. Round Rock Tim.
I am thankful I no longer have to listen to fellow fans' perpetual belief in the myth that Colby Rasmus is good. – Frederick Charles.
Preston Tucker, once he figures things out, he will be a great power option for the left side of the plate.
The 21 years or baseball without a work stoppage, which could change beginning Dec 2, 2016.
I'm

#

Thankful4Astros

for delivering us an entertaining, young team, and a productive new outfielder in Reddick. – Justin Kirk.
The promise that A.J. Reed has for this team, we have not seen the best of him. He is a premiere slugger from the left side of the plate.
I'm Thankful The Astros have an Owner that is willing to spend money and do whatever it takes to make the team better. – McCuller's Maniacs.
The healthy season Lance McCullers is about to have. – Justin Kirk.


More from Climbing Tal's Hill

Modern tech (Twitter, blogs, & extra innings) lets me live 2,000 miles away and follow Astros daily. – Brian Arbour.
Mike Trout is not our MVP. That would be Jose Altuve who seems to get better as he ages.
I'm

#

Thankful4Astros

for giving us some young talent to grow as fans with and something to look forward to each Spring. – Pete @

GonzoKnox

.
Thankful for the pitcher that Tony Sipp was in 2015 in the playoffs and hoping a return to form in 2017.
Thankful, for George Springer, his personality, and courage to stand up to stuttering, and help kids with it. – Ed Astro.
For Collin McHugh falling at our feet via waivers and for the way he carried the rotation towards the end of 2016.

They aren't the Rangers. – Kole Philip.

For their awesome uniforms that make all the player's butts look good. – Nicole Acton.
They've made me learn more about math and statistics in the past four years than my four years of college and two years of post-graduate work with an emphasis on stats. – Joel Smith.
The reemergence of Teoscar Hernadez whose career stalled in 2015, but he rose to help the Astros down the stretch.
Will Harris, when not the closer, he is one of the most dominating relievers in the game.
I am thankful for Tal's Hill. Wait … what? – Sean Van Hoy.
Thankful for the removal of Tal's Hill! – Will Moriarty and @

jsprys

.
We have the best closer since Billy Wagner in Ken Giles. – Johnny Louis Orgovan.
We DON'T have to pretend to like Rougned Odor!! – Bill Perryman.
For the team not releasing Brad Peacock when we all called for his release in 2016, he filled in when the Astros needed a starter down the stretch.
We will have what appears to be a new ballpark with the remodeling centerfield. George Springer was healthy last year. – Aaron Samoska.
That we kept McCullers over Vincent Velasquez, McCullers has the potential to be the team ace.
That Luke Gregerson has become one of the veteran leaders in the Astros bullpen. He was put in an unfair situation with the arrival of Giles, but it worked itself out.
The emergence of both Micheal Feliz and Chris Devenski as the effective long-relievers in
That we have seen Doug Fister's last appearance with the Astros.
Devenski for being successful in whatever role that Hinch puts him in, he has a way of becoming a fan favorite where ever he goes. Stay the same Dragon.
Thankful that the turkey GoGo is no longer an Astro.
Thankful for what Dallas Keuchel does to the Astros rotation, let's hope he bounces back in 2017.
The future is bright with Joseph Musgrove, David Paulino, and Francis Martes to anchor the Astros rotation in the future.
#Thankful4Astros grateful for Jose Cruz's leg kick. – @

qtab

.
The Astros will have a payroll above $100 million for only the third time in its 52 year existence. I'm thankful that Jim Crane finally opened his wallet! – James @

autch14

.
Thanks to all those who took part of this list. Got some more to add, you can put them in the comment section below. I am thankful for my family, my job, the Astros, and co-hosting a talk show called Talking Stros with Brandon Del Castillo. Listen in on Sunday's.
Happy Thanksgiving Astros fans, don't spend too much on Black Friday.
This article originally appeared on