Astros Dallas Keuchel: Can He Rebound To Cy Young Form in 2017?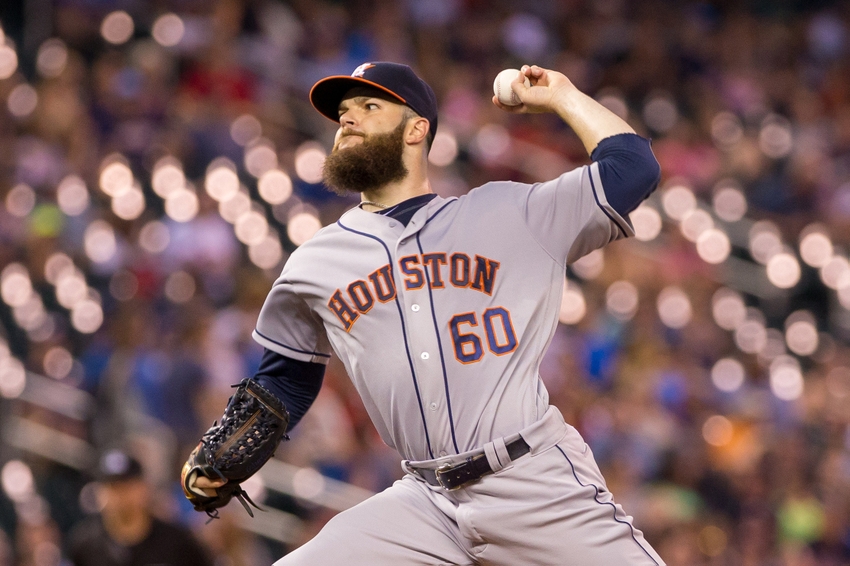 Astros ace pitcher Dallas Keuchel had a disappointing season, mostly because of his home/road splits. Can he rebound back to a top-10 fantasy pitcher?
The Houston Astros have a lot of young talent on offense to carry the team for years. The team also has a Cy Young award-winning starting pitcher in the rotation. Though, he fell off a bit last season. Can Dallas Keuchel bounce back and be the top-10 starting pitcher he once was?
Keuchel entered the 2016 season coming off of his Cy Young season, receiving 22 of the 30 first place votes. He went 20-8 in 33 starts and finished with a 2.48 ERA, 1.02 WHIP and 216 strikeouts. He finished No. 11 overall on the 2015 Player Rater.
Keuchel was the No. 44 player drafted in ESPN leagues in 2016. Fantasy owners were hoping for a repeat season, but they got something completely different.
He made just 26 starts after his season ended prematurely at the end of August and finished with a 9-12 record. Keuchel ended with a 4.55 ERA, 1.286 WHIP and 144 strikeouts.
As a fifth-round pick, he was the No. 129 pitcher, not player, on the Player Rater. The downside is that Keuchel's owners couldn't rely on him for every start.
In his 12 home starts, he had a 3.60 ERA, 1.113 WHIP and a 67:16 K:BB ratio. On the other side, he had a 5.42 ERA, 1.443 WHIP and 77:32 K:BB ratio in his 14 road starts.
It was also a tale of two halves for Keuchel. He had a 4.80 ERA and 1.367 WHIP in his first 19 starts. In his seven in the second half, remember he missed the final month, he had a 3.94 ERA and 1.083 WHIP.
With a relatively inexperienced rotation, the Astros are going to need Keuchel to right the ship next season. Four of the five starters finished with an ERA over 4.00. Of the five, Keuchel has the best odds to be a top-10 pitcher based on past seasons and future projections.
If Keuchel can even things out and pitch as well on the road as he does at home, then fantasy owners will have a star on their team. The only thing is that's a big 'if.' Maybe this is the Keuchel we should get used to.
Analyzing where Keuchel will be drafted is difficult. Do you draft him based on his 2016 performance? Because that would be pretty low. Or, do you draft him based on what he can do and what you expect out of him? I think it's closer to the former, unfortunately. He will be ranked in the 30s with a lot of upside.
More from Fantasy Baseball Crackerjacks
This article originally appeared on