Arizona Diamondbacks Zack Greinke Gets Some Good News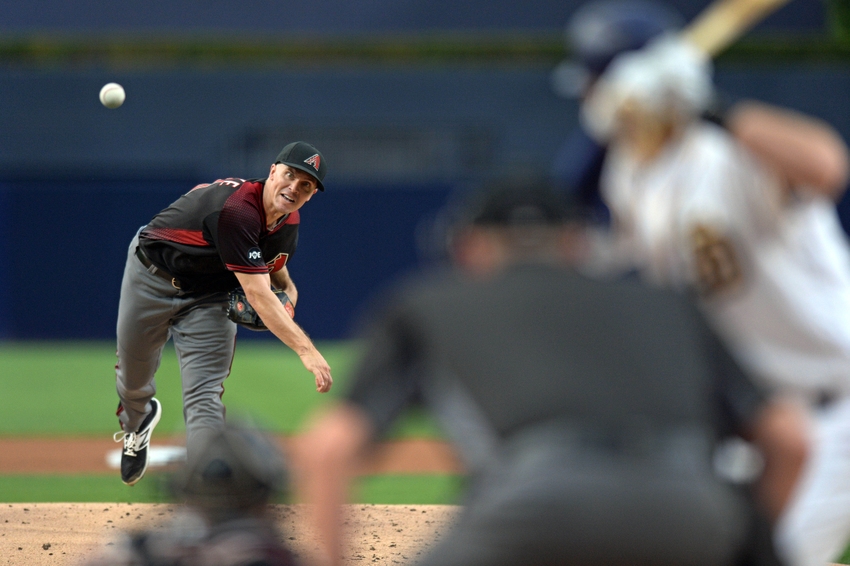 It is easy to say that the 2016 campaign has been a lost one for Arizona Diamondbacks starter Zack Greinke. Fortunately, he has received a little bit of good news.
Last night, it was announced that Zack Greinke would miss his next start for the Arizona Diamondbacks to have an MRI on his right shoulder. Fortunately for both Greinke and the Diamondbacks, the MRI did not reveal any structural damage, although the rest of the season is in jeopardy for the Arizona ace.
The fact that there is no damage to that shoulder is one of the few pieces of good news that Greinke has received this year. Battling injuries and ineffectiveness, Greinke has posted a 4.37 ERA and a 1.273 WHiP, the worst numbers that he has posted over a season since his last year with the Royals. This is certainly not what the Diamondbacks had in mind when they signed him to a $206.5 Million contract last year.
While Greinke did not complain about his shoulder during his last outing, when he held the Pirates to two runs over six innings, it may be fair to wonder how long it has been an issue. Greinke's uncharacteristic struggles may be due to that injury, or the oblique injury he had during the middle of the season.
More from Call to the Pen
Although the Diamondbacks are not ruling Greinke out for his final scheduled start on October 2nd, it makes sense to just shut him down for the rest of the year. The Diamondbacks are certainly not in the postseason hunt, and giving Greinke one last start will not change anything in terms of their finish this year. Instead, it may be best to let him rest up and head into the 2017 season strong, with his start against Pittsburgh as a high note heading into the offseason.
In order to compete next season, the Diamondbacks will need a healthy Zack Greinke. While his shoulder is the main concern at this point, getting him into the right mindset heading into the 2017 campaign.
In a way, Greinke may be the key to the Diamondbacks chances. If healthy, the lineup has a solid amount of firepower with Paul Goldschmidt, A.J. Pollock, and David Peralta leading the way. The rotation is solid, especially if Patrick Corbin and Shelby Miller can return to form. Getting a healthy Greinke to head up the rotation, if he can also get back to the pitcher he was in Los Angeles, will make a huge difference.
Zack Greinke is an important part of the Arizona Diamondbacks hopes for next season. Making sure that he is healthy is far more important than trying to win some meaningless game on the last day of the season.
This article originally appeared on