Arizona Diamondbacks: What to Expect From Fernando Rodney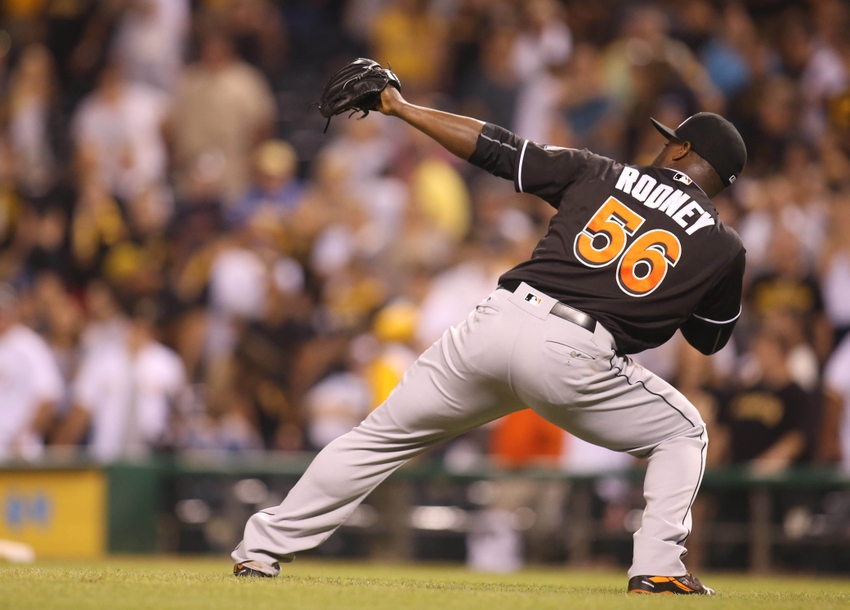 Last week the Arizona Diamondbacks signed veteran reliever Fernando Rodney. Jon Heyman noted in his write-up on the deal that Arizona is bringing Rodney on board to be the team's closer in 2017. The nearly forty year-old Rodney experienced major swings in production last season, and it's worth taking a few moments to consider what the Diamondbacks should expect from him next season.
Rodney opened last season with the San Diego Padres, and through June he was one of the most valuable relievers in baseball. Over his first 28.2 innings of work he earned an 0.31 ERA, and racked up 17 saves. This success made Rodney a valuable trade chip, and the Padres sent him to the Marlins for a pitching prospect in late June.
However, once Rodney arrived in Miami he experienced very different results. In his 36.2 innings of work for the Marlins he accumulated a 5.89 ERA, and his walk rate jumped from 3.8 per nine to 6.1. Most assumed that he would be unable to sustain his level of production in San Diego, but few expected him to look this bad.
In many ways Rodney's 2016 was a tale of two halves. So which Fernando Rodney should the Arizona Diamondbacks expect to show up next season? There are reasons for both optimism and pessimism regarding his 2017 outlook.
While many would expect Rodney's age to eventually be a problem, he hasn't shown many signs of slowing down. Over the past three seasons his fastball velocity has remained relatively unchanged. He's also managed to pitch at least 60 innings in every season since 2011.
Connor Newcomb of Fish Stripes offers a theory regarding Rodney's struggles that could also give Diamondbacks fans hope. Over the course of his career, Rodney has been a much better pitcher when he has been in a defined closer's role. Miami initially brought him in to function as a setup man. However, Rodney earned a 7.27 ERA when pitching in the 8th inning last season (17.1 IP), and a 2.13 ERA when pitching in the 9th (42.1 IP). Could a return to the closer's spot simply make him a more comfortable pitcher?
More from Call to the Pen
That's not to say there aren't reasons for concern. The fact that he's heading to Arizona brings a number of potential issues. Rodney will find himself pitching for a team that finished 18th in team defense by DRS, and 27th by UZR. The return of a healthy A.J. Pollock should help, but this is still expected to be a below average defensive team at a number of positions.
Another issue could be Rodney's new home ballpark. Chase Field was the second most conducive park to run scoring in baseball last season. It also allowed the second highest rate of home runs. Team defense and the park won't completely determine Rodney's fate in 2017, but they don't figure to help.
Arizona likely expects Rodney to be more successful than he was in Miami, while also recognizing how unlikely it is he will experience another San Diego-type run. Over the course of his fourteen year career Rodney has shown the ability to be a solid, and at some times dominant, reliever. It's unlikely the Diamondbacks will compete for a playoff spot next season. However, if Rodney finds some success he is a potential trade piece that could bring the Diamondbacks a young player for the future in return.
If Rodney doesn't pitch well, then Arizona is only out a few million dollars on a one-year contract. In today's game, that isn't much of a financial risk at all. At the very least he'll be able to eat up some innings while sparing their younger arms. It's a smart play for a team that should know its competitive window is still a few seasons away, and for fans of the team it's probably refreshing to see such a decision made.
This article originally appeared on