Arizona Diamondbacks Tony La Russa on Adam Jones and Colin Kaepernick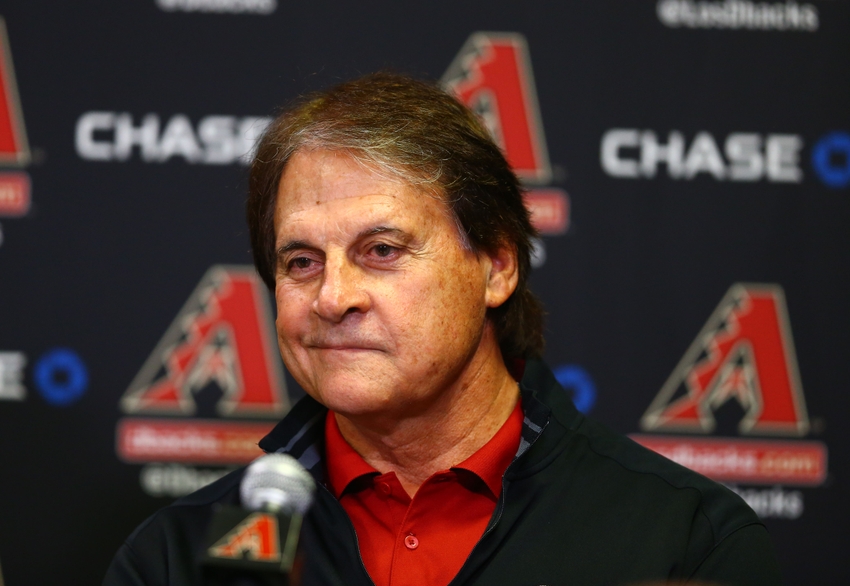 Arizona Diamondbacks Chief Baseball Officer Tony La Russa went on The Dan Le Batard Show and discussed the recent comments and actions of Adam Jones and Colin Kaepernick
While appearing on The Dan La Batard Show on ESPN Radio on Wednesday, Arizona Diamondbacks Chief Baseball Officer Tony La Russa voiced his opinion on recent words and actions of two African American professional athletes, Adam Jones and Colin Kaepernick. As usual, La Russa had something to say. He's never been shy about voicing his opinion, even when it means going into the broadcast booth during a game to argue with the opposing team's announcer, as he did earlier this year.
Baltimore Orioles outfielder Adam Jones was asked recently why no MLB players have publicly protested racial injustice the way athletes in other sports have done. These protests began with Colin Kaepernick in the NFL and have since spread to athletes in other sports. Jones responded by saying, "We already have two strikes against us already, so you might as well not kick yourself out of the game. In football, you can't kick them out. You need those players. In baseball, they don't need us. Baseball is a white man's sport."
Jones later expanded on his original interview when he pointed out he was just quoting the numbers. "At the end of the day, I'm one of the most known black players in baseball. There are 58 or 59 of us. Baseball is numbers. It's eight percent black. I didn't make that up. In football and basketball the numbers are in the 60s and 70s. These aren't made up numbers. It just is what it is. I'm part of the eight percent."
He added, "Here is my biggest thing with it. Society doesn't mind us helping out the hood and the inner cities, but they have a problem when we speak about the hood and the inner cities. I don't understand that part."
La Russa responded by saying Jones was off base when he said baseball is a white man's sport. "When he says it's a white, like elitist kind of sport, I mean how much wronger can he be? We have tried so hard, the MLB, to expand the black athletes' opportunity. We want the black athletes to pick not basketball or football, but want them to play baseball—they should play baseball. And we're working to make that happen in the inner cities. We have a lot of Latin players, we have players from the Pacific Rim."
It's interesting to note that Jones never said that baseball was "a white, elitist kind of sport." That's how La Russ interpreted what Jones said. Jones stated a fact: baseball is eight percent black. To that point, there's no denying that the percentage of African-American players in MLB has dropped since its peak in the early 1980s.
Baseball Demographics Over the Years
This article shows the trend in demographics for MLB from 1947 to 2012. In that time, white players dropped from 100% of MLB to around 70% by 1975 and remained around that level until 1990. In the late-1990s, the percentage of white players dropped to around 63% and has remained right around that level through 2012.
The interesting comparison is between African-American and Latin American players. In 1960, there was the same percentage of African-American and Latin American players, 8.9%. By 1985, the percentage of African-American players had increased to 18.3%, while Latin American players made up 11.3% of the MLB player population. Since 1985, African-American players have seen a drop all the way down to 7.2% in 2012. Meanwhile, the percentage of Latin American players was close to 27% in 2012. It appears the influx of Latin Americans has most notably affected the percentage of African-American players, with the percentage of white players and Asian players remaining fairly steady since the late-1990s.
Of course, there's no evidence that MLB wants fewer African-Americans in baseball and I don't believe Jones is blaming baseball for the relative lack of black players. As La Russa pointed out, MLB has programs intended to encourage African-Americans to play baseball, such as the Reviving Baseball in the Inner Cities program. When it comes to African-Americans choosing to play baseball, economic factors likely play a major role. Playing baseball has become a very expensive sport for select players. The top baseball players in the country often play on elite travel teams that play in tournaments across the country. The days of youth baseball teams holding a car wash to raise money to play in one tournament in the summer are over, at least for the top players.
Adam Jones is more outspoken than most players, African-American or otherwise. He's willing to talk about these issues, even though he knows that most sports fans would rather not hear from athletes about anything related to politics. Jones does more than just talk about these issues, though. He was recently named the Orioles' nominee for the prestigious Roberto Clemente award for his community involvement, philanthropy, and contributions. Last year, he was named the 2015 Marvin Miller Man of the Year. This award is given to the player whose on-field performance and contributions to his community most inspire others to higher levels of achievement.
La Russa's Criticism of Kaepernick
La Russa was more pointed in his criticism of Colin Kaepernick, with much of his criticism stemming from his distrust in the sincerity of Kaepernick. La Russa said, "I was there in the Bay Area when he first was a star, a real star. I never once saw him do anything but promote himself. And all of a sudden now he's a second-stringer and he's got this mission . . . and I just don't trust his sincerity. And even if he was sincere, there's ways to express your belief in some of the issues that face blacks around this country without disrespecting the country you live in or the flag that it represents."
One could argue that Kaepernick is shedding light on the issue now because of the recent shootings of unarmed African-Americans by police officers that have been captured on cell phones, which were not as ubiquitous five years ago. When Kaepernick came into the league, this issue was not the hot-button topic it is today. Also, La Russa has never sat down with Kaepernick to determine his sincerity, so he's making this judgment from a distance without really knowing the person Kaepernick is. It's possible Kaepernick has matured over the years.
It should be noted that Tony La Russa's political views have been in the news a couple times previously. In August of 2010, La Russa and Albert Pujols attended a Glenn Beck "Restoring Honor" rally that also featured Sarah Palin and 20,000 Tea Party supporters on the steps of the Lincoln Memorial. This event coincided with the 47th anniversary of MLK's "I Have a Dream Speech." At the time, La Russa insisted it was not a political event, saying that the "gist of the day is not political."
Also in 2010, a group of St. Louis Tea Party activists used the Cardinals' game against the Arizona Diamondbacks to show their support for Arizona's new anti-illegal immigration law (Arizona HB 2162). This was a very controversial bill that the MLB players union had condemned, along with many other organizations. It was one of the broadest and strictest anti-illegal immigration measures seen in many years and was nicknamed the "papers please" law.
La Russa took the opportunity to praise the Arizona law, saying, "I'm actually a supporter of what Arizona's doing." About the Tea Party activists, he said, " . . . a lot of things they do I think are correct."
(The law was challenged in court and blocked by a federal judge the day before it was supposed to take effect. The case went all the way to the Supreme Court. In June of 2012, the Supreme Court ruled on the case and upheld the provision requiring immigration status checks during law enforcement stops but struck down three other provisions as violations of the Supremacy Clause of the U.S. Constitution.)
At the Cardinals—Diamondbacks game in 2010, spectators were not pleased by the Tea Party presence at the ballpark, with many saying politics should be kept out of the ballpark. La Russa disagreed, describing the stadium as a forum for ideas, not just fly balls. He said, "Anybody, I mean if you had the opposite view and you wanted to come out and have your signs, this is great. You're going to have 40,000 people here to see it. Perfect. I don't care."
On The Dan Le Batard Show on Wednesday, La Russa was asked whether he would let a player sit during the anthem if he were a manager today. He said he would "absolutely not allow it." He continued, "I would tell [a player that wanted to sit out the anthem to] sit inside the clubhouse. You're not going to be out there representing our team and our organization by disrespecting the flag. No, sir, I would not allow it . . . if you want to make your statement you make it in the clubhouse, but not out there, you're not going to show it that way publicly and disrespectfully."
Disrespecting the Flag and the National Anthem
Many people agree with La Russa regarding the flag. They believe what these athletes are doing is disrespectful, even though every athlete has made clear that he or she means no disrespect to the flag, the country, the military, or police officers in general. They are using the two minutes during the national anthem to shed light on racial and social injustice. They have succeeded in getting a conversation started. Unfortunately, the conversation is more about the proper way to protest than about the actual issue. This isn't necessarily the fault of the athlete, of course. People who do not approve of the manner of protest have chosen to ignore the issue of racial injustice and instead focus on how the athletes are protesting. Whether intentional or not, it has succeeded in switching the topic of conversation.
Adam Jones spoke about the right to protest for African-American athletes, saying, "The First Amendment says we have freedom of expression. We're supposed to be so free, so free. But any time anybody of color speaks up in the United States, for some odd reason, they always get the raw end of the deal. It sucks."
What Jones said is particularly true of protests during the national anthem. Historically, protests by African-Americans during the national anthem have brought scorn from the public. At the 1968 Olympics, two black Olympic athletes, John Carlos and Tommie Smith, each raised a single black fist in the air during the national anthem. They were heavily criticized, then ostracized after the Olympics, with many racial slurs directed their way. Both of their families received death threats.
Fast forward to the Rio Olympics this year and we have another incident, albeit unintentional. African-American Olympic gymnast Gabby Douglas stood during the national anthem but did not put her hand over her heart. She never claimed to be protesting anything and said she was just overwhelmed by the moment. And she was heavily criticized for being disrespectful. Meanwhile, white Olympic swimmer Michael Phelps started laughing during the national anthem and didn't receive the same criticism.
Over the years, black athletes have been criticized for sitting, kneeling, raising their fists, and not putting a hand over their heart during the national anthem. It definitely appears that the general public feels that the national anthem should be off limits when it comes to protesting important social issues. What about the national anthem, though? Why is it so sacred? Is it the best option as an anthem for all of the people of the U.S.?
This article at CNN points out the ugly history of the national anthem. The man who wrote the lyrics to the anthem, Francis Scott Key, was an anti-abolitionist who owned slaves. He once said Africans were "a distinct and inferior race of people, which all experience proves to be the greatest evil that afflicts a community."
During Key's life, African-Americans were considered property. They were bought and sold at auctions, put up on a stage and inspected like animals so white landowners could pick and choose which ones they wanted to purchase. The U.S. has now existed for 240 years. African-Americans were slaves for the first 89 years. It took another 100 years before the Civil Rights Act of 1964 was upheld by the Supreme Court and prohibited discrimination in public accommodations, such as motels, restaurants, and schools. During this time, there were "whites only" restaurants and hotels and water fountains. Schools and neighborhoods were segregated. It was separate and very much unequal.
Combine the 89 years of slavery and the nearly 100 years of legal segregation and you have nearly 80% of this country's history during which African-Americans were either slaves or second-class citizens. It's true that no one alive today owned slaves, but the history of oppression is long and it takes times for attitudes to change. Racist beliefs don't evaporate instantly when new laws are put in place.
It's clear that when Francis Scott Key wrote, "O'er the land of the free and the home of the brave", the free did not include African-Americans. They were slaves. They were property. With this in mind, perhaps the national anthem is the perfect time for African-Americans to protest racial injustice.
The historical standard-bearer for African-Americans in baseball is Jackie Robinson, the man who broke the modern color barrier. Major League Baseball honors the legacy of Robinson every year on April 15th. On this day, all players, coaches, and managers on both teams, plus the umpires, wear #42 on their jerseys. This day is particularly important for the African-American players in the game today. Last year, Adam Jones visited a Boys and Girls Club and he and Buck Showalter spoke of the importance of Jackie Robinson.
Major League Baseball is considered to have started in 1876. That's 140 years ago. It wasn't until 1947 that Jackie Robinson played his first game. That's 69 years ago. Major League Baseball has existed for longer as a "whites only" sport than a sport that allowed African-Americans to play.
The man who is honored by MLB every April 15th was not a fan of the national anthem. He wrote the following in his autobiography, I Never Had it Made: "Today, as I look back on that opening game of my first World Series, I must tell you that it was Mr. Rickey's drama and that I was only a principal actor. As I write this twenty years later, I cannot stand and sing the anthem. I cannot salute the flag; I know that I am a black man in a white world. In 1972, in 1947, at my birth in 1919, I know that I never had it made." I wonder what Tony La Russa has to say about this quote from Jackie Robinson.
This article originally appeared on