Arizona Diamondbacks: Time to Wheel and Deal?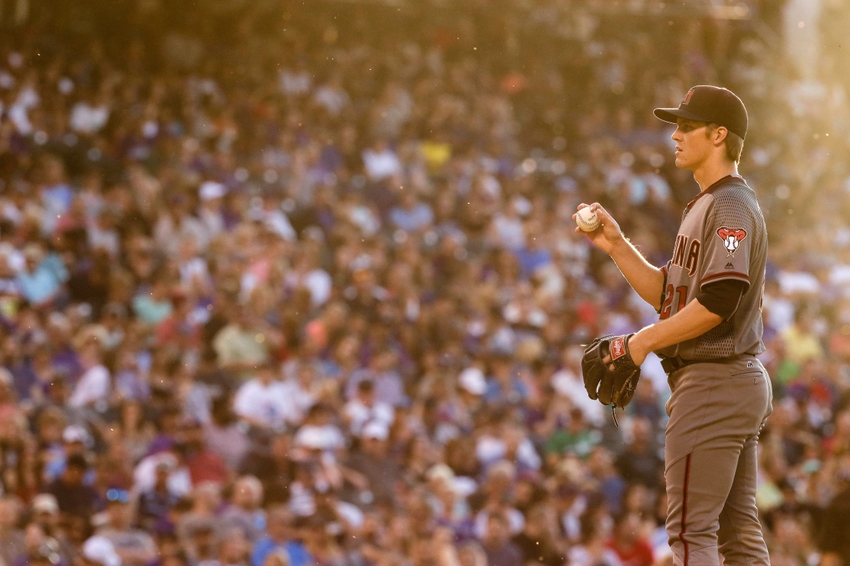 Arizona Diamondbacks new GM Mike Hazen has one crucial decision to make right off the bat that could define his tenure with the D-Backs: Does he sell off his assets and rebuild, or try to build around what is currently on the roster?
A couple of days ago on FanGraphs, Dave Cameron had a great piece on the question above. Suffice it to say, nobody thinks this will be an easy one, and it will likely take some time before we really see which direction the Arizona Diamondbacks are headed in. Cameron makes a case for both sides, but ultimately thinks that keeping some of the bigger names on the roster, especially pitchers Zack Greinke and Shelby Miller, while rebuilding their value for a trade down the line makes the most sense. And it does.
The one problem here is that Greinke is going to be entering his age 33 season (his birthday is tomorrow), and will be making well above $30M per season through 2021. With the track record that he has had in his career, it would be easier to chalk up 2016 as a bad year on a bad team in a hitter's park. At his age and with that kind of money on the line teams will likely be a little more wary of acquiring him for the value that he is likely worth in prospects. This winter, with the free agent market being a barren wasteland, trades are likely to occur, and teams will be more willing to accept outrageous contracts in order to get a player that could put them over the top, especially if Arizona is willing to take on some of the funding.
Shelby Miller is certainly a pitcher that could benefit by sticking around with the organization a little bit longer to repair the image that was portrayed of him in 2016. From his early season struggles, to hand issues from hitting the mound on his follow through, to being sent to the minors, to struggling even more, Miller's value on the field could certainly rebound, but selling him to a new fan base would be a harder task. He's not going to be worth the package that Arizona gave up to acquire him, but with a new GM it's a new day in the desert, and what past trades cost shouldn't affect his thinking in trying to save face.
The big fish that the D-Backs have to trade is Paul Goldschmidt, who is under contract for two more years with a team option for 2019. For all three years, a team would have to pay Goldy about as much as one year of Greinke's contract. His value doesn't need to be rebuilt. He's good to go.
If the Diamondbacks are looking to wheel and deal, the Boston Red Sox will surely come up in trade rumors, as that is Hazen's former team and they could certainly be in the market for a first baseman and a starting pitcher this winter. They also have the money to pay either or both of these guys, and the farm system to make a deal work out.
More from Call to the Pen
The Yankees revamped farm system could allow them to test out the trade market this offseason as well, and while they're likely happy giving Greg Bird a shot at first, they definitely need some starting pitching. Greinke would make a lot of sense for the team, but adding him would be a page out of the old Yankee playbook. This could be a true test to see if they have truly moved on from being the Evil Empire to the Baby Bombers.
The Houston Astros have been willing to trade prospects in the past, and have not been having any luck in developing their first base prospects, leaving utility man Marwin Gonzalez as the club's primary first baseman in 2016. 2017 could see a breakout campaign from A.J. Reed, but for a team that has a window to win right now, adding Goldschmidt would be a huge upgrade. They could include Reed in the deal, too, giving Arizona some potential instant return.
If it were my call, I'd definitely field offers for Greinke. The San Diego Padres netted the #13 prospect in all of baseball for Drew Pomeranz, who had been splitting time between long reliever and starter before this season. Yes Greinke is coming off of a down year and is due Scrooge McDuck's vault of gold, but he is absolutely of a better caliber than Pomeranz.
Trading Goldschmidt is not as easy, because he is beloved in that community, and anyone that comes to replace him at first base will have heaps of pressure on them. If that were to be someone like Reed, who has already struggled in limited time in the big leagues, they may never reach their full potential.
The marketplace is going to be crazy this winter. We saw at the trade deadline that teams were asking for the moon–and getting the friggin' moon. With player contracts trending upwards exponentially, the cost of adding veteran players via trade rising and the uncertainty of a new CBA which could see the elimination of the compensation draft pick for free agents that sign elsewhere (that have rejected a qualifying offer), this winter will either be extremely quiet, or quite the doozy with many, many big names on the move.
This article originally appeared on