Arizona Diamondbacks Getting Few Bites on Zack Greinke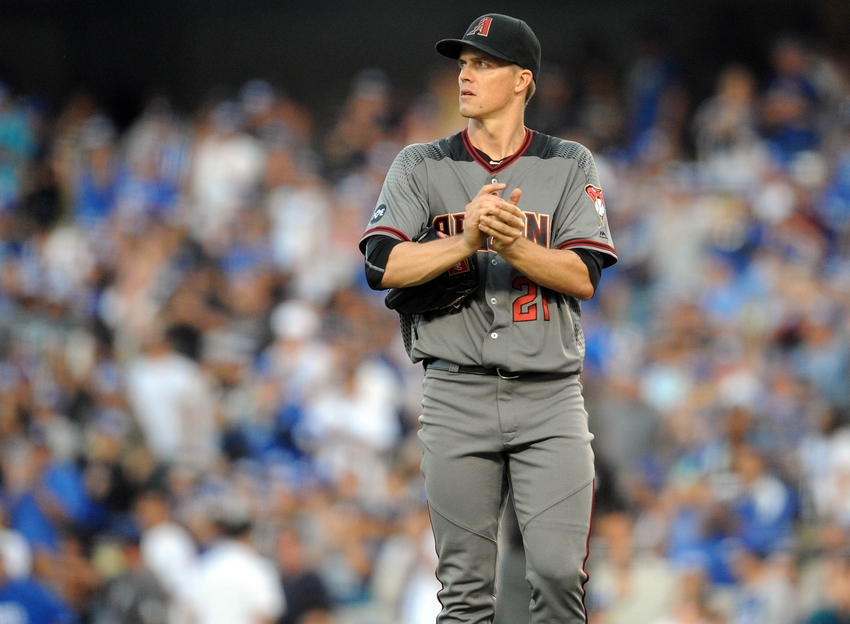 According to a report, teams aren't exactly lining up to trade for Arizona Diamondbacks starter Zack Greinke. The D-Backs shouldn't expect that to change anytime soon.
The Arizona Diamondbacks have never made any formal declaration that they are committed to moving starting pitcher Zack Greinke. But it's common sense that the team's new-look front office would love to get out from under that massive contract if the opportunity presented itself.
While it's unclear just how openly the D-Backs are shopping Greinke, FOX Sports insider Ken Rosenthal says the club isn't finding many interested suitors on the trade market. He reports:
"At the moment, Greinke is drawing minimal trade interest, according to major-league sources. The D-backs, in turn, are not marketing him aggressively, in part because they are reluctant to eat salary, sources said."
Naturally, other teams are wary of adding Greinke for the very reason Arizona would want to get rid of him: the five years and $172 million remaining on his deal. The right-hander didn't exactly help his case on the field this season either. After a series of stellar campaigns with the Dodgers, the former Cy Young winner uncharacteristically struggled during his first year in the desert. He posted a 4.37 ERA, 1.27 WHIP and 3.27 K/BB ratio. Injury issues also limited him to 26 outings.
Given Greinke's impressive track record, many clubs would likely be willing to write off 2016 as nothing more than a down year. He did manage to pitch to a 9-1 record and 2.47 ERA between May 17 and August 9. Eight of those 10 outings were quality starts. Greinke was primarily undone by a handful of rough starts at the beginning and end of the season.
However, given his age (33 years old) and hefty price tag, this is one albatross teams aren't going to jump to acquire, especially if the D-Backs aren't eager to take on a significant portion of the salary, as Rosenthal suggests.
More from Call to the Pen
If you're a club in search of a frontline starting pitcher, you have several other more appealing options to consider. Chris Sale would likely cost more in the way of prospects, but the White Sox ace is a relative bargain at three years and $38 million remaining on his contract, including the 2018 and 2019 team options.
You might even be more willing to take a chance on someone like Sonny Gray. While Oakland A's president Billy Beane is known for getting substantial prospect packages in return for his players, Gray's rough season could dampen his asking price a bit. He's under team control for three more years, and at age 27 he might be a safer bet to bounce back.
Rosenthal also mentions that the Diamondbacks are motivated to unload Greinke's contract in order to make room for a future extension for first baseman Paul Goldschmidt. The face of the franchise is signed through 2019 including a team option, but Arizona wants to keep him around even longer. The 29-year-old slugger is coming off something of a down year by his standards (.106 drop in OPS), but he's been one of the more reliable and underrated stars in the game over the past few years. And any new deal won't come cheap.
The D-Backs already made a starting pitching move this offseason, nabbing Taijuan Walker from the Mariners in exchange for Jean Segura. At 24 years old and under team control through 2020, the righty joins several other intriguing young arms in Arizona's stable. If the club's new goal is to become younger and more cost-effective, Greinke starts to feel like an odd man out.
It's difficult to imagine the market for Greinke really picking up at any point this winter. Under the new CBA, penalties are much tougher on teams well over the luxury tax limit, meaning even big-spending clubs will be less inclined to add a contract like Greinke's.
The D-Backs will have to wait this one out for now, hoping that Greinke's performance rebounds in 2017. If so, he'll boost the team's chances… as well as his own trade value.
This article originally appeared on