Another Rally: Atlanta Braves erase six-run deficit to top Phillies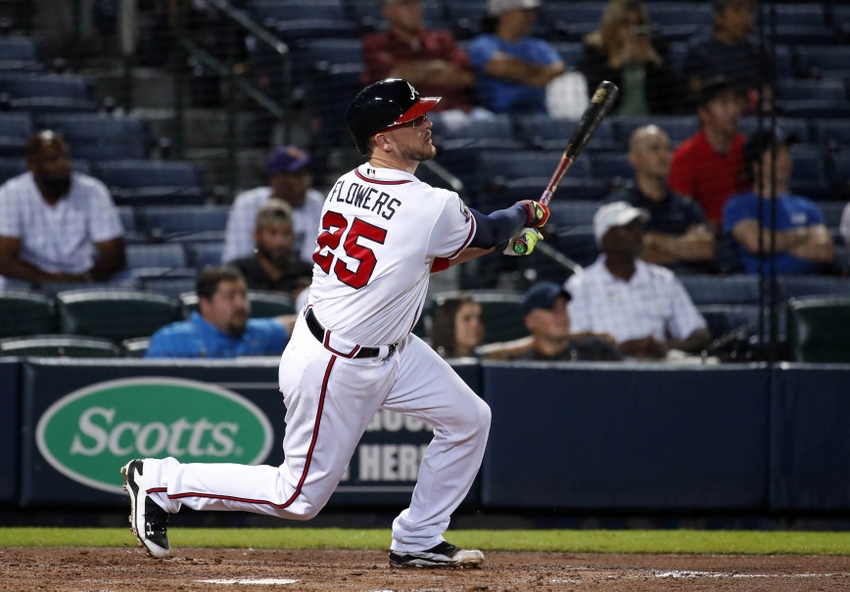 Rain delays?  Big deficit?  Seen the "Driven" episodes too many times?  The Atlanta Braves made it worth staying up for tonight against the Phillies.
For old time's sake, the Atlanta Braves surrendered a home run to Ryan Howard.
Surviving that, a six-run deficit and two rain delays to rally back for another somewhat improbable victory? Well, that's something inherent to this post-Matt Kemp trade, post-Brian Snitker-hire world and we are all witnesses.
Down six runs after Julio Teheran spent the first two innings getting beaten to a pulp, the Braves did that thing that's become somewhat of the norm over the last month-plus. Don't panic. Keep working counts. Take your chances where they come and assume good things will follow. I wrote last week that I wasn't sure if all the credit should go to Snitker, but after tonight I'm willing to concede that perhaps the interim manager's influence has been significantly more profound than Braves fans can fully appreciate.
(The "Snitker deserves the full-time job" brigade has been vocal in recent days and maybe it's just recency bias talking, but there is a sense that Snit is going to have more than a puncher's chance at taking the reins on a full-time basis next season. Bud Black may need to take that real estate agent in Buckhead off retainer.)
Bobby Cox on @Braves interim manager Brian Snitker: "I would love to see him come back." #ChopOn pic.twitter.com/883ODYwEbz

— FOX Sports Southeast (@FOXSportsSE) September 28, 2016
Strikeout, single, single, walk, grand slam was how Teheran was greeted in this one, which got underway about 30 minutes late due to weather troubles. Fans had barely been able to dry their seats off before Howard, Braves killer to the last, deposited bad first-pitch fastball into the right field seats to give the Phillies a decent first-inning advantage.
That advantage would only grow in the second when Roman Quinn scored on a steal and a Tyler Flowers throwing error, followed by Cameron Rupp driving in Maikel Franco. The Atlanta Braves, meanwhile, were putrid offensively until Freddie Freeman extended his hitting streak to 29 games, equaling Boston's Jackie Bradley Jr. for longest in the bigs in 2016, by launching a solo shot to right for his season's 33rd blast.
Then the skies opened up and we all got to enjoy everyone favorite rain delay pastime—Driven. Tonight's selections were Bobby Cox and Andruw Jones and friend, if you missed them you missed what America is about.

7

6
Both teams were rusty after the near-two hour delay, which burned both starters—Teheran, who was probably relieved to be relieved (4.0 IP, 10 hits, six earned), and Jerad Eickhoff, whose only blemish was a #FREEBOMB allowed, gave way to Tyrell Jenkins and Severino Gonzalez.
After a quiet fifth, the Braves would jump back in with a four-run sixth. Ender Inciarte and Freeman walked to put two aboard with two out for Nick Markakis, who plated Inciarte with a single. That brought up Flowers, who atoned for his throwing error with a three-run bomb to pull Atlanta to within a run.
Goodbye!!

Tyler Flowers with a 3-run blast to pull the #Braves within 1! #ChopOn pic.twitter.com/zQ0fw96uMT

— Atlanta Braves (@Braves) September 28, 2016
Flowers' dinger was estimated at 417 feet, with exit velocity well north of 100 mph. That's good hittin', that is.
After Jose Ramirez snuffed out a two-out, runners-on-the-corners rally, the Braves were unable to take advantage. Mallex Smith led off with a bunt single (of course he did), stole second (OF COURSE HE DID) and advanced to third on Kemp's ground out.
Runner at third, one out, should be easy to get a run, right? Not so, as Inciarte hit a slow tapper to Freddy Galvis, playing in on the grass, followed by Adonis Garcia lacing one into the hole at short that Galvis back-handed and fired to first to get Adonis and single-handedly snuff out an Atlanta Braves rally.
The Braves were afforded another golden opportunity in the eighth and this time they were able to cash in. After loading the bases with one out (Freeman single, Flowers double, Daniel Castro walk), Mallex smoked a two-strike single into left to plate Freeman and tie it up and Emilio Bonifacio lined a shot off Galvis to give Atlanta the lead.
Jim Johnson slammed the door. How much good juju is it to comeback from a six-run deficit on the same night Bobby Cox was in the house to pull the No. 6 down off the left field wall?
What will these two teams trot out for an encore? Try Mike Foltynewicz and Adam Morgan, who will be the combatants for Wednesday's 7:10 p.m. (ET) middle game of this three-game set.
This article originally appeared on