Angels Acquire Danny Espinosa From Nationals: Fantasy Fallout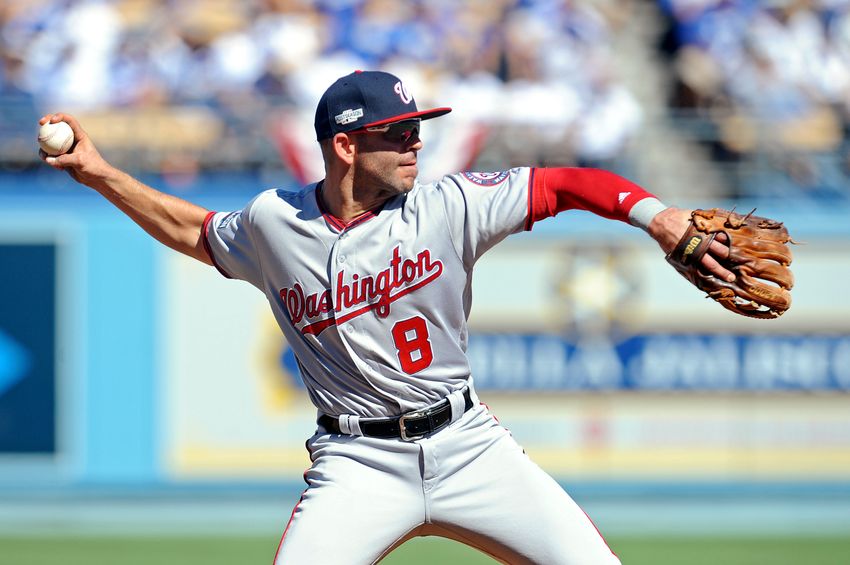 The Angels added a much-needed bat to their lineup by acquiring infielder Danny Espinosa. What will his fantasy outlook be now that he's out west?
The Los Angeles Angels have been very quiet so far this offseason. Looking up and down their roster, they need a lot of help. The starting rotation and bullpen have some pieces, but not enough and Mike Trout could use another batter in the lineup.
The Angels took care of the latter on Saturday night by trading for infielder Danny Espinosa. Moving from the National League East to the American League West could shake up his performance. How should we evaluate his fantasy value for next season?
The reason for the move came from the Washington Nationals trade just a couple of days ago. The team traded for Adam Eaton, causing a ripple effect in the lineup. Adding the outfielder sends Trea Turner to shortstop, and with Daniel Murphy locked at second base, Espinosa is without a starting job.
The Angels had a big need at second base. Without this move, their starting second baseman would have been Andrelton Simmons. He is more comfortable at shortstop, where he and Espinosa will lock up the middle infield.
Espinosa is a career .226 hitter, but had a career power year last season. Despite hitting .209, he hit 24 home runs, drove in 72 runs and scored 66 of his own. I think the homers will be there, but the RBI and runs could decline.
The Angels lineup still has some holes. Trout and Alberto Pujols are the two power guys. Kole Calhoun and C.J. Cron are decent bats. The team also acquired Cameron Maybin last month, adding speed to the lineup.
The downside to Espinosa is his low ratio stats. It hurts to roster a .209/.306/.378 hitter. Though, like many other hitters, he serves a purpose. Chris Carter still gets drafted, despite being a career .218 hitter.
Espinosa will have shortstop eligibility only entering next season. So, you will have to wait at least 10 games for him to be second base eligible too (unless your league is set up differently).
Espinosa should be drafted in deeper leagues. He is a serviceable bench option or off-day replacement in standard leagues.
More from Fantasy Baseball Crackerjacks
This article originally appeared on