Andruw Jones: A Hall of Fame Center Fielder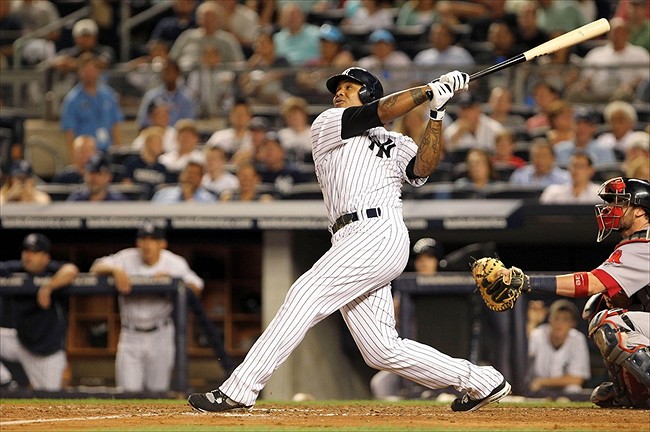 The fact that I even feel the need to write this piece annoys me, because the point I'm trying to get across is so obvious to anyone with any trace of a baseball IQ. Andruw Jones belongs in the Baseball Hall of Fame.
Baseball Hall of Fame ballots for the 2018 class of inductees will be distributed in December of 2017, and two legendary former Atlanta Braves named Jones will be listed for consideration: Chipper, and Andruw.
Chipper is a safe bet for immediate entry, but I have a terrible gut feeling that Andruw Jones will be slighted, and denied his rightful place among first-ballot players. If I'm right, it will be an absolute travesty. If the "Curacao Kid" isn't on your list of best all-time center fielders, I'm not sure I could read your list aloud without laughing.
The good news is I had the same gut feeling that the voters would give John Smoltz the cold shoulder on his first ballot, and to my amazement, they got it right. Perhaps this piece will end up being an overreaction conceived in distrust, but it's therapeutic nonetheless.
The Hall of Fame Case for Andruw Jones
Let me start by stating that there have been many major league center fielders who were better hitters than Andruw Jones, but there were just as many shortstops who outhit Hall of Famer Ozzie Smith.
If you ever saw the "The Wizard" play in person, or even on television, his mastery of the infield was evident.
Beyond statistics, the pure magic of Ozzie Smith's glove work was so obvious and undeniable it would have been foolish for him not to be ranked among the greatest shortstops ever, and sent to Cooperstown as soon as humanly possible.
The same rings true for Andruw Jones, and if you ever saw him roam center field, it was absolutely undeniable.
Get the FanSided App
Only Roberto Clemente and Willie Mays have more outfield Gold Glove Awards than Andruw Jones at a dozen each.  Among outfielders, who else racked up 10 awards?  Ken Griffey Jr., Al Kaline, and Ichiro Suzuki.  Clemente and Mays won all 12 of their awards in consecutive season, but in second place, only Jones, Griffey, and Suzuki had such amazing streaks as outfielders.
At the plate, plenty of center fielders were better hitters than Jones, but weren't a lot of short stops were better hitters than the aforementioned Ozzie Smith? Jones drove in more runs than Smith, and knocked 434 Major League home runs.
Okay, but Jones played a different position than Ozzie Smith, right? Yes, but what if I told you that Andruw Jones also ended his career with a higher fielding percentage than "the Wizard?"  The reason Ozzie made the Baseball Hall of Fame was because he was one of the best fielding shortstops of ever, and that is exactly why Andruw Jones belongs as well.
Jones finished his MLB career with a relatively low .254, but hit 26-or-more homers for ten straight years (1998-07), a streak that included a National League leading 51 (and 128 RBI's) in 2005, and 41 the following year.  Adding to his case as a consistent, all-around player, this solid hitting stretch was the exact same time span that included Jones' ten consecutive Gold Glove Awards.
Gold Glove Awards are one thing, but what do the stats say? Andruw Jones has the highest career dWAR (defensive Wins After Replacement) of any outfielder ever at 24.1.
The next best isn't even close with Paul Blair's 18.6. Willie Mays finished in third at 18.1. Not sure what all that means? Jones also has the 20th highest career dWAR of all time, regardless of position. (Click HERE to see an explanation of WAR)
Even the JAWS (Jaffe WAR Scoring System), a saber-metric that measures a player's Hall of Fame worthiness, has Andruw Jones rated as the 10th best case ever with 13 Hall of Famers ranked below him.
As an all-around player, Jones finished with a WAR of 62.8. Here's the list of players who are already in the Baseball HOF and have a lower WAR than Andruw: Harmon Killebrew, Yogi Berra, Mike Piazza, Hank Greenberg, Willie Stargell, Bill Dickey, Luis Aparicio, Joe Gordon, George Sisler, Wee Willie Keeler, Tony Perez, Gabby Harnett, Mickey Cochrane, Kirby Puckett, Orlando Cepeda, Ralph Kiner, Jim Rice, Ernie Lombardi, Nellie Fox, and Lou Brock.
Finally, for those who will inevitably make the comment that Andruw Jones was "lazy," or that he "didn't look like he cared," let me say that if someone can be the greatest fielding outfielder ever and make it look effortless… since when is that a negative trait?
If Andruw Jones doesn't have a Hall of Fame worthy glove, I'm not certain I believe there's ever been one.
This article originally appeared on