Analyzing Manny Ramirez's Hall of Fame Chances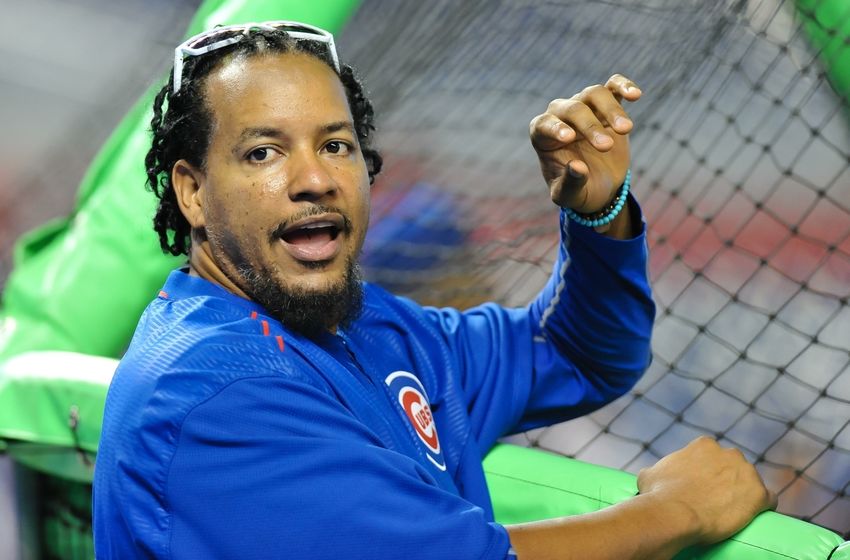 Former Cleveland Indians star Manny Ramirez is on the Hall of Fame ballot, but his induction in 2017 may not be a sure thing.
It is Hall of Fame ballot season and another former Cleveland Indian is up for induction in 2017. Manny Ramirez will be on the ballot for the first time.
Ramirez may be most-remembered for his time with the Boston Red Sox, but his career has its beginnings in Cleveland. After getting his first big league action in 1993, Ramirez became a star in one of the most dominant lineups in MLB history.
Although the Indians offered him a massive contract after the 2000 season, Ramirez decided to go elsewhere, joining the Red Sox. That is where "Manny being Manny" became a regular thing, and where he helped lead his team to two World Series titles.
But two PED suspensions cast a dark shadow over his historic career, which may become an issue when it comes time to vote. Let's take a look at that and more in a look back at the career of Ramirez, and gauge his chances of making it into the Hall of Fame.
Before Ramirez became one of the most popular players in all of baseball, he began his career with the Indians. The skinny kid out of the Domincan Republic made his MLB debut as a 21-year-old at the end of the 1993 season, and followed that with a solid rookie season in the strike-shortened 1994 season.
1995 was when Ramirez became a star, finishing with a slash line of .308/.402/.558 and notching his first year with 30+ home runs. He helped lead the team to the World Series, and would do so again two years later.
It was clear that he was one of the biggest stars in the game, which made it difficult to keep him in town after the 2000 season. The Indians offered him a contract that would make the Dolan's vomit, but he opted for even more money in Boston.
His departure was a major blow to a team that would not return to the World Series again until 2016.
But while Ramirez got his beginnings in Cleveland, Boston may be where he became a true superstar. It is where he helped break a curse, and where his legend really took off.
Ramirez was in Boston for nearly eight full seasons, and made eight All-Star teams. He did not suffer a drop-off in production after signing a lucrative contract, and never seemed to be bothered by the attention surrounding him. He seemed to thrive in that environment.
He eventually left Boston in a trade to the Los Angeles Dodgers, followed by short stints with the Chicago White Sox and the Tampa Bay Rays before calling it a career.
The main numbers that stand out for his Hall of Fame credentials are his 2,574 hits and 555 home runs. He has a career batting average of .312 spanning 19 total seasons in the league. His 12 All-Star Game appearances show how dominant he was throughout the mid-90s and the 2000s, while his 29 career postseason home runs show how consistent he was at all times of year.
The home runs and hits alone would usually be enough for any other player, but there is a glaring problem attached to Ramirez's resume.
Steroids suck.
It is a shame that a whole generation of players are deemed cheaters, because most of the famous ones were really good ballplayers already. Ramirez, Sammy Sosa, Mark McGwire, Barry Bonds and the list goes on, but all of those guys would still be stars without having to resort to steroids, which is a shame.
In Ramirez's case, he had two suspensions at the end of his career. The nature of the drugs will also be up for debate, but it was clear what the intended purpose was. Some may say he didn't use them throughout his entire career, while some will argue one positive test is enough to tarnish a legacy.
But all that matters is what the voters think, and based on history, Ramirez will not get voted in next year. He should still receive a solid percentage of the votes from those who may think his entire career isn't tarnished, but the negative stigma of a positive PED test is enough to keep Ramirez out of Cooperstown next summer.
Once again, steroids suck.
More from Wahoo's on First
This article originally appeared on