A Recent History of Pittsburgh Pirates First Base Difficulties
Jim Sutter/FanSided via Rum Bunter

Fansided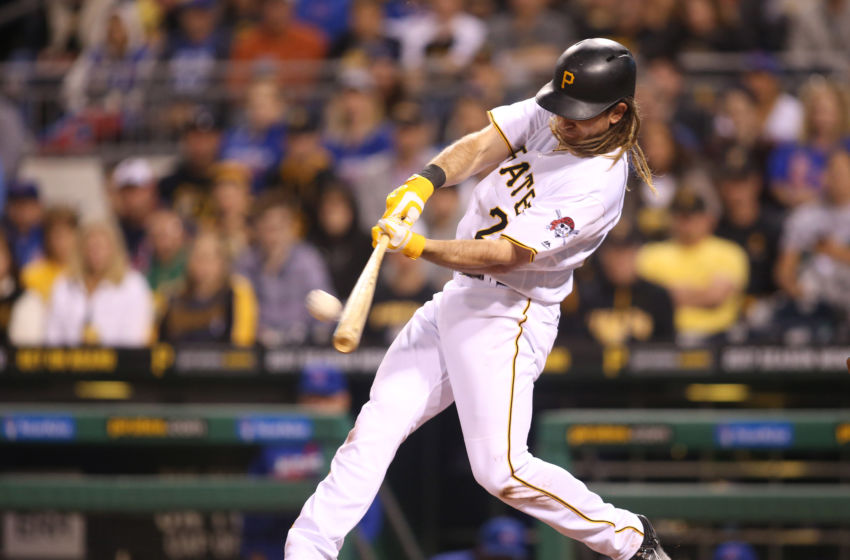 For a long time now the Pittsburgh Pirates have had a difficult time finding a permanent everyday first basemen. In this article we review some of the Pirates' recent attempts to find a solution and look into the future of the position.
A Lack of Stability
While there could still be changes in store between now and Opening Day, the likely "primary starter" for the non-pitching fielding positions is generally known for the 2017 Pirates. However, like in many past seasons, this cannot be said for first base. In fact, each season since 2009 has seen a different player starting the most games at the position. This "primary starter" by season has also tended to start a smaller share of the overall games versus other teams. In fact, the much maligned Pedro Alvarez actually has the most starts at first base in a season during this time period with 119 in 2015.
This low number may not seem shocking at first given the relative de-emphasis on fielding at first base, which encourages platooning. However, the Astros are the only other team that's failed to have a "primary starter" at first base for 120 games or more in a season since 2009. What I'm trying to get at here is that no position has seen as much instability for the Pittsburgh Pirates in recent years as first base.
The last time the Pittsburgh Pirates had the same player as "primary starter" for at least two consecutive seasons was 2007-2009. During those years, Adam LaRoche started 362 games total at first base and was the "primary starter" in 2009 despite being traded at midseason. Though the Pirates have seen their fortunes change since then, they have been unable to find a long-term solution at first base.
Garrett Jones was the "primary starter" in 2010, and played the most games at the position for the next several years. However, he usually shared or even ceded duties to players such as Lyle Overbay, Casey McGehee, or Gaby Sanchez. Meanwhile, a who's who of players including Ike Davis, the aforementioned Alvarez, and John Jaso have at various times been "the guy" at First Base. Between this and other players seeing significant action, the Pirates have had quite a few notable first basemen in recent years.
Garrett Jones Years
Garrett Jones is as close as the Pittsburgh Pirates have gotten to a long-time first basemen in recent years. He earned this distinction despite only starting over half of the team's games at the position once in his five seasons with the team (2009-2013). This came in 2010 when he started 106 games at first base.
After ceding the position to Lyle Overbay for one season, he returned as "primary starter" for two more seasons. A more accurate representation of his role during these years, however, would be co-starter with Casey McGehee and Gaby Sanchez. McGehee and Sanchez were both right-handed batters, making them natural platoon partners with Jones' left-handed bat. The logic in this usage of Jones is backed by his career .194/.237/.333 slash line against left-handed pitching compared with .265/.330/.473 against right-handed pitching.
Who Remembers Lyle Overbay?
Because of his lackluster numbers against southpaws, Garrett Jones could not be an everyday first baseman in 2011. Jones was sent to right field and the Pirates brought in Lyle Overbay to be their everyday first baseman.
Though he was a lifetime .274 hitter at the time, Overbay was 34. He had also hit a disappointing .243 the previous year with Toronto. Despite these lackluster numbers, he had hit 20 home runs that season. Additionally, the Pirates likely hoped he would be a good leader in what was then a young clubhouse.
The Pirates ended up having a decent year, unexpectedly contending into the month of August in Clint Hurdle's first season. However the same could not be said for Overbay. In 103 appearances for the Pirates, the veteran slashed .227/.300/.349. He would also fail to hit 10 home runs for the first time since 2003. He wasn't much better in the field either. He finished with-4 defensive runs saved and a -8.4 UZR/150. Overall, it was Overbay's worst season across the board to that point in his career. He was a below replacement level player during his brief time with the Pirates (-0.5 bWAR and -1.0 fWAR).
The Pittsburgh Pirates cut their losses with Overbay when he was designated for assignment after the acquisition of Derrek Lee at the trade deadline. He would end up being released and eventually sign with the Arizona Diamondbacks for the remainder of the season. After bouncing around for a few more seasons, Overbay finally retired following the 2014 season. Meanwhile, the Pirates would begin their theme of platooning at first base the next season.
I Like Ike?
Going into the 2014 season, the Pittsburgh Pirates didn't have very good options at first base. Gaby Sanchez was still available when the Pirates faced a southpaw. However, they had cut ties with Garrett Jones due to a decline in performance in 2013 and his continued inability to hit left-handed pitching.
Travis Ishikawa began the season as the Left Handed First Baseman. However, he was never a permanent solution as he struck out too often, didn't draw many walks, and couldn't hit for power (career 24.5 percent strikeout rate, 8.1 percent walk rate, and .391 slugging percentage). After a lackluster half month, the Pirates made a rare April trade to bring in Ike Davis.
Ike Davis did represent a slight upgrade over Ishikawa in that he drew more walks and struck out less than Ishikawa's career rates (14.4 percent and 18.6 percet respectively). However, he had a lackluster slash line of .235/.343/.378 during his time with the Bucs. Additionally, compared with Ishikawa's career fielding metrics at first base, he was likely a downgrade defensively.
During the 2014 season with the Pirates, Davis had a UZR/150 of -8.1. Meanwhile, Ishikawa's career UZR/150 at First Base is 13.2. Overall, it wouldn't be fair to call Davis a bust, as they likely would have received similar production from Ishikawa. However, there can be no doubt that he was a disappointment. Following the 2014 season, he was designated for assignment and traded. There was the expectation that Pedro Alvarez would fill his role in the first base platoon.
The Pedro Alvarez First Base Experiment
Former first round draft pick Pedro Alvarez's misadventures in fielding are likely well-known to most Pirate fans. In brief, Alvarez was so dreadful as a third baseman that not only was he costing runs defensively, but it was likely affecting him at the plate.
It was widely believed that Alvarez's struggles in the field bled over to his batting appearances due to psychological reasons. Whether this was the case or not, the Pirates, unfortunately, play in the National League. Because of this, the Pittsburgh Pirates could only utilize him as a DH when in an American League ballpark.
Without the DH as an option, the next best option then was to convert him into a first baseman. As mentioned above fielding is less important at first base. This is because most players bat right-handed and first base is towards their opposite field. Additionally, there are significantly fewer cross-field throws from first base to third base versus the opposite. Because the majority of Alvarez's errors were throwing, there was optimism that he would remain a prominent contributor for the Pittsburgh Pirates.
Though Alvarez's 2015 plate performance rebounded his fielding was so bad that he was barely a replacement level player. His 23 errors led the league and were more than twice the number by any other first baseman. Errors are not usually a very worthwhile stat, but this number gives a good idea of how the "experiment" went. For those that want to see more useful numbers, though, Alvarez finished the season with a -26.4 UZR/150 and -13 defensive runs saved.
Following the season, he was non-tendered. He eventually signed a deal to play for the Baltimore Orioles in the American League.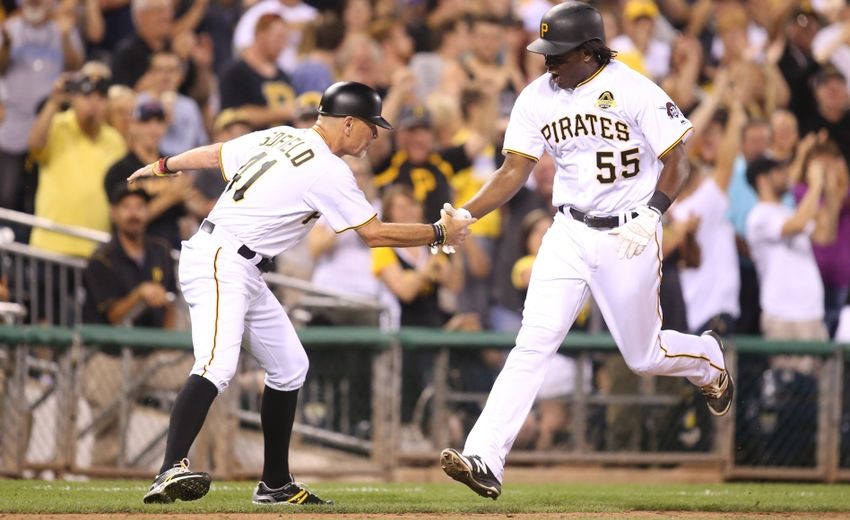 Current Situation
Last season the Pirates brought in John Jaso to be the lef-handed bat in the first base platoon. Like with Pedro Alvarez, first base was not Jaso's original position. Prior to joining the Pirates, he had spent his entire career as a catcher in the American League.
Unlike with Alvarez, however, the transition went much smoother for Jaso. He proved to be average to below average defensively with -3 defensive runs saved and a -2.3 UZR/150. Given the horrendous fielding, the Pirates had from Alvarez this had to be considered a win for the Pirates.
From the plate, Jaso proved to be a minor disappointment in 2016. He had been brought in to bat leadoff, however, his on-base percentage dipped from .380 with the Tampa Bay Rays in 2015 to .353 in 2016. Additionally, his walk rate went down from 13 percent in 2015 to 10.4 percent in 2016. Not helping matters was a significant slump in the middle of the season. Jaso signed a two-year deal and will be back with the Pittsburgh Pirates in 2017. Because of this, he figures to be in the mix for playing time at first base at least to start the season.
Lots of Options
In addition to Jaso, six other players started at least one game at first base. David Freese and Josh Bell primarily getting the start when the Pirates faced a lefty pitcher. While Freese is under team control through the 2019 season, he has primarily played third base throughout his career.
Additionally, he is already 33-years old. Because of this, he is unlikely to be considered a long-term solution at first base. Additionally, both he and Jaso may be needed to play third base this season due to uncertainty surrounding Jung Ho Kang's status. The ideal result for the Pittsburgh Pirates would be that Josh Bell becomes the long-term solution at first base.
Josh Bell
When the Pittsburgh Pirates drafted Josh Bell in the second round of the 2011 Draft he was as an outfielder. In fact, he could still be utilized in the outfield out of necessity due to the possibility that the Pirates could still trade Andrew McCutchen. As of now, though, the plan is for Bell to be the Pirates everyday first baseman for the 2017 season.
There are still some question marks regarding how this will play out, though. Bell is a switch hitter but it is uncertain how well he will hit left-handed pitching. He had a slash line of .211/.304/.211 against lefties, albeit in only 23 plate appearances, at the Major League level in 2016. Additionally, his fielding thus far has been Alvarez-esque. In 150.1 innings at first base in 2016, Bell had -3 defensive runs saved and a -32.8 UZR/150.
Bell, of course, still has plenty of time to improve these aspects of his game and become a more complete player. In fact, his rookie status is still intact. Ideally, he sees significant growth in his game during 2017 and matures into a capable everyday first baseman.
With Bell under control through 2022, there is potential for Pittsburgh to have a permanent first baseman for six seasons. The last time the Pirates had a "primary starter" at first base for that many consecutive years was from 1997-2002 when Kevin Young held the role. However, it could turn out that Bell needs to be utilized as part of another platoon. A worst-case scenario, another Pedro Alvarez situation can't be ruled out either.
*Stats courtesy of FanGraphs and Baseball-Reference!
This article originally appeared on