50 biggest sports moments of 2016
A full list, celebrating the greatest sports moments from this year.
Sure, bad things have happened in 2016. You may have even wished, in e-conversation or regular (read: obsolete) conversation, that 2016 would #justbeoveralready. But I say: do not blame the poor, innocent year! When you wake up on New Year's Day, fixing yourself a cup of cocoa at 7:30 to tune into Rose Parade coverage, all of 2016's problems will not have vanished overnight. Besides: great things happened in 2016. In sports, great things happened pretty much all the time, moments of joy and surprise outshining a news cycle that can become a brutal take-storm on so many gloomy days.
The following list been exhaustively compiled by a fine-tuned proprietary algorithm, and there is no room for argument: these were the 50 very best moments of 2016 in the entire sport-o-sphere — well, you know, the American sport-o-sphere — ordered with objective precision from least to most amounts of best-ness.
50. Brazilian men sweep Olympic gold in beach & indoor volleyball
Since Brazil hosted the 2014 World Cup — a tournament instantly identifiable by Brazilian tears inside the stadium and poignant protests from residents outside — the path to the 2016 Olympics was a roller coaster, all lurches and plummets. In hindsight, we're learning, slowly, the hard way, that cities can't really afford to build dozens of stadiums at once, even if it is for the most grandiose, jumbo-sized sports events. Pessimistic reporting just weeks before the Opening Ceremony gave the impression that triathletes were liable to get smacked in the face, while swimming, by floating garbage, among other issues with venues that may or may not have their paint dry before performing hosting duties.
The most triumphant moments for the Brazilian audience came during volleyball competitions — both of them, outside on Copacabana Beach and inside in the daunting, raucous Maracanãzinho. While the Brazilian women's teams won silver in both venues — including toppling the seemingly invincible Kerri Walsh-Jennings — it was the Brazilian men who won both tournaments. Inside, Brazil was led by Drake lookalike Wallace de Souza, loosely swaggering their way to victory in front of an ever-louder home crowd. Outside, the mammoth Alison Cerutti was in the perfect opposites-attract volleyball marriage with Bruno "The Magician" Schmidt, respectively out-clubbing and out-crafting the world's next-best.
49. Auston Matthews of the Toronto Maple Leafs scores four goals in his NHL debut
It's an idea too audaciously corny for the most shameless sports-TV movie to attempt: the 19-year-old wunderkind, the first overall pick, skates into his first professional game and drops four goals into the net.
As if the universe itself knew that that was really pushing it, plausibility-wise, Auston Matthews' Toronto Maple Leafs somehow still lost the game to the Ottawa Senators, 5-4. Matthews' scoring pace has understandably slowed, too, scoring 10 goals across the 29 games to follow — still enough to lead his team.
That explosive first game felt like enough proof on its own, though, that Matthews could be the NHL's newest modern, millennial face. His biography is certainly a modern one: born and raised in Scottsdale, Arizona, Matthews spurned both college and minor league hockey in order to play for a larger paycheck in Switzerland before becoming draft-eligible. With the Maple Leafs still near the bottom of the Eastern Conference, Matthews & Co. have a long way to go before lifting the first Stanley Cup for Toronto since 1967.
48. Yoenis Cespedes makes the most suave daily arrivals to Spring Training in baseball history
We're used to New York being the villain of a story — that huge audience, so eager to boo, crushing the more sensitive egos from within. The flipside is that, if you can tame the mighty beast of NYC — a feat that involves the same psychological rigor and margin of error as snake-charming — the city can be your best friend.
The relationship between New York and Yoenis Cespedes is still a head-over-heels romance. True baseball heads have known since Cespedes' relatively obscure days with the Oakland A's that he is, down to his DNA, a dude who cannot stop being cool as hell. That fact finally came to everyone's awareness when the Mets traded for Cespedes at the July 2015 Trade Deadline, igniting a magical three months that ended with the team in the World Series. Since then, Cespedes has entered free agency twice and, in transactions that somehow feel as tender as a couple renewing their vows, has chosen the Mets both times.
Cespedes celebrated that first reunion with the Mets last February by arriving to Spring Training in a new sports car each day. Well, they were less sports cars and more CGI-ideas that had been plucked from Batman and were now, somehow, sitting in a Port St. Lucie parking lot. (The car collection has the feeling of fiscal irresponsibility until you start doing some mental tallies and feel, on a visceral level, the incredible majesty of how much money ballplayers make.)
This was still not the best thing that Cespedes did in Spring Training. As the days rolled on, and as each arrival was greeted with more and more celebration, Cespedes — a true showman — then rode in on a horse.
47. Yankees' rookie Gary Sanchez clubs 20 dingers in his first 53 career games
For perhaps the first time since the team was called the Highlanders, the Yankees were sellers at this year's trade deadline. By sending away Aroldis Chapman, Andrew Miller, and Carlos Beltran — all for surprisingly flush prospect packages — New York seemed to be turning in early for the winter, ready to concede their first losing season since (oh boy) 1992.
That unfathomable streak of winning seasons was not broken. The Yankees finished just a few games out of the Wild Card spot, ahead of the definitely-trying Houston Astros and Kansas City Royals. The biggest reason was Sanchez, who accumulated the third-most WAR among all rookies despite getting called up in August. And Sanchez provided such a big boost because of a monstrous .657 slugging percentage — the MLB's best among players with at least 100 plate appearances — depositing a souvenir in the outfield nearly every other game:
If the Yankees were that good when they weren't trying, Sanchez's bombs could be the foreshadowing in front of another long dynasty.
46. No. 1 Kansas edges past No. 2 Oklahoma in 3-OT marathon.
Just four days into 2016, the then-first- and second-seeded teams in the nation met at Allen Fieldhouse, a winter night to sure warm the cockles of everybody from James Naismith to Dicky Vitale. The lineups were flush with four-year stars — Perry Ellis, Buddy Hield, Frank Mason, Isaiah Cousins — their NCAA tenures suddenly seeming a generation long (had they achieved tenure?) compared to the one-and-doners zipping past them.
The game was the rare mega-matchup that blasted well beyond expectations, a three-overtime thriller that had Dicky V in danger of surpassing those four-hour warnings in the commercials:
Even though his team lost, this game was in many ways the crown jewel in Hield's lottery-bound college career, dropping 46 points in just 23 shots.
45. At UFC 199, injury replacement Michael Bisping defeats Luke Rockhold, winning Middleweight belt
At its best moments, mixed martial arts transcends being just two people hitting each other and becomes some sort of Shakespearean allegory. Such is the case of Luke Rockhold — the model with the strong jawline, dating Demi Lovato — against Michael Bisping — with the cauliflowered ears, blue-collar background, and his teenage son joining him on-stage at weigh-ins.
Their first fight was entirely routine: in November 2014, Rockhold knocked out Bisping in the second round. It was Bisping's third loss out of his last five matches, and probably signalled the sunset of the then-35-year-old's career. The rivalry suddenly exploded with heat this May, when Bisping was announced as a last-minute injury replacement for Chris Weidman, in Rockhold's first attempt to defend his belt. Suddenly ferocious press appearances saw Bisping run verbal circles around Rockhold — at the same time that bookmakers posted long odds in Rockhold's favor.
Rockhold v. Bisping 2 leapt from entertaining television to full-on tortoise-and-the-hare-style allegory when Rockhold, almost visibly swaggering around the ring, was knocked out in the first round. Rockhold has not fought since, and Bisping has already defended his belt once, against Dan Henderson.
44. Madison Bumgarner throws complete-game shutout against New York Mets in single-elimination Wild Card game
I know: in this statistically enlightened age, celebrating a "clutch" ballplayer is about as intellectually rigorous as believing Stephen Colbert's since-retired character's claims to "truthiness." But then there is Madison Bumgarner.
These are the facts: in 102.1 career postseason innings, Bumgarner has slammed the door shut with a 2.11 ERA. Of those innings, 36 of them came in the World Series, when that ERA shuts down to 0.25 — the Kansas City Royals managed a single run off of him during a 7-1 defeat in 2014.
This year, it looked like baseball's oddest long-term phenomenon was still in full effect: in 2015, the Giants missed the playoffs for the umpteenth consecutive odd year. And in 2016, the Giants were back into the playoffs for the fourth straight even year — with each of the three previous playoff entries, of course, ending in a World Series championship.
This time the Giants were only guaranteed entry into the Wild Card Game, where Bumgarner was matched up against Noah Syndergaard in a rare truly great pitching matchup. Even though Syndergaard admirably went seven scoreless, it was somehow still not enough against Bumgarner:
San Francisco's eventual Division Series loss to the Chicago Cubs was the team's first playoff series loss since the era of Barry Bonds (2003).
43. Louisville quarterback Lamar Jackson throws and runs for 51 regular-season touchdowns, wins Heisman Trophy
A lot has happened in the career and life of Michael Vick since his two transcendent seasons for the Virginia Tech Hokies (1999-2000), but if you'll recall: he was not only college football's most exciting player, but its most famous player. Vick was not only destined to become a No. 1 pick, he was destined to redefine what a quarterback meant — to leave a fired, frustrated string of defensive coordinators in his wake.
So on September 17, when 10th-ranked University of Louisville ran up an unfathomable score on second-ranked Florida State, 60-23, it meant something mighty when Vick spoke to say that Cardinals Lamar Jackson was far better than he was at the height of his hype:
It sounds like Vick is getting hyperbolic, and then you check the stats. Across Vick's two college seasons (22 games), he ran and threw for a combined 38 touchdowns. With 51 touchdowns in 2016 alone — and this is before Louisville's New Year's Eve bowl game against LSU — Jackson has multiplied Vick's production. Jackson's 2016 passing yards (3,390) and rushing yards (1,538) also each surpass Vick's two-year totals (3,299 and 1,299). Plus, at just 19 years old, Jackson is the youngest-ever winner of the Heisman Trophy.
42. Stacey Piagno, Kelsie Whitmore, and Anna Kimbrell debut for indy-league baseball team Sonoma Stompers, the first-ever professional women baseball players
In little Sonoma, California, there is a baseball field that barely looks suitable for high school games where baseball history keeps on getting made. The Stompers, one of four teams in the indy-league Pacific Association, have only existed for three years, and already they've pushed more boundaries and conducted more experiments than most baseball teams will do in a century. Jose Canseco suited up for the Stompers — and hit a home run. Baseball writers and podcasters Ben Lindbergh and Sam Miller were hired in the team's front office, which resulted in a fantastic account of the Stompers' 2015 season that was also one of the best-selling baseball books of the year. That season also saw the arrival of Sean Conroy, a starter/reliever who became, mid-season, baseball's first-ever openly gay, active professional player.
In 2016, the Stompers not only won the Pacific Association for the first time, but they also took an important step in shattering baseball's glass ceiling. The team signed Stacy Piagno (infielder/pitcher), Kelsie Whitmore (outfielder/pitcher), and Anna Kimbrell (catcher) to contracts, trotting out the first-ever professional women ballplayers.
None of the three players excelled statistically, or found regular playing time. Then again: in the cobbled-together world of indy league ball, there were plenty of their male counterparts who fared just as well. (Plus, at age 18, Whitmore was about four years younger than the next-youngest player on the team.) The Stompers provided social profess in sports on just about the smallest scale imaginable — but the progress was real all the same.
41. Juan Martín del Potro has career renaissance, winning silver medal in Olympics and Davis Cup (as member of Team Argentina)
What if Greg Oden was the NBA's MVP in 2017-18? This is what del Potro's 2016 basically looked like. A once-promising prospect — he was just 21 when he defeated Roger Federer to win the 2009 U.S. Open — del Potro's career seemed to be lost to hypotheticals after he lost years off his career to a series of wrist injuries.
Once ranked among the top five men's players in the world, del Potro was a few months into his comeback tour when the Olympics rolled around. Del Potro had not yet come all the way back: as the 145th-ranked player in the world, his assignment in the very first round was the first-seeded all-time legend, Novak Djokovic. Del Potro pulled off the upset, inching by on the tiebreakers in both sets in a match that featured two good guys and a warmly appreciative crowd.
Four rounds later, del Potro was slated against another of tennis' reigning powers: Rafael Nadal. With Nadal's lionesque intensity ensuring less of a feel-good match, del Potro again prevailed — and again in a crucial tiebreak. Although del Potro lost to Andy Murray in the final match, earning the silver for the tournament, his giant-slaying provided the most memorable moments. By November, the comeback was complete: a crucial victory over Ivo Karlovic in the Davis Cup final helped secure Argentina's first-ever win in the international tournament.
The comeback is all the more satisfying because del Potro is liable to hug a line judge or grab a fan's cell phone in the middle of a match.
40. Klay Thompson drops 60 points in 29 minutes on the Indiana Pacers
You can be focused pretty intently on the Warriors — and still forget about Klay Thompson. On any given day, something said or done by Kevin Durant, Stephen Curry, or Draymond Green is going to be in the headlines for, like, the rest of their careers. And, quietly, there is Klay, who may be the NBA's best role player, or may be a Scottie Pippen-style Hall of Famer.
In support of the latter theory: there is nobody — not swish-meister Stephen Curry, not anybody else on the Warriors, not anybody else in the whole doggone history of basketball — who can get as hot as Klay Thompson whenever Klay Thompson gets hot. Thompson's latest historic example came on December 5th, when he needed just 29 minutes, 33 shots, and 11 dribbles (!) to rack up 60 points.
Nobody else in league history has ever managed even 50 points in any game when playing so few minutes.
This is after Thompson dropped 37 points in a single quarter in January of 2015. Wilt Chamberlain's records better watch themselves in 2017.
39. U.S. hosts Copa América Centenario, makes it to semifinals
Even though there seems to exist, somewhere in America, some top-flight facility where the world's best in any possible Olympic sport trains in obscurity, this country really can't afford to take any of its successes in men's soccer for granted. Even though the United States has both the material resources and the sheer wide expanse of population to become a soccer world power, the program is still a lumbering giant that is usually outdone by a more imaginative squad from a country about the size of a mid-tier state.
While the Copa América trails behind the UEFA European Championship in history, prestige, audience, it is no longer any less skilled: half of South America's ten teams make up fully half of the current FIFA top 10. Success in any South American tournament — even the kind-of-bizarre off-year tournament of 2016, held under the guide of some distant anniversary — is real, genuine success.
By defeating Costa Rica and Paraguay in group play, and then Ecuador in an elimination game, America showed that its program has made real strides since being easily wiped away with three straight losses in their last Copa América.
Besides, if you have to lose a major international game in front of a global audience, why not lose it via Lionel Messi himself hitting screamers to the upper corner:
38. Rich Hill becomes a pitching superstar — one year after playing indy ball
Baseball is big enough that you can be reasonably well educated about the game and also, whoops, a bona fide big-leaguer can totally slip past you. Such is the case with me — and, I suspect, many others — and pitcher Rich Hill. From 2005 to 2014, Hill pitched in the big leagues each and every year, racking up a 4.72 ERA in 471 innings (that's less than 50 innings per season), across tenures with six different clubs.
In 2015, at 35 years old, it sure looked like Hill was playing out the string, muddling along in the bullpen of the Washington Nationals' Triple-A affiliate. Then he opted out. Then, after a month of being unemployed, Hill moved down yet another rung, signing in an indy league, with the Long Island Ducks. In 11 innings with the Ducks, Hill gave up no runs and struck out 21 batters. But what does that mean in the indy leagues, really? It was enough for the Red Sox, then stumbling along in last place, to sign him.
Late that September, among all sorts of September call-ups, Hill delivered four sterling starts for Boston: 29 innings, five runs, 36 strikeouts. Those are some serious numbers. But then: Hill had his chance to put up some serious numbers any time since 2005, right? The Oakland A's bit in the offseason, signing Hill to a one-year, $6 million deal.
In 2016, Hill pitched over 100 innings for just the second time in his career — and at 110.1 innings, sidelined for a distressingly long amount of time due to blisters, he didn't pitch that much. In those short innings, though, Hill was among the very most elite pitchers in the game, posting a 2.12 ERA and 2.39 FIP while striking out more than a batter per inning. The Los Angeles Dodgers offered the A's very real prospects in exchange for Hill at the July Trade Deadline, and Hill continued to dominate from the middle of a playoff race. LA's gamble paid off in the NLCS, when Hill pitched six scoreless innings in Game 3 to give the Dodgers a brief 2-1 lead — the last game that Los Angeles would win on the year.
In about 18 months, and while wearing about a half-dozen different jerseys, Hill went from unemployed to shutting out the Chicago Cubs in October. Los Angeles quickly re-signed Hill to a three-year deal this offseason: he'll earn $14 million in 2017 after earning $11.4 million across his entire career combined.
37. Los Angeles Sparks edge Minnesota Lynx in down-to-wire WNBA Finals
Everybody: we have got to do a better job of watching the WNBA. Take it from Draymond Green himself: "In the NBA there's always a guy who is only around because he can jump. He doesn't have a clue about the fundamentals. I learn more from the WNBA. They know how to dribble, how to pivot, how to use the shot fake."
In its history, the league has gone through more famine than feast, but doggone it, the WNBA — unlike so many fast-burning women's professional leagues — is here to stay. In an unusual twist that feels un-American in all the right ways, the WNBA is far from the most lucrative women's basketball league in the world — while also being by far the most talented.
Although the WNBA has just 12 teams in the league, there are so many stars in the game, it means that nearly every franchise is equipped with a core of Hall of Fame-caliber players who build out years of continuity unprecedented in any other league. This year's twentieth WNBA Finals was a case in point, with the Lynx's standout trio of Seimone Augustus, Lindsay Whalen, and Maya Moore locking horns against the Sparks' Kristi Tolliver, Nneka Ogwumike, and Candace Parker. After being separated by just two games in the regular season, the Finals were not decided until the closing seconds of winner-take-all Game 5: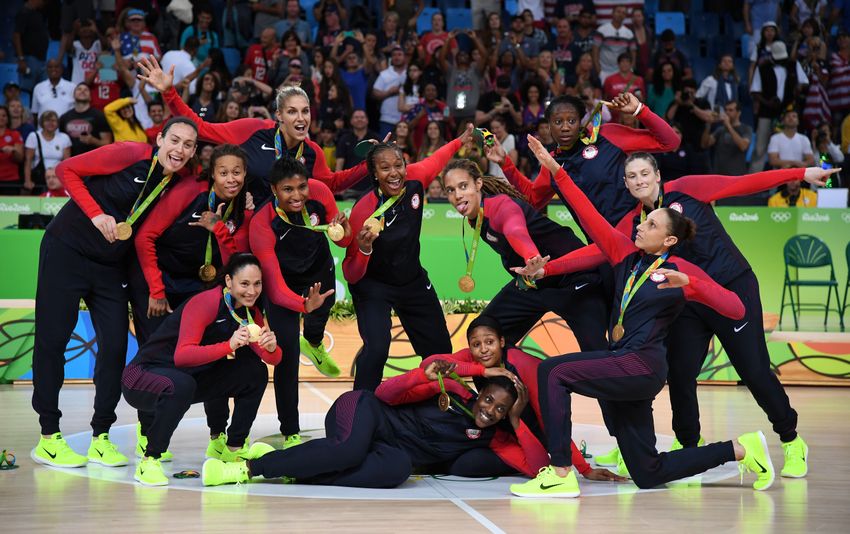 36. USA women's basketball wins gold, is the real modern Dream Team
Yup, the American men's team scooped up another gold medal. And, even though enough of the NBA's stars dropped out that America more or less rolled out a B-team, the U.S. of A still squished Serbia by 30 points in the medal game.
But in terms of, like, making Americans proud to be Americans? Or generally just being a more fun team to root for? The American men do not compare to the American women. As always, an astounding group of 12 WNBA All-Stars united quickly with an unparalleled sense of focus and responsibility, as if they are playing — and, unfortunately, they might be — to keep the WNBA alive long enough so that the baton might be passed to their inspired young audience.
For their undefeated eight-game run, each of Team USA's 12 players averaged between 10 and 25 minutes per game, a showcase of unfathomable depth. With legends like Tamika Catchings and Sylvia Fowles at the bottom of the rotation, Team USA won their games by an average of 37.2 points, with no scrubs available to play out the back end of any blowout. (Apologies to Senegal, who lost 121-56.)
Since the WNBA was founded in 1996, Team USA has gone 48-0 in Olympic play.
35. Nico Rosberg wins first career Formula 1 championship — immediately retires
The haters will quibble with whether or not racing is a sport. But there's few things available on a sports channel more badass than Formula 1, jetting around to a new country for literally every race, the ultra-exclusive roster itself a vast mélange of international talent. (Plus, with about 20 two-hour races over the course of a full year, Formula 1 doesn't ask too much of your time, avoiding any late-season "dog days" besides.)
2016 saw the two-man Mercedes team well clear of any competition for the third straight year. However, unlike 2014 and 2015 — when suave Brit Lewis Hamilton won the championship ahead of quiet German-Finnish Nico Rosberg — this year it was Rosberg who edged out Hamilton. More than 120 points ahead of third-place Daniel Ricciardo, Rosberg edged out Hamilton by a mere five points, holding down second place in each of the last four races while Hamilton gained ground with four straight victories. The 31-year-old Rosberg won the Formula 1 championship 34 years after his father, Keke, accomplished the same feat — and then announced his retirement from the sport five days later.
34. Marshawn Lynch retires, remains everybody's favorite football player
For a few years there, the only part of Marshawn Lynch's reputation was that he was a first-round bust. Do you remember this? He played for the scuffling Buffalo Bills. He got beat out by Fred Jackson.
And then Pete Carroll — unproven, fresh-out-of-USC Pete Carroll — traded for Lynch in fall of 2010. The price? One fourth-round and one fifth-round draft pick. In his few short years in Seattle, Lynch suddenly built something that looked a lot like a Hall of Fame career — or, at least, what else could a Hall of Fame career look like from a running back in this pass-first age?
Like Calvin and Hobbes or British television shows, Lynch decided to cut things short at pretty much the apex of his career, stepping aside after his ninth NFL season turned out to be his first injury-plagued year. In the short year since — mixed with substantive-sounding rumors about a comeback — Lynch has only distanced himself from the pack in terms of being the most universally beloved player. Cal invited him to a home game — where Lynch transformed a golf cart into a party you wish you were invited to — just like he did when he played there. Lynch brought the same swag to riding a camel. He's attending Seahawks games while carrying a plate of meat. He's out in the wilderness with Bear Grylls. He's chuckling with Bill Clinton. He's mentoring the youth in Istanbul. He's building schools in Haiti. Is there really anything Lynch could do next that would surprise you?
33. Andy Murray unseats Novak Djokovic as men's #1 player
It's been 12 years since somebody other than the imposing trinity of Roger Federer, Rafael Nadal, or Novak Djokovic was the world's No. 1-ranked tennis player. (It was Andy Roddick.) Each in their own way, every member of that mighty trio is, I'd imagine, something of a dreamboat: Federer with his elegant sophistication, Nadal with his lionesque testosterone-bursts, Djokovic with his wry sense of humor underneath his maniac endurance.
And then there is Andy Murray, all gangly limbs and practically visible neurosis. If it is possible for the world's No. 1 player to still be an underdog, there is Murray, the first to summit the cloud-hidden mountain where those other three players went off and hid that No. 1 ranking.
The feat was no accident, either, with Murray staving off Djokovic himself, the current No. 2, in straight sets to end the 2016 tennis calendar:
32. Bartolo Colon hits his first career home run at age 42
Any ballplayer who manages to keep on playing into their forties has inherent accomplished something great. Usually the difficulty of this feat is obvious: Ricky Henderson and Julio Franco were basically made of concrete, all muscle, bone, and will. Ichiro has looked at every moment on the field with the clarity of a zen monk. Jamie Moyer and Greg Maddux did postdoctoral work on off-speed trickery. The joyfully rotund Bartolo Colon continues to play — and, somehow, pitching better than he ever did previously — because it appears to amuse him. At this point there is no longer any accomplishment from Colon that would be surprising. He has appeared in All-Star Games in three different decades — I am not betting against him adding a fourth decade, or a fifth.
The best part about Colon's just-concluded three-year tenure with the New York Mets is that it meant Colon had to bat, and often. Since his career began in 1997, Colon had only spent a half-season in the National League, with the Montreal Expos in 2002. As a Met, Colon came to the plate with a half-smile and total indifference — laughing with his audience at the absurdist comedy that ensued. For about a year there, Colon rarely even set foot upon first base, even in a run-out-the-grounder scenario, making us realize that even the innocuous act of tossing a bat to the side is something that only looks good with practice.
May 2015 brought us a remarkable moment of joy, when Colon hit a double that left him quite visibly winded. Nearly a year to the day later, Colon provided one of the single greatest highlights in baseball history when he clubbed a no-doubt dinger off of the San Diego Padres' James Shields:
It was a moment of joy that transcended the anxiety of competition. It also seemed to break Shields, who was traded a few weeks later and ended 2016 with easily the worst ERA in the majors among starters.
31. Seattle Sounders beat Toronto FC in penalty kicks to win first MLS title
It might surprise many people outside of Seattle to know that the Sounders, with an average of 42,000 fans per home game, bring a larger audience than what half of the teams in the Bundesliga or La Liga have capacity for. Perhaps in response to losing the Sonics, Seattle almost immediately decided to invent a whole new type of fandom, recreating the look and feel of a century-old European club within a couple of years. The team has responded by never missing the playoffs during its eight seasons in the MLS — some sort of inverse-expansion-team effect.
The main character in the Sounders' history was no doubt Sigi Schmid, the team's jolly, Santa Claus-shaped coach who is liable to be scarf-ed and affably mumbling on all sorts of local commercials. The very same rabid fanbase that Schmid had helped to build up turned on him in 2016, and he was fired halfway through the season — a listless season, sure, but what about those seven straight playoff appearances?
For reasons the Sounders themselves might not know, the team only lost two games once assistant Brian Schmetzer was installed as coach. (Well, reinstalled: Schmetzer had been an assistant for the entirety of Schmidt's tenure, and had coached the team from 2002-2008 when it was a member of the minor-league USL.)
The storybook season concluded not with a bang — and not even really a whimper, but more of a fart — as the Sounders prevailed in penalty kicks after not managing a single shot on target in 120 minutes of play.
30. Sidney Crosby leads the Pittsburgh Penguins to the Stanley Cup for the second time in his career
The Pittsburgh Penguins have a nice racket going: the franchise has made the playoffs in 21 of the last 25 NHL seasons, winning four Stanley Cups in that time. And then, during that one stretch when they didn't make the postseason (2001-2006), the team at least had the sense to be very, very bad, picking up Marc-Andre Fleury, Evgeni Malkin, and then Sid the Kid himself in consecutive drafts.
Although Pittsburgh surpassed their 2015-16 point total (104) in three of the last five seasons, this year the Penguins were able to punch through the playoffs, beating the heavily favored Washington Capitals in the second round, and then besting the Tampa Bay Lightning in a seven-game Eastern Conference Finals. With two of the Top 15 players in NHL history in points per game on the squad, there's no reason to expect that the Penguins miss the playoffs any time soon.
29. Michael Phelps grabs another fistful of medals
Yes, it's true: Phelps' title of most decorated Olympian of all-time is something of a stroke of good luck, with swimming offering a set of medals for just about every distance, stroke, and combination of distance and stroke. But after grabbing one more silver and five more golds in Brazil, Phelps showcased a new dimension to his excellence, building on his nearly unprecedented longevity.
Rio was, somehow, Phelps' fifth Olympics, basically a generation after he first appeared in Sydney, in 2000, as a 15-year-old. His commanding position on top of the all-time medal-winners chart is astounding. Phelps' 23 gold medals are more than anybody else's total medal count (gold, silver, bronze combined). Only two athletes (Larisa Latynina and Nikolai Andrianov, both Soviet gymnasts) have even half as many as Phelps' 28 total medals. His greatness is not a matter of Good Morning America-style exaggeration: nobody has ever dominated the Olympics like Michael Phelps.
28. 19-year-old Katie Ledecky rises to swimming superstardom.
Unlike Phelps, whose cosmically perfect swimming physique has always made his accomplishments feel, a little bit, like they're being performed by another species, Ledecky is identifiably human. At 5-foot-11, she is on the taller side, but that's it: just on the taller side. No: with Ledecky, it's clear that winning swimming races is a matter of mental will, of pushing through suffering.
Take her signature event. It's not one of the glamorous 100 meter sprints, with their obvious allure of maxing out the human potential for swimming speed. Ledecky's natural environment is the 800 meters. In the 800 meters, you suffer, for eight long minutes. This is where Ledecky reveals to us that her mind is a steel trap, and that her goal is not just to beat opponents but to burst away and out of their vision entirely.
The world record that Ledecky broke was her own — a record that she has now set five different times, drifting further ahead of the pack each time.
With one silver medal and five gold medals to her name — including the one in the 800 meters as a 15-year-old in London — Ledecky is in place to be America's crown jewel of the 2020 Tokyo Olympics.
27. Mike Trout puts up another legendary year, wins MVP — in obscurity
Mike Trout is so good that it's hard, honestly, to exaggerate his career. He has provided the same overall value as Jose Altuve, Yoenis Cespedes, and Eric Hosmer — combined. Through his age-24 season, Trout has 399 more hits than Pete Rose, and twice as many home runs as Barry Bonds. In the last five years, he's been two All-Star-caliber seasons better than the next-best position player (Josh Donaldson).
All this, and still the Los Angeles Angels have not managed much more than to kind of fart around, the rest of their roster stubbornly playing tug-of-war against him. Plus, with the club's minor league depth unanimously panned by those in the know as the shallowest in baseball, the team's 85-win season in 2015 could quickly look like an unattainable goal.
It's a question that's rarely, if ever, come up in sports history: what does it mean when the very, very best in the game is not only ring-less, but has never experienced winning a single postseason game? With Trout under contract through 2020, it looks like we'll have several years to parse the question, in detail. In the meantime, count on another year of Trout's somehow-routine performance in 2017: above-average center field defense, a .300/.400/.500 slash line, with 30 stolen bases and 30 home runs.
26. Andrew Miller, Aroldis Chapman, Kenley Jansen make MLB Playoffs the Year of the Reliever
For years now, sabermetric orthodoxy has declared that the ninth-inning closer should be scrapped in exchange for using a team's best reliever in the most high-leverage situations. Last July's Trade Deadline hinted that we would finally see this strategy used when the New York Yankees rebuilt their minor league system virtually overnight by trading away Andrew Miller (to the Cleveland Indians) and Aroldis Chapman (to the Chicago Cubs).
October baseball did not disappoint. Throughout the entire month, starters — even starters who were in the middle of good games — were yanked in the fifth or sixth inning, the quicker to get the flamethrowing strikeout machine on the mound. Even one-run leads began to feel huge when Miller (30 strikeouts in 19.1 postseason innings), Chapman (21 K's in 15.2), Kenley Jansen (19 K's in 11.2), or Cody Allen (24 K's in 13.2) were called in to lock things up. It was another brilliant year for baseball's most underrated suspense-inducing moments: when the ace starter slowly strolls out to the bullpen between innings. The Dodgers and the Cubs called on Clayton Kershaw and Jon Lester from the bullpen in elimination games.
Teams leaned on their relievers so much in October that — to be determined — the strategy may have actually backfired: Game 7 of the World Series became a classic only because former teammates Miller and Chapman uncharacteristically both gave up runs.
25. Dak Prescott steps in as new Cowboys QB, leads team to NFL-best record
Despite the last two decades of mere kind-of-okay-ness, there are mighty few roles in all of sports more prestigious than Dallas Cowboys quarterback. No matter how bad the Dallas Cowboys may be, becoming the Dallas Cowboys quarterback presents one of the world's quickest pathways to glory. Like: one moment you're an undrafted quarterback out of Eastern Illinois, and the next moment you're dating Jessica Simpson, and everybody knows that you're Tony Romo.
Unlike Romo — whose résumé, alas, became even more unjustly maligned this year — Dak Prescott has not only become the latest, greatest out-of-nowhere Cowboys quarterback, but he has also racked up some serious wins while doing it. A fourth-round pick who was selected after Christian Hackenberg, Cody Kessler, and Connor Cook (among others), Prescott already has more career wins than 2014 first-round pick Blake Bortles.
The Cowboys, currently sitting at 12-2, have only won 13 games twice in their history, a mark that they can now tie or surpass with some season-closing wins. Even though Prescott has thrown for under 200 yards in a game (three times) more times than he has thrown over 300 yards (two times, including one 301-yard game), his four interceptions on the season make for one of the great mistake-free seasons in league history.
24. Cardinals beat Packers in Hail Mary battle in instant-classic playoff game
While a small handful of football games had higher stakes, no game matched the excitement level of the Arizona Cardinals against the Green Bay Packers in the divisional round. What's more, these very two teams, with virtually no prior history against one another, created another playoff classic in 2009, when a Kurt Warner-led Cardinals squad again squeaked by the Packers, 51-45.
In January of this year, the game was sitting at a tame 13-10 with four minutes to go in the fourth quarter. Then the Packers and Cardinals exploded for 26 more points in the next five minutes — with the game being sent to overtime on an improbable last-second play.
https://www.youtube.com/watch?v=eG1t2oDYZHU
Some assorted fun facts from this game:
Packers wide receiver Jeff Janis had 145 receiving yards and two touchdowns in this game. In his 34 other career games, he has compiled a combined 180 receiving yards, with a single touchdown.
This is the only career postseason victory to date for Carson Palmer.
It is the second straight season that the Packers were eliminated from the playoffs in truly flabbergasting fashion.
23. Amanda Nunes wins women's bantamweight title belt over Miesha Tate, becomes first-ever openly gay UFC champion
It's hard to say if we truly want to see parity (which can be mistaken for mediocrity), or if we truly want to see dominance (which can be mistaken for being boring) in sports. UFC's women's bantamweight division became one of the most quickly lucrative competitions maybe in the history of sport, with Ronda Rousey imposing her dominance for three-plus years. And then, in eight dizzying months, the belt found its way to three new fighters. Maybe the UFC has lost money in the short-term: there is not any MMA fighter, man or woman, who can match Rousey's star power and name recognition. And also, maybe the UFC has made money in the long-term: there is a deeper roster of talent than we anticipated who could actually match Rousey.
Such as Amanda Nunes, the current belt-holder, who scored a first-round knockout over Miesha Tate in July. Has Nunes temporarily lucked into the top spot of a weight division in turmoil, or has a new generational talent finally revealed itself? The question will be answered as definitively as it can on December 30, when Nunes faces Rousey at UFC 207.
For now, we have the enduring, socially progressive image — from the Monster-chugging UFC of all places — of a grinning Nunes, seconds after defeating Tate climbing the fence to give her girlfriend (UFC strawweight fighter Nina Ansaroff) a smooch:
22. Fencer Ibtihaj Muhammad becomes first American Olympian to compete while wearing a hijab
Something wonderful happened with Ibtihaj Muhammad as America prepared for this Summer's Olympics. Her wearing hijab in competition stopped being some quirky historical fact, and Muhammad quickly became not just America's most famous-ever fencer (which is admittedly kind of a jumbo-shrimp situation), but also an all-round Olympic icon. She was some kind of Muslim cultural ambassador, I guess — but also she was so likable and fun to talk to that she became more of an ambassador for fencing itself:
While Muhammad was one of the greatest parts about America's time in the Olympics, her story is still laced with reminders about how far we still have to go. A multi-sport athlete as a kid, Muhammad is open about her initial attraction to fencing being that it would hide her hijab. Here's hoping that, as a society, we finally build up hijab-wearing athletes in all sports.
21. Nick Saban, Alabama reach new levels of dominance
It is not news that the Alabama Crimson Tide, under Nick Saban, are doing well. Actually, it's almost some kind of non-news. What would be news is if Nick Saban were still at Alabama and if the team were, somehow, struggling.
But this year, Alabama's distance ahead of the rest of the pack is even larger than normal. This year, the average score of an Alabama game was 40.5 to 11.8. This year, only one game, a 48-43 victory over Ole Miss, has ended within one possession. And only one other, a 10-0 shutout of LSU, has even ended within two possessions. Oh: and eight of Alabama's 13 games were against ranked opponents.
Alabama's special combination of strength of schedule — plus the strength with which they beat their schedule — led FiveThirtyEight to declare, earlier this month, that this is the single greatest college football team of all-time. The 2016 Crimson Tide are ranked ahead of the 1995 Nebraska Cornhuskers (who dropped 62 points in their bowl game) and, well, the 2015 Crimson Tide.
Saban is now just one championship away from matching Bear Bryant's six career coaching championships. That tie could come as early as the opening weeks of 2017.
20. The Banana Boat crew speaks out against police violence and racial profiling at the 2016 ESPYs
The NBA has come a long ways since the days when Charles Barkley was not a role model, or since conversations were stopped since Republicans buy shoes, too. The 2016 ESPYs started with four NBA Hall of Famers dressed, it looked like, for a funeral. Carmelo Anthony, Chris Paul, Dwyane Wade, and LeBron James — each taking turns to speak — sternly but fairly, sorrowfully but hopefully — about where America is in 2016:
Although this was not a debut moment of civil protest for any of these four men, but it was their most memorable, an elegant thesis statement that both redefined and broadened who and what a basketball player — man or woman — could be in society. As Anthony put it in a thoughtful editorial for The Guardian, published that same July day:
The teams and the support systems around athletes urge them to stay away from politics, stay away from religion, stay away from this, stay away from that. But at certain times you've just got to put all of that aside and be a human being. That time is now.
19. New England Patriots dominate through Tom Brady's four-game DeflateGate suspension
When it was announced in April that Tom Brady would be suspended for the first four games of the 2016 season, it was a blessing if for no other reason than it finally signalled the conclusion of the most tedious and overwrought sports story of 2015: DeflateGate. Like a zombie plowing through a dystopian battlefield, nobody wanted to be anywhere near DeflateGate, and still it marched into the headlines with inhuman tenacity.
If Roger Goodell really wanted to punish Bill Belichick and the Patriots, he made one mistake: by announcing the suspension in April, Belichick and his staff had months to prepare for Brady's absence. These are the same people who redesign their offense week-to-week as a matter of routine.
Not only was handsome backup Jimmy Garoppolo well-equipped to beat the Arizona Cardinals — on the road, in prime time — in Week 1. No, the Patriots staff was also prepared with third-round rookie Jacoby Brissett, fresh out of North Carolina State, when Garoppolo went down with an injury in Week 2 against the Miami Dolphins. After beating the Dolphins, New England had three days to prepare Brissett for his first career start, up against one of Belichick's many former assistants in the Houston Texans' Bill O'Brien. The Patriots thumped the 2-0 Texans, 27-0.
Longtime rival Rex Ryan stymied Brissett and the Patriots in Week 4, but whatever: now a rested Tom Brady was returning to a team that sat at 3-1, a machine that could not be broken even if its most valuable cog was suddenly stripped away. At 12-2, the Patriots long ago clinched their 16th straight winning season. Plus, their current streak of seven seasons with at least 12 wins is tied for the longest in football history.
18. The world watches as free agent Kevin Durant camps out in the Hamptons
For all of the combined billions of dollars that have been tossed around in the history of NBA free agency, there are still only four free agents pursuits which ended in a way that everybody can actually picture:
2010, LeBron James tells Jim Gray on TV that he is taking his talents to South Beach.
2014, LeBron James stares soulfully into the camera on top of a Sports Illustrated editorial.
2014, Chandler Parsons and Mark Cuban go clubbing together.
2015, the Los Angeles Clippers descend on DeAndre Jordan's Texas house and talk him out of his verbal agreement with the Mavericks, while live-tweeting it.
And now there is Kevin Durant in 2016. It was the first free agent pursuit to match the competitive-balance earthquake of James changing teams with the zaniness of Parsons and Jordan.
In what's honestly a cool power move, Durant and his representation made the teams come to him, perhaps literally begging on their knees. Making the power move just a bit less cool, Durant and his representation made teams come to him in the Hamptons, sending clusters of executives scampering around one-percent vacationers. After the NBA's battalion of potentially omnipotent reporters unearthed Durant's weekend schedule of meetings, very nearly down to the minute, the pursuit hit an apex of zaniness when Tom Brady was spotted in his newsboy's cap, strolling alongside the Boston Celtics' Danny Ainge.
After one last meeting with the Thunder in Oklahoma City — honestly, I really do want to know what they could have talked about — Durant made the choice that was both inevitable and impossible: the Golden State Warriors.
17. Spurned Russell Westbrook guns for season-long triple-double average
For the better part of a decade now we consistently see Russell Westbrook do amazing things on the basketball court. And yet we have also maybe not ever seen Russell Westbrook experience — at least in any visible, conventional way — happiness. If anything, Westbrook's signature driving dunks seem to annoy him even more, as if he is personally and deeply irritated that the opponent is actually trying to defend him.
So, in a way, who better to be left behind by a superstar/friend in a soap-operatic free agent pursuit (see: previous Top 50 Moment)? With Kevin Garnett retired, there is nobody better-equipped in today's NBA to transform a personal beef into an 82-game-long mournful howl.
Westbrook's response to being the only non-Nick Collison player left over from the 2012 NBA Finalists has been even more ferocious than could have been safely predicted. 28 games into the season, Westbrook is averaging a triple-double, a feat that was pulled off just one time in NBA history, by Oscar Robertson in 1961-62.
There's another record that Westbrook is also on pace to break: highest Usage Rate. Westbrook is taking control of the ball even more than any player has ever done in a season, leading Kobe Bryant from his lonely days on the Lakers by a considerable margin.
16. David Ortiz hits ferociously enough to be a legitimate MVP candidate at age 40, before retiring
In 2016, David Ortiz was not only the only member of the 2004 curse-busting edition of the Boston Red Sox still to be with the team — he was the only player (barring a potential Bronson Arroyo comeback) to still be in the major leagues. The occasional month-long slump from Ortiz throughout the years seemed to trigger a deeper and quicker panic than most, but Ortiz was not simply hanging around the game, Ken Griffey Jr.-style, as a 40-year-old. In a season that was known, ahead of time, to also serve as a retirement tour, Ortiz actually put together one of the very best years of his Cooperstown-destined career.
In 2016, Ortiz led the league in intentional walks, for the third time in his career. But Ortiz also seemed to showcase new skills, even as he received pregame gifts from his opponent: this was the first year that he led the majors in slugging percentage, and even the first year he led the majors in doubles.
Although the Red Sox were eliminated in the first round of the playoffs, Ortiz's tearful hinted at the truth of his career. Ortiz wasn't just one of the game's greatest modern hitters: he was also half of one of the most memorable, unlikely, and deep relationships between an athlete and a city:
15. Kobe Bryant, Kevin Garnett, and Tim Duncan all retire
In one of the most improbable alignments of the stars, three of the NBA's top 20 all-time scorers each left the game after the same season. And each of them exiting the stage in a way that was perfectly, poetically, them:
Bryant, on the last night of the regular season, took all of the shots and put 60 points on the board, the conclusion to a year-long retirement tour.
Duncan went into private contemplation at the end of a hard-fought playoff series. Eventually he emitted the quiet signal, like smoke emerging from the Vatican City, that that was all.
Garnett endured most of the summer preparing for another season of being a (highly efficient) role player in Minnesota. There are no doubts that his spirit ever quit, only that his body told him to.
14. Dee Gordon hits emotional leadoff home run in first Marlins game following Jose Fernandez's death
One of the very worst moments of 2016 came when in the quiet days of late September, when the impossible news emerged that Miami Marlins pitcher José Fernández, just a few days after his 24th birthday, had died in a boat accident along with two friends. The news was all the more harrowing considering Fernández's several attempts, as a teenager, to defect from his native Cuba via boat. In an impossibly short career — just 76 starts, spread across four seasons — Fernández's considerable skill and charm had already cemented him as a baseball legend.
After cancelling the next day's game against the Atlanta Braves, the Marlins hosted the New York Mets only about 36 hours after Fernández passed, with each player wearing his #16, with emotions still incredibly raw. In the bottom of the first, leadoff hitter Dee Gordon hit a mighty home run — his first of the season, just the ninth of his six-year career — on the first swing of the game:
It's hard to say what this moment means. A home run is not like a eulogy: it can't be planned. And also, it's not as if the Marlins needed to win the game (they did) in order to properly show respect for their deceased teammate. It's hard to say what it means but Gordon's home run was still a thing of overwhelming beauty — sadness and joy and love and sorrow all suddenly flooding everything.
13. Conor McGregor becomes UFC's first two-weight champion: featherweight over Nate Diaz, lightweight over Eddie Alvarez
The record will show that Conor McGregor went 2-1 in his fights this year. Good, yes, but also not super-great. What the record may not show, however, is that McGregor springboarded from that 2-1 performance to become the UFC's most famous fighter this side of Ronda Rousey.
McGregor revealed the surprising secret to achieving outsized fighting fame: if you lose, come back from the loss with a shoulder-noodle swagger so audacious that Vince McMahon would be embarrassed to attempt it. Like no MMA fighter ever, McGregor has mastered the annoying/cocky/intimidating/brilliant art of welding the pre-fight press appearance to the fight itself. McGregor is the center of the show at all times and also aware that he is the center of the show at all times, sneering with the same facial expression both when he's shade south of lethal in the octagon, and also when he is miraculously kept at bay by a chuckling Dana White at a weigh-in. Anything — including, hell, a leap to another sport, or onto the payroll of McMahon himself — is on the table for 2017.
12. Alabama holds off Clemson in CFP Finals shootout
After years of an incredibly unsatisfying and complicated bowl system, the College Football Playoffs have delivered insta-classic conclusions in each of its first two seasons. One year after the Legend of Cardale Jones popped off, two SEC heavyweights duked it out, trading the lead four times in a game that went down to the final seconds, with 40 total points scored in the fourth quarter alone:
In this game we learned, importantly, what actually makes Nick Saban crack a genuine smile. Is it getting doused with Gatorade by his adoring players, moments after the clock went to zeroes and Alabama is crowned national champions yet again? No, that does not make Nick Saban smile. What does make him smile is successfully executing a surprise onside kick in the fourth quarter of a tie game — a move set up masterfully by decades of vanilla, straight-up, butt-kicking football.
11. Wales, Iceland have Cinderella runs at UEFA Euros
It was shocking enough that Iceland, with its population smaller than — take your pick — Bakersfield, Tulsa, Wichita — actually made it all the way to a major international tournament. This was an effort that appeared to require the efforts of the entire country (at least, the parts of the country that weren't helping Iceland on its way to its also-surprising appearance in the 2015 Eurobasket tournament), each person from national team coach to youth coaches building up talent with a gardener's patience and nurturing skills. With not-total-embarrassment being an entirely reasonable goal for Iceland in the tournament, they managed not only to pass the group stage but then knocked out England, 2-1, in the knockout stage, cueing the biggest tantrum yet from soccer's most self-tortured fanbase.
Although Wales is a larger country, population-wise, it also has the giddy fortune of raising one of the world's super-duper stars, the ferociously top-knotted Gareth Bale, who appears to have a superhero's reserve of good, wholesome energy. Also making their debut in the Euro tournament, Wales lasted one round longer than Iceland, winning their group and then beating Northern Ireland and Belgium before succumbing to Portugal, the eventual champions.
10. Simone Biles leads dominant US women's gymnastics to all sorts of gold medals
What was so fun about Simone Biles was not just that she was visibly — obviously, even to the uninitiated — the best gymnast at the 2016 Olympics. It was also that Biles also seemed to be continually thrilled, delighted, even surprised, at where her talents were taking her.
It's entirely understandable why most gymnasts — especially that poor Chinese squad, bless them — appear on the brink of an anxiety attack: they are competing in a pulverizing sport that allows even its stars a criminally short prime, and they are constantly being shouted at by middle-aged men about arcane, hundredth-of-a-point details. In the same year that the Indianapolis Star dredged up the revolting, criminal underbelly of American gymnastics coaching, Biles and her four teammates — Aly Raisman, Laurie Hernandez, Madison Kocian, and Gabby Douglas — made their trip to Rio feel, somehow, like a giant, fun family vacation.
All that, and at the end of the team competition, the point gap between second-place Russia and last-place Brazil — about 4.5 points — was much smaller than the more-than-eight-point gap between America and the silver medalists.
9. Usain Bolt wins third straight gold in 100m sprint
If you're like me you may have gotten irritated for a moment, there, with Usain Bolt and is apparently undying need to act like a real ham in front of the camera. It is time for us, for me, to forgive him. It turns out that all that showboating — as Richard Sherman might say — simply sharpened Bolt's sword, as he never failed, on the biggest of stages, to back up his antics with victories.
At the Rio Olympics, Bolt shut down any stray, lingering doubts about his greatness, wholly cementing his place as the greatest sprinter of all-time. For the third straight Olympics, Bolt swept the sprints: gold in the 100-meter relay, gold in the 200 meters, and gold in the star-making 100 meters:
Not only is this unprecedented in track and field: with three more golds in Rio, Bolt made serious headway up the list of all-time medalists across all sports. His nine gold medals are tied for the second-most of all-time, trailing only Michael Phelps. The records that Bolt set — be it the medal count, be it his world-record times — will only be broken by a runner whose personality and skill-set is unprecedented, just like Bolt's.
8. Villanova wins NCAA tournament on buzzer-beater
Somehow, Villanova has done almost this exact same thing before. There are probably more possible finishes to March Madness — what with the hundreds of Division I teams across the country — than there are grains of sand in the world, and somehow Villanova has pulled the same trick twice.
The first time was 1985, when an eighth-seeded Villanova went on a Cinderella ride through the tournament before landing in the final against Patrick Ewing and the defending champion Georgetown Hoyas. Using the crowd-pleasing strategy of milking the clock for the entire game due to a lack of shot clock (!), the Wildcats squeaked by on a one-possession victory.
In 2016, Villanova was not quite so big an underdog, but they were an underdog all the same: their opponents in the national semifinal, Oklahoma, had torched the Wildcats by 20 early in the year. And again the title game — against another first seed, North Carolina — came down to the last possession. The ensuing moment is one of the greatest in college basketball history: Ryan Arcidiacano with the full-court drive and dish, Kris Jenkins with the perfect, iconic shot, Jay Wright coolly shrugging his shoulders as if nothing of particular import had just occurred, and Daniel Ochefu setting up the entire play with diligent and selfless mop-work:
7. Stephen Curry's 402 three-pointers
Usually we can see a basketball legend coming. LeBron James hit the cover of Sports Illustrated as a junior in high school. Heck, every year there are dozens of juniors in high school who are followed, covetously, by a phalanx of monied college coaches. With Stephen Curry, though, we weren't entirely sure even three years into his NBA career. The four-year, $44 million contract that Curry is still playing on is, in NBA terms, the tax bracket of a role player. But so went the thinking with Curry: he is an elite shooter, yes, and also maybe too injury-prone to be totally counted on.
Improbably, Curry's three-point shooting improved just as dramatically as the other exponentially-increasing elements to his game — turnover creator, passer, playoff-ready competitor. In the same year that Curry led the league in free-throw percentage and steals, he also destroyed his own record for most three-pointers in a season, surpassing 402 total makes when nobody, ever, had managed even 300. It was like Barry Bonds hitting 100 home runs in a season, or Tom Brady passing for 75 touchdowns. Not since Wilt Chamberlain's day — in some sort of unrecognizable competitive environment — has a major American sport's record books been so totally reduced to silly putty.
Nineties kids had Michael Jordan's tongue-wagging dunks as the pinnacle of imitation-worthy moves. In the aughts, it was Kobe Bryant's martial arts sequences of jabs, feints, and fades. And now in this decade, there is no doubt that the most coveted move is Chef Curry's nonchalant flings from deep, the ball ripping the next long after he has already backpedaled down the court.
6. Peyton Manning wins Super Bowl, rides into sunset
Yes, we know right now, so soon after the 2015-16 Denver Broncos actually won the Super Bowl, that it was primarily the responsibility of Von Miller, DeMarcus Ware, and the rest of that ludicrously talented defense. Even though Manning's noodle-armed final season was a tough one to watch, aesthetically speaking, the Broncos were also unmistakably Manning's team. Manning's arrival to Denver in the spring of 2012, after being tenderly quarterback-whispered by John Elway, is undeniably the catalyst that turned the Broncos' aspirations to the Super Bowl and cueing the league's most aggressive approach in free agency, across all positions.
In a way, Manning's obvious shortcomings in 2016 — nine touchdown passes up against 17 interceptions — were reassuring in their own way. We had been told that the neck injury that had kept Manning out for all of the 2011 season could maybe end his career, and he was 35 years old besides. And then there he was in a Broncos uniform, setting the single-season touchdown record as if factors like time, age, the human lifespan had no effect on this always-somewhat-peeved quarterback machine. Manning endeavored to crack the riddle of quarterbacking with the kind of passion that few have ever been capable of mustering, and he solved the position to close to completely it always seemed unlikely that all that work was being done with a very human arm.
5. Warriors win 73 games
The most famous piece of NBA trash talk this decade was not a vicious expletive picked up by an intrusive courtside mic. No: it appeared in the pages of the New York Times Magazine this March, when Warriors owner Joe Lacob said:
"We're light-years ahead of probably every other team in structure, in planning, in how we're going to go about things. We're going to be a handful for the rest of the N.B.A. to deal with for a long time."
Just, personally speaking, I don't really know why this annoyed people. As a new owner, Lacob had been resoundingly booed by his own fans four years ago — a moment when the foundational blocks of an eventual champion had already been set into place. Given the speed and totality of the Warriors' turnaround, there was actually very little evidence that the Warriors aren't light-years ahead of "probably every other team."
And that's just the thing about the Warriors: they are almost inviting you to hate them with the giddy three-point dances, with loud Draymond Green, with their love of hearing their own Silicon Valley jargon. And it does not matter what you think. With an offense like a heat-seeking missile and a defense that would make coaches misty-eyed at its fundamentally sound majesty, the Warriors will thump you by 30, 40 if you are not bringing your absolute very best — and sometimes they'll do the same even if you are.
4. Colin Kaepernick initiates the 21st century's most iconic peaceful protest by kneeling during the pre-game national anthem
This is one thing that you will remember from 2016: Colin Kaepernick, kneeling on the sideline, afro in the breeze, gazing ahead — sternly, resolutely — into nothing.
It started small at first, in the preseason — so small that nobody can remember for sure when Kaepernick started to sit out the anthem. As preseason turned to regular season it exploded, quickly becoming one of the few stories each year that leaps from the sports page to the front page. The image of Kaepernick on one knee is now as indelible as Tommie Smith and John Carlos raising their gloved hands at the 1968 Olympics. 1968 was a long time ago, and it wasn't. We've come a long way. And we haven't.
Kaepernick's quiet, peaceful protest had one modest goal: to start a conversation. In this way Kaepernick succeeded more wildly than he probably ever thought possible — while also as the weeks ground on never turning the attention on him into a spotlight. The conversation quickly got heated, brutish, nasty. Nothing about it was fun. Which is exactly the reason we need to have the conversation in the first place.
3. Cavaliers win NBA Finals
It feels so totally, deeply right to see LeBron James holding a championship trophy, leading a parade, to host a bunch of pals in a Cleveland Indians suite — it's easy to forget how unlikely it all was. There was that 3-1 series deficit against those 73-win Golden State Warriors, yes: that was a historically unlikely triumph unto itself.
But even beyond that: there was that month, in the dog days of the 2016 regular season, when David Blatt was fired (cause: mutiny), Kevin Love was a few minutes away from getting traded, and the whole experiment seemed about to blow up. And then there was the sheer improbability of that experiment ever working out in the first place: when James spent those four years in Miami, the Cavaliers were just kind of farting around and picking Anthony Bennett with the first overall pick.
Still it all feels, somehow, inevitable that James would not just win in Cleveland, but so clearly and proudly for Cleveland. Future generations may be surprised to hear that LeBron James was actually responsible for the single greatest heel-turn in basketball history, now that he has earned himself entrance into basketball sainthood.
2. Leicester City wins Premier League
An accident of top-flight soccer was that it appeared to kill the underdog. If you're a team and you've just been promoted from your country's second division, where you've played in front of maybe ten thousand fans per match, how are you really supposed to contend against teams with such cartoonishly large global reach that they build their own resorts equipped with full-scale hologram fields?
In the 2015-16 English Premier League, Leicester City — just two seasons removed from playing in England's second division — showed that the underdog could not just live in modern soccer, but actually triumph. Even better was how they did it: although Jamie Vardy and Riyad Mahrez both earned their votes in the Ballon d'Or, the spiritual center of Leicester City's success was always their coach, Claudio Ranieri. After being fired an uncountable number of times in a transient, decades-long coaching career, Ranieri had long ceased to care about the small stuff — and just about anything except enjoying the moment was small stuff. A Ranieri press conference feels like no other, because it feels like you are visiting with your radiantly smiling grandfather, and you do not want to leave:
The warm jokes deceptively hide a crucial competitive tactic, entirely necessary to slay the EPL's giants: there is no need to worry or be anxious about the enormity of a year-long task when there is only the enjoyable moment in front of you.
The story is not over: even as Leicester City fumbles through this Premier League season, they remain alive and well in the Champions League, another supremely unlikely trophy still within reach.
1. Cubs win World Series
It made it sweeter, somehow, that you could see it coming. You could see it coming five years on the horizon, when Theo Epstein — baseball's most curse-impervious executive — left Boston for Chicago. You could see it coming in 2012 and 2013, when Epstein shipped away veterans and built up a huge list of prospects. You could see it coming in 2014, as those prospects climbed up best-of lists, and then in 2015, when they graduated to the majors and sprinted, suddenly, to the League Championship Series. You could see it last winter, when Epstein opened the pocketbook wide open, and you could see it coming as spring turned into summer and the Cubs were the class of baseball, if not historically great.
All those years of planning, and still everything came down to a single ball game. A ball game that erupted, suddenly, into a game that could be called — you could sense it, as you watched — the greatest baseball game ever played:
It didn't matter that it was by literally the slimmest margin of victory possible: for the first time since just about the dawn of professional baseball, the Cubs won the World Series.
This article originally appeared on