5 Reasons to Still be a Thankful Atlanta Braves Fan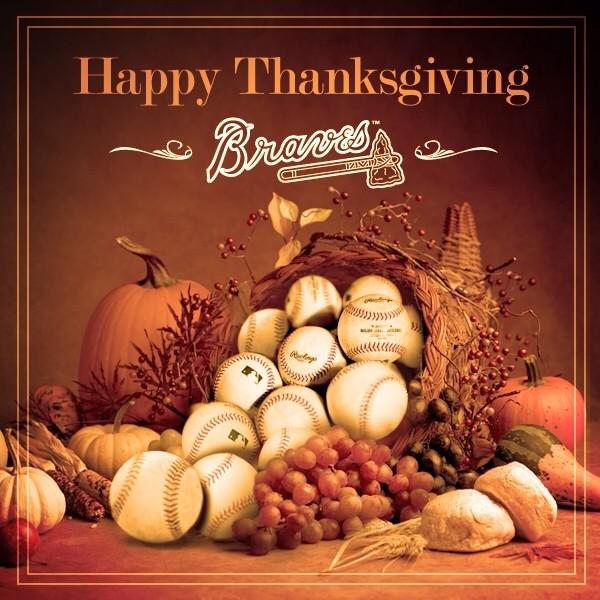 Giving Thanks To Other Braves Fans
Greetings from Georgia where it is still 70 degrees and fighting off Fall.
I know it's been a while, 13 weeks according to my last post but other than my editors, who's counting?
As we are all sitting around the kitchen table ignoring random chatter, or as full as a tick on the sofa trying not to fall asleep from the Turkey coma, or absolutely positively uninterested in any of the football games on today, or you may be deceptively NOT trying to have that same conversation again with Uncle Joe  about how the Braves "sucked it up" this year; let's all be reminded of a few things that we can be thankful for.
Personally, I am thankful that every time, as random as it's been lately with my hectic schedule, that I am actually still able to log into the FanSided portal. When you are as busy as I am, it gets increasingly difficult to sit down and formulate enough sentences to create intriguing or entertaining dialogue. But, nonetheless, as much as my name and face is removed from the About page on the site, I still read the news, share the articles and debate each topic daily on Facebook. I am eternally thankful for the opportunity to entertain each and every Braves fan that is allowed to read this.
Us fans had a rough year. But we did not make it to that magic number. We didn't lose 100 games. We finished with the 4th worst record in baseball. We definitely have room for improvement (ya think?). And speaking of improvement, we were 2-0 in October and 16-10 in September, of the 7 months we played ball, we ended with a winning attitude and some motivational swagger.
Don't call him Butterfingers
Adonis Garcia went from not being able to catch a cold to actually becoming an average defender and respectable at the plate. Yes he lead the team with 18 errors (work with me here) but he finished the year with a slash line of .273/.311/.717.
Not bad for a 32 year old rookie. Unless we sign another guy at the corner, he is NOW in Atlanta. It seems the team has embraced him there and is willing to go into 2017 with his job to lose.
I don't know if he will be participating in the WBC or not but if he can get started early with reps, both defensively and on the offensive side, we should be ok at 3B.
At least now, he is not a liability there. Garcia is under contract until 2022. He would be 74 then, doubtful he would still be at third. Maybe an usher?
Freddie being Freddie
Sometime during the year something clicked with Freddie Freeman. Was it the addition of Matt Kemp?
Was it the lineup stability?
Maybe a combination of both or none of the above, maybe it was something personal and he just finally said "let me be me"?
Regardless, the best 27 year old 1st baseman in the game had a year that made people forget we were losing (almost). Slashing a .302/.400/.968 and destroying 34 homeruns and knocking in 91, he has cemented himself at the top of most Fantasy Baseball boards as a top 10 pick and we should be thankful that he is still here (knock on wood) because with various flips over the last 2 off seasons, us fans were beginning to wonder "who's next" when it came to wheeling and dealing of our favorite players.
Thankfully, barring anything unforeseen and unimaginable, Freeman is under contract until 2021; the games best corner infielder on the right side still resides in ATL.
s/n: Freeman won NL Player of the Week 3 times during the season and Player of the Month honors in September and was in the MVP conversation (woot woot)
Folty figured it out
Mike Foltynewicz seems to have turned the corner!
Last September we got news that Folty was hospitalized with blood clots in his arm and he would have to be sidelined for a while. Scarry stuff for anyone to have to deal with that, but for a 23 year old fireballer it's not just your livelihood but your LIFE as well.
Then we got the news of him having half a rib removed due to the clots and most of us fans held our breaths and threw up a few prayers in hopes for his speedy recovery. Fast forward to May 2 and Folty made his debut after a few DL stints and organizational precautions to make sure that he was healthy. That outing didn't turn out too good but after that, while playing with various arm locations and settling into comfort zones, he compiled a 9-5 record to end the year.
He was the ONLY projected starter from the 2016 roster going into the 2017 season to have a winning record.
That is both encouraging and depressing simultaneously but we should be thankful that he is in good health and he will be wearing the same name on the #FrontOfTheJersey as the rest of our guys. Folty is under contract until 2022, he has plenty of room to improve.
Digging for Gold
We didn't have lots of defensive gems to sort through throughout the year. We traded away the Gold Glove in RF when Jason Heyward was sent packing (I am still trying to get over that), butter fingers started off rocky but settled in nicely, it's not like Nick Markakis and Kemp are in their teens and/or have the bodies of 20 year olds;
BUT …  Ender Inciarte is a pitchers best friend. The 26 year old CF from Venezuela made it look real easy playing defense at the Ted. And, oh yeah, he also had a slash line of .291/.351/.732. Ender is under contract until 2021. There should be a lot more golden nuggets on display for the next 5 years. ICYMI: Ender was the 2016 Gold Glove winner for CF in the NL.
Futurama
Who's at shortstop? That's not Andrelton Simmons anymore. NOPE.
That handsome young lad is the future of the franchise (no pressure). Dansby Swanson came with a lot of hype. Yeah he's a Georgia boy but we absolutely robbed the Arizona Diamondbacks (I still giggle when I think about it). This kid is the real deal.
After all of the hype and multiple minor league levels to juggle, Dansby made his debut on August 17 versus the Minnesota Twins. Officially he had 2 hits. Unofficially he brought spirit, hope and youthful exuberance to a team that looked like they were defeated and ready to mail it in.
The fans were coming to the stadium just to get a glimpse of him in uniform. I am not sure how durable he will be at SS but as long as he is able, he should be in every game playing every inning. Something about him being on the field…it makes the losing somewhat worthwhile as we get to see our kids get their reps and learn the game.
Danby will get LOTS of on the job training, he is only 22 and is under contract until 2023.
Thank You!
We have a lot more to be thankful for, but thankfully for you, I have a word limit and I have to keep this short.
Through all of the ups-and-downs (more downs than ups), the moving from Turner Field to Suntrust Park, random Hot Stove rumors, fan to fan "what if" scenarios, checking for what random color Julio Teheran's hair will be or NOT stalking his wonderfully gorgeous girlfriend on Instagram (I have not violated any restraining orders) or sifting through the various pieces of noise and fluff to find real news and media; we Braves fans have a lot to look forward to.
We are trending upward, we still have a young nucleus, our farm system is stocked and ready to either be used as currency (Chris Jervis's words, not mine) or to earn a spot to play in Atlanta. Times are looking good once again for the Atlanta Braves organization and for that, I am extremely thankful.
Happy Thanksgiving everyone ????
This article originally appeared on