3 Takeaways From Colorado Rockies Split With LA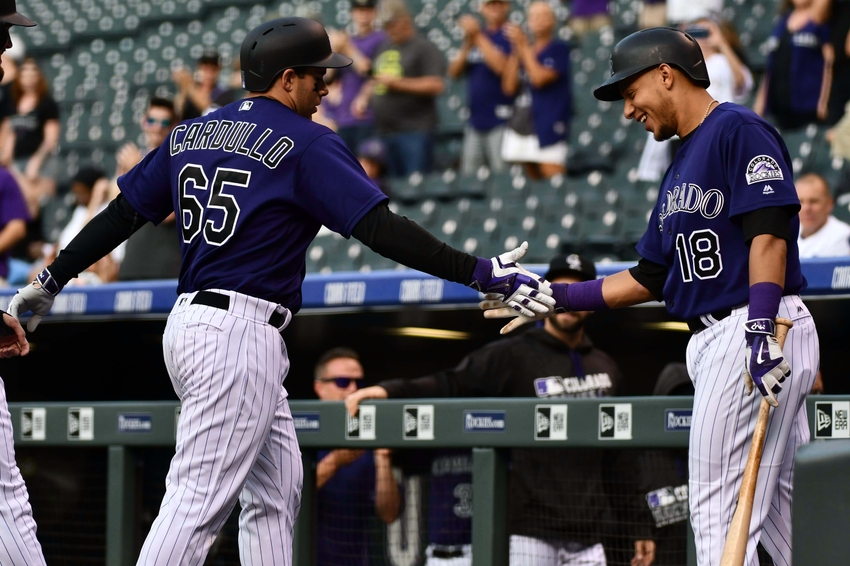 Wednesday was a wild day for the Colorado Rockies. Wednesday afternoon, they rolled to a 7-0 win over the Los Angeles Dodgers. Later in Game Two, they raced out to another big lead but an ugly bullpen meltdown led to a 10-8 loss. Here are the three biggest story lines of the day.
1) An Unforgettable Day for Colorado Rockies outfielder Stephen Cardullo
The Rockies newest rookie was unable to get his first big league hit in Washington DC, but he has found Coors Field to be much more inviting. Cardullo singled Monday for his first MLB knock, and that was just a warm-up for what came Wednesday.
Cardullo pinch-hit in the seventh inning of the early game, and after fouling off three straight two-strike pitches, he blasted his first big league home run to left-center field. This was no wall-scraper either, as it traveled an estimated 443 feet, carrying well into the bleachers despite being in the deepest part of the outfield.
Making the moment even more special? Cardullo turned 29-years-old today. His mere presence on the Rockies roster is a testament to the power of perseverance and determination. If hitting his first MLB big fly on the last birthday of his 20's was the entire story, it would still be amazing.
The nightcap, however, somehow proved to be even more special for Cardullo. Dodgers starter Bud Norris struggled to find the strike zone in the first inning, walking the bases full directly ahead of Cardullo. Norris tried to steal strike one to get ahead in the count, but Cardullo was ready for him.
Yes, Cardullo waited all of a few hours between MLB home runs No. 1 and  No. 2, giving Colorado a big 5-0 lead just six hitters into the bottom of the first. Things went south for Cardullo and the Rockies later on, but that shouldn't stop him from feeling good about his day at the yard. Now, for a group that should NOT be feeling good about their day…
2) Bullpen Melts Down
After scoring two runs in their first 16 innings Wednesday, the Dodgers erupted for eight runs in the final two innings. It's hard to be critical of a guy who's thrown the ball as well as Adam Ottavino has this season, but this was absolutely a night to forget for the right-hander.
Ottavino and the Rockies were an out away from finishing off a three-game sweep of LA, but two singles and a walk set the stage before the fatal blow: a grand slam off the bat of Dodgers outfielder Andrew Toles.
Ottavino was undeniably bad, and the expectations are higher for him as the closer, but the rest of Colorado's bullpen did them no favors either. Matt Carasiti was once again hit hard and continues to look overwhelmed against big league hitting, and Carlos Estevez did little to limit the damage Carasiti created.
The bullpen relapse was particularly frustrating Wednesday, because…
3) Start of Something Great
Rockies starting pitching allowed just two runs over 11.1 innings on Wednesday. Those are very solid numbers from a young duo that figures to be a part of this rotation for a long time to come.
Anderson continues to blow away every expectation of him. His 3.43 ERA would easily be the lowest of any starter on the team if he had the innings necessary for qualification. Wednesday was the best start of the lefty's young career, as he fired 6.1 shutout innings while fanning five.
In the night cap, another rookie took the hill, this time in the form of Jeff Hoffman. After a lead-off home run from Chase Utley, Hoffman started to settle in. Another solo run would cross the plate, but Hoffman went on to get through the fifth inning without any further damage.
Neither outing was the type of start that's going to have fans dreaming of Cy Young awards, but they were both more than enough to put Colorado in to a good position to get a win.
The bullpen meltdown on Wednesday night is obviously frustrating, but it's at least a step in the right direction that the starters are putting the Rockies in a position to win. Until the relievers can catch up to the starters, it might be hard to see it in the results, but those who have criticized Colorado for years for a lack of starting pitching may need to find a new topic to harp on soon.
This article originally appeared on