3 reasons the Dodgers need Clayton Kershaw healthy to upset Cubs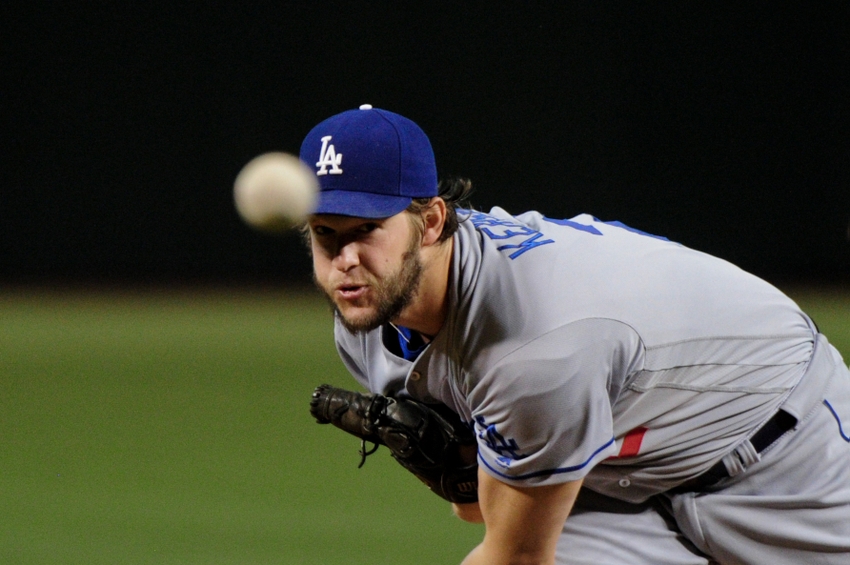 The best pitcher on the planet, Clayton Kershaw, is nearing a return to the Dodgers. He must be healthy for the Dodgers to have a shot at upsetting the Cubs.
Clayton Kershaw has been on the disabled list since June due to a back injury. He was in the midst of a historic season when he hit the shelf, as he was on his way to another sub-2.00 ERA season, and had struck out an eye-popping 145 batters against only nine walks. The left-hander has missed two full months of the season, and is still in the top 10 for pitcher WAR according to Baseball-Reference.
Kershaw's back has improved, and he made his first rehab start, allowing only one hit in three innings while striking out five. Next, he expects to be back with the Dodgers in four to five days and he looked sharp in mowing through his Single-A opponent. If the Dodgers are going to have any chance of preventing the first Chicago Cubs World Series win since 1908, No. 22 will have to be firing on all cylinders when he returns to the big leagues.
Here are the top-three reasons Kershaw must be healthy for the Dodgers to have any hopes of being the team to topple the Cubs.
It makes everyone else's job easier

Assuming the Dodgers are able to get by their first-round opponent (as the standings currently sit, the Dodgers would square off against the Washington Nationals in the NLDS, with the Cubs playing the winner of the wild-card game), their chances of bouncing the Cubs depend heavily on stealing at least one game when Jake Arrieta is on the mound. Matching up Kershaw against Arrieta instead of Rich Hill or Kenta Maeda gives the Dodgers a much better chance to steal at least one of those games. The Dodgers could also choose to shuffle their rotation to match Kershaw up against Jon Lester or Kyle Hendricks.
The presence of Clayton Kershaw also helps to provide some sense of stability for a Dodgers rotation that has dealt with an almost incomprehensible amount of injuries this season. At the time of this writing, Scott Kazmir, Brandon McCarthy, Brett Anderson, and Hyun-jin Ryu are all on the disabled list with varying degrees of uncertainty. The team traded for Rich Hill at the trade deadline, and his blister problems could pop up again at any time. Rookies Julio Urias and Jose De Leon are being pushed, but expected them to play crucial roles in a playoff series is tough.
Clayton Kershaw is a big equalizer in a playoff series, and if he can be used three times in a seven-game series to create the best matchups for the rest of the rotation, the Dodgers' chances of winning go up exponentially. It's a huge task for a number-two or three starter to take down Arrieta, but Kershaw is more than up to the task. Postseason series often hinge on a team being able to knock off their opponent's ace, and Kershaw is the only pitcher in the Dodgers rotation who can do that.
Kershaw is a Cub killer
The Chicago Cubs are one of the most patient teams in the league. They put pressure on opposing pitchers by working the count, knowing the strike zone, and taking a walk when a pitcher refuses to give into them. The Cubs also strike out a ton, and their offense can become stagnant when they are not getting their free passes.
In his career, Kershaw has dominated the Cubs. He is 5-3 in eight starts with a 2.18 ERA. He has struck out 68 in 53.2 innings while walking only 13. Last year, Kershaw made two starts against the Cubs and struck out 23 batters in 15.0 innings. He has not faced them this season, but the lineup remains mostly unchanged from 2015.
Of the current Cubs lineup, only Dexter Fowler has hit Kershaw well throughout his career. Fowler spent the early years of his MLB career in Colorado, however, and some of his offensive numbers have to be taken with a grain of salt. Overall, the current Cubs roster has taken 154 at-bats against Kershaw and has struck out 54 times, good for a 37.5 percent strikeout rate. They have also drawn only seven walks.
The Cubs went down with a whimper against the New York Mets in the NLCS last season. Faced with a quartet of power arms, the Cubs could not do much. In the postseason, wins and losses are largely based on which team's pitcher can limit hard contact and baserunners most effectively. The Cubs are a matchup nightmare for most pitchers in the league, but Clayton Kershaw is not most pitchers.
His arm should be fresh
Clayton Kershaw's postseason struggles are well documented. He is 2-6 with a 4.59 ERA in 13 career playoff appearances. Some of his troubles, however, stem from a leaky bullpen allowing inherited runners to score. Over the past two postseasons, Kershaw has struck out 38 in 26.1 innings.
Kershaw is not alone among big league aces when it comes to struggling in the playoffs. David Price's struggles have been just as difficult to watch. On the whole, however, Kershaw has never looked bad on the mound in the postseason. His struggles and inflated ERA have been made worse due to bad luck on infield hits, dying-quail flares, and mistimed home runs. To a certain extent, these are all things that are out of a pitcher's control.
The back injury that Kershaw has dealt with derailed his quest for another Cy Young, but it could help him find an extra gear in the postseason. In his career, he has struggled most in the NLCS, and even more so in his second start in that series. No matter how good a pitcher is, it's a tall order to expect four extra dominant starts, approaching 250 innings on the year.
Kershaw has thrown only 121.0 innings in 2016, and will be able to use the month of September to regain a feel for all of his pitches. At this point of the season, he is essentially restarting at his July innings total. In his career, July has historically been his best month of pitching. A sharp, well-rested Kershaw in the playoffs could be a thing of beauty to watch.
More from FanSided
This article originally appeared on