2017 Boston Red Sox vs. 2017 Toronto Blue Jays
Chance Puckett/FanSided via BoSox Injection

Fansided
After a successful and exciting year for both the Boston Red Sox and the Toronto Blue Jays, the two clubs have shifted their focus to the 2017 season. While there are still rumors circulating around where José Bautista will end up, we already know Toronto has lost one major contributor with Edwin Encarnación heading to the defending American League Champion Cleveland Indians. In this article, we'll be doing a position-by-portion breakdown of the two teams. So, let's get started.
Starting Rotation
Undoubtedly, Boston has the edge when it comes to the starting rotation. Without even taking the field once, Boston has struck fear in the heart of opponents with David Price, Chris Sale, and 2016 Cy Young winner Rick Porcello. Red Sox fans are hoping for improvement from whoever gets the fifth spot either Drew Pomeranz or Eduardo Rodriguez, but the fourth spot is pretty open-ended. I'm pretty sure not many Red Sox fans are expecting Steven Wright to produce like he did this past season, but expectations have hiked a bit for the knuckleballer. Toronto's rotation is a solid one, but it isn't anything special in my opinion. I think Estrada and Liriano is a pretty solid bottom two, but Sanchez-Happ-Stroman certainly won't be able to compete with Price-Sale-Porcello.
Bullpen
The two bullpens are about even, but I still feel like Boston has a bit of an edge. Both teams have what could be top-tier closers, Boston's Craig Kimbrel and Toronto's Roberto Osuna. I believe the addition of Tyler Thornburg will help the Red Sox bullpen more than people realize too.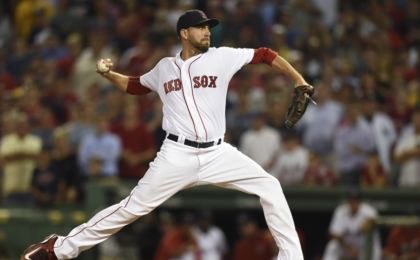 The bottom line on the bullpen for both teams is production. Both teams have to get production out of their middle-tier guys. This includes Boston getting results out of Matt Barnes, Carson Smith, and Fernando Abad. As well as guys who didn't see a lot of action for Toronto contributing such as Chad Girodo, Aaron Loup, and Danny Barnes. As I said earlier, I believe Boston has the edge when it comes to the bullpen. However, I feel production from the middle-tier could mean Toronto overtaking the Sox as far as the bullpen goes.
Infield
I feel like Toronto has a bit of an edge on the infield, but the race is certainly close. At first base, Toronto is starting Justin Smoak. While Smoak has never touched Hanley Ramirez or Mitch Moreland, Smoak is still a consistent contributor and has decent power. I think the Sox have a slight edge at first when considering both Ramirez and Moreland. However, the fact that Moreland will likely see more time in the field will mean it could be about even.
At second base, Boston also has an advantage. Dustin Pedroia certainly has an edge over Toronto second baseman Devon Travis, and barring injury, this will be one of the easiest spots for Boston to take advantage of.
Shortstop and third base are where Toronto has the advantage over the Sox in my opinion. Xander Bogaerts had an outstanding 2015, and an above-average 2016. However, in 2016, Bogaerts lived and died on the home run ball, and Troy Tulowitzki was much more consistent for Toronto. I think Tulowitzki is due for a great year, and Bogaerts has a disappointing one.
Third base is probably the biggest concern for the Red Sox. Boston fans and Pablo Sandoval don't currently have the best relationship, but Toronto fans and Josh Donaldson do. Donaldson will likely have another great season, and the Red Sox have no idea what to expect out of Sandoval.
Outfield
Currently, nobody is sure what Toronto star José Bautista is going to do. Without Bautista, the Toronto outfield will be lackluster at best. If Bautista doesn't sign, the Toronto starting outfield will likely consist of Melvin Upton Jr., Kevin Pillar, and Ezequiel Carrera. Opposed to Mookie Betts, Jackie Bradley Jr., and Andrew Benintendi, the Sox clearly have a huge advantage. Even if Bautista does sign, the Sox will still have an advantage over Toronto, it just won't be as vast.
Thanks for reading, and tell us what you think in the comments. Go Sox!
More from BoSox Injection
This article originally appeared on