2016-17 MLB offseason calendar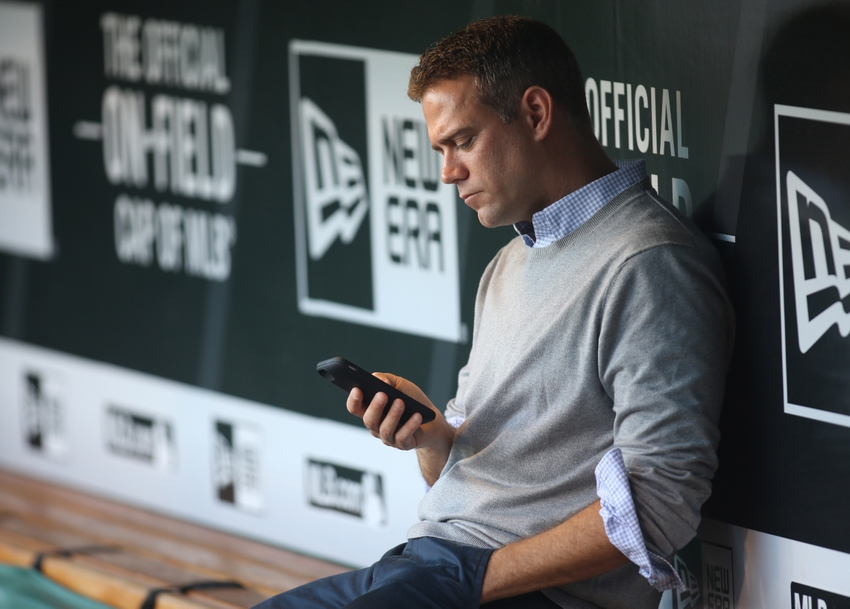 With the 2016 season now behind us, it's time to look ahead to the events that make up the 2016-17 MLB offseason calendar.
The Chicago Cubs capped off an amazing 2016 Major League Baseball season by winning their first World Series championship in 108 years but it's time for them and 29 other teams to get back to work as the 2016-17 MLB offseason is already in full swing.
This past Thursday, those players who were eligible officially became free agents. On Saturday, the majority of contract options were due. While some contracts have a specific date set, few are usually set beyond the specified date, which this year was November 5.
Monday, November 7 was the deadline for teams to make eligible free agents the qualifying offer, which is a figure determined by averaging the top 125 salaries in MLB. This year's was set at $17.8 million. The qualifying offer can only be made to players who with their team for the entire 2016 season so free agents such as Aroldis Chapman cannot receive such an offer.
Monday was also the day that the finalists for the 2016 MLB awards were announced. These awards, which consist of each league's Rookie of the Year, Manager of the Year, Cy Young Award and Most Valuable Player are voted on by the Baseball Writers' Association of America (BBWAA).
General manager meetings also began in Scottsdale, Arizona on Monday and will last through Thursday. While some deals do happen here, more will come later in the MLB offseason as these meetings usually consist of more off-the-field matters.
Free agency offically began this morning at 12:01 AM ET but does include a five-day exclusive negotiating period, which means that until the same time next Tuesday, November 15, players can only negotiate with their former team. Gold Glove winners will also be announced later today.
Here are some more key dates for the 2016-17 MLB offseason. Be sure to bookmark this page for future reference.
Thursday, November 10, 2016: Silver Slugger award winners are announced.
Monday, November 14, 2016: This is the deadline for free agents to either accept or reject the qualifying offer. Free agents who choose to reject the qualifying offer are then attached to draft-pick compensation. Any team who signs that player will lose their highest draft pick and the player's former team is given a supplemental first-round pick.
Rookie of the Year Award winners are also announced on this date.
Tuesday, November 15, 2016: Manager of the Year winners are announced.
Wednesday, November 16, 2016: Cy Young Award winners are announced.
Thursday, November 17, 2016: Most Valuable Player Award winners are announced.
Friday, November 18, 2016: This is the last day for teams to add eligible prospects to the 40-man roster to protect them from the Rule 5 Draft. Any eligible players, which this year will generally include high school players drafted in 2012 and college players drafted in 2013, not on the 40-man roster can be selected in the draft.
Thursday, December 1, 2016: While it's not gotten a lot of coverage as a deal is expected to be reached between MLB and the MLBPA, the current collective bargaining agreement (CBA) expires on this day.
Friday, December 2, 2016: This is the non-tender deadline, which means that this is the last day for teams to tender their arbitration-eligible and pre-arbitration contracts for next season. Those players without multiyear deals or those with less than six years of service time become free agents if they don't receive a contract offer. Expect a whole new list of free agents to hit the market on December 2.
Monday, December 5, 2016-Thursday, December 8, 2016: These four days are typically the busiest four days of the MLB offseason as December 5 is the day that the 2016 MLB winter meetings officially begin just outside of Washington, D.C.
The Rule 5 Draft takes place on December 8 and signifies the end of the winter meetings. Those players selected in this draft must remain on their new team's roster for the entire 2017 season or be put on waivers and be offered back to their former club.
Wednesday, January 18, 2017: The 2017 National Baseball Hall of Fame class is announced.
Mid-January is also the deadline for teams and arbitration-eligible players to file salary figures. Seeing as how a new CBA has not yet been signed, the exact date for this deadline has not yet been set.
Arbitration hearings typically take place throughout the month of February leading up to spring training.
Tuesday, March 7, 2017: The World Baseball Classic begins with games in South Korea and Japan.
Wednesday, March 22, 2017: The World Baseball Classic title game takes place at Dodger Stadium.
The 2017 MLB regular season officially gets underway on Sunday, April 2 with the Yankees taking on the Rays and the Giants visiting the Diamondbacks. All other MLB teams will have their Opening Day on Monday, April 3.
This article originally appeared on