15 Questions About the 2017 Yankees That Need Answering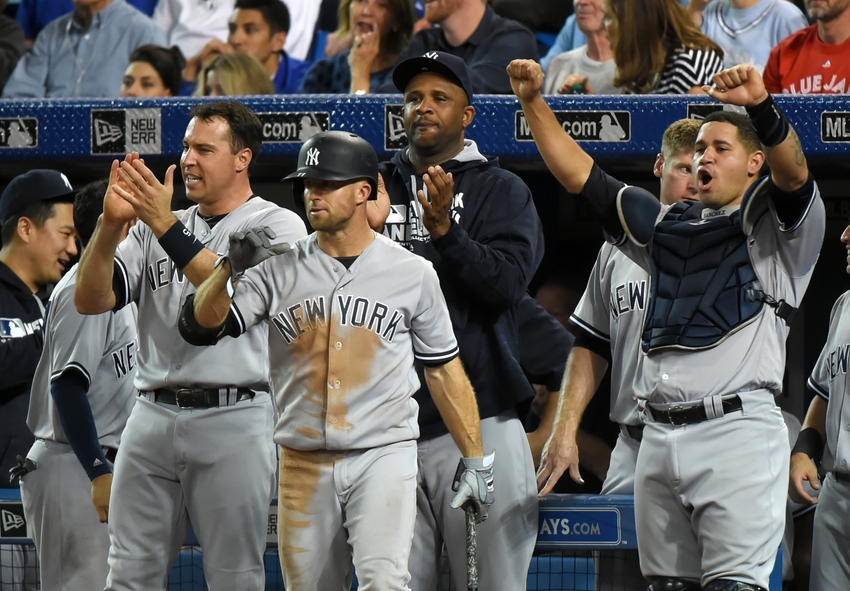 The 2016 season is officially in the books. Which means anything is possible when it comes to the outcome of next season. But first, the Yankees need to make a concerted effort to plug a few holes of uncertainty.
I heard from a few people on Twitter last night, that they simply could get into one of the most riveting World Series games of all-time because the Yankees weren't involved in it. While I certainly agree that I would rather watch a game with my beloved Yanks on the field, I felt bad for these few individuals, that they couldn't allow themselves to watch a masterful contest of two talented, driven franchises, fighting desperately for baseball immortality.
Every once in a while, we the fans, need to take out our bias' and just live in the moment. That moment turned out to be the most baseball game in 25 years. It was even viewed by more folks than last year's Super Bowl, which is saying something for a nation full of people that no believe pigskin is the new national pastime.
So now that the Chicago Cubs have broken the 108-year-old billy goat curse, it's only natural that the Yankees and their fans gear up for what should be a wild 2017 ride.
The thing is that here at 'Yanks Go Yard,' we typically offer our views on what we would like to see general manager Brian Cashman and company enact for the betterment of the Yankees. Nine times out of ten it doesn't happen, but every once in a while as they say, even the sun shines on a dog's butt.
If you've even really read an article from top to bottom (not just the headline), you know that we're just as passionate as the next guy or gal. Being biased is part of the job, like it or not. I myself often try to look at situations as a GM of sorts, keeping all things transparent and mostly realistic.
So today, I'm going to offer a number of questions that currently plague next years Yankees' club. It is my intention that you the reader can separate yourself from the ravenous fan inside, look objectively at how this team can better itself in the coming months, and then comment appropriately (the keyword in that phrase).
I'll weigh in on what I feel would do the trick at a later time and date. Until then, here we go!
The Big Question Marks for the 2017 Yankees as of Today
Can Joe Girardi continue to motivate this group of exciting young players and aging veterans?
If the Yankees struggle out of the gate, will management use Girardi as a scapegoat since this is the final year of his contract?
Will the Yankees sign a proven closer that allows Dellin Betances to move back into the 8th inning slot where he thrived? If so, who should they target?
There aren't a ton of reliable starting pitchers available via free agency. Are any better than what the Yankees currently plan on using towards the back end of the rotation?
Cashman flat out said that the Yankees bats were dreadful in 2016. Does the club add one big time slugger, even if they're over the age of 30?
The Yankees need to once and for all decide if Luis Severino, Bryan Mitchell, and/or Adam Warren are better suited for middle relief or the rotation. The uncertainty is maddening and could turn into a Joba Chamberlain-like situation.
Do they lock up Masahiro Tanaka long term due to the fact that he can opt out of his contract after this season? Or do the Yankees roll the dice because of his elbow issues and see how he finishes out the year?
Is Aaron Judge ready to command right field on an everyday basis? Obviously, you can only find out by playing him out there, but how long do you stick with him if he struggles?
Having 2/3 of an outfield that is manned by Brett Gardner and Jacoby Ellsbury may be adequately equipped defensively, but it surely doesn't offer much in the way of producing runs. Can the Yankees really go another full season with both hitting one and two respectively in the lineup?
Aaron Hicks played much better after the Carlos Beltran trade. But that was because both Gardner and Ellsbury were hurt, so he received consistent playing time. Will he be given the same opportunity this season to show if he's part of the plan going forward?
Tyler Austin had some spectacular moments in 2016. But it appears he may be a man without a position next season. Will he only see at-bats as a DH against left-handed pitching or is that a waste of his skills? Could he be the first Baby Bomber we see traded?
Is it safe to say the Rob Refsnyder as the Ben Zobrist Swiss Army Knife experiment has finally come to a close?
Will the Yankees carry three catchers? It's a luxury that means one less arm is in the bullpen.
If the Yankees meander through the first half of the '17 season like they did the last, who's the first big name we see traded to bring back a piece for the future?
Can the Yankees really rely on CC Sabathia to give them 160+ innings again this season?
So there you have it — 15 questions to wet your whistle for all things Yankees related. It will be interesting to see if management answers any this winter, or if we the fans will be forced to play GM to cope with the uncertainty of knowing where te Yankees will finishing in the standings come this time next year.
This article originally appeared on