Teryn's Hot Topics: With playoffs starting, it's a whole new season for the Blues
ST. LOUIS — Today marks the start of a new NHL season.
As far as I am concerned, the playoffs are a whole new season. A whole new start. What has happened over the past two weeks doesn't matter anymore. The only thing that matters is what happens from here on out, one game at a time.
Hockey legend and FOX Sports Midwest analyst Bernie Federko told Nate Latsch of FOXSportsMidwest.com that what he sees now is a St. Louis Blues team that has a better chance of capturing the organization's first Stanley Cup than any other team in quite some time. That's good enough for me.
So why get all bent out of shape and put yourself in a bad mood before anything happens? This should be a happy day in St. Louis. Blues fans should be excited, ready for the Quest for the Cup to begin. This is Stanley Cup Playoffs 2014, baby! And St. Louis has a front-row seat starting tonight!
So I don't think I really need to give my fellow fans a pep talk. Despite any reservations about the team's six-game skid at the end of the regular season, I know we can put our worries aside and bring good vibes to Scottrade tonight. Blues hockey fans are some of the most loyal fans in all of sports, and at the end of the day #WeAllBleedBlue.
We will see you there tonight! Kayla and I will be outside Scottrade starting at 5 p.m. for a Blues playoff rally. Stop by and see us or follow us on Facebook and Twitter for updates on all the fan action.
QUICK HITS
— Did you know one of this year's hit songs, "Royals" by up-and-coming star Lorde, actually refers to the guys down I-70, not the famous family across the pond? Lorde says her Billboard Hot 100 chart-topping single was inspired by a 1976 National Geographic photo of Kansas City Royals Hall of Famer George Brett. And though they were unable to meet up while the New Zealander was on tour in KC, he sent her an autographed jersey that also included the note "Lorde, you are Royal to me." Finally, this past weekend, the two were able to meet while she was performing in Las Vegas. How cool!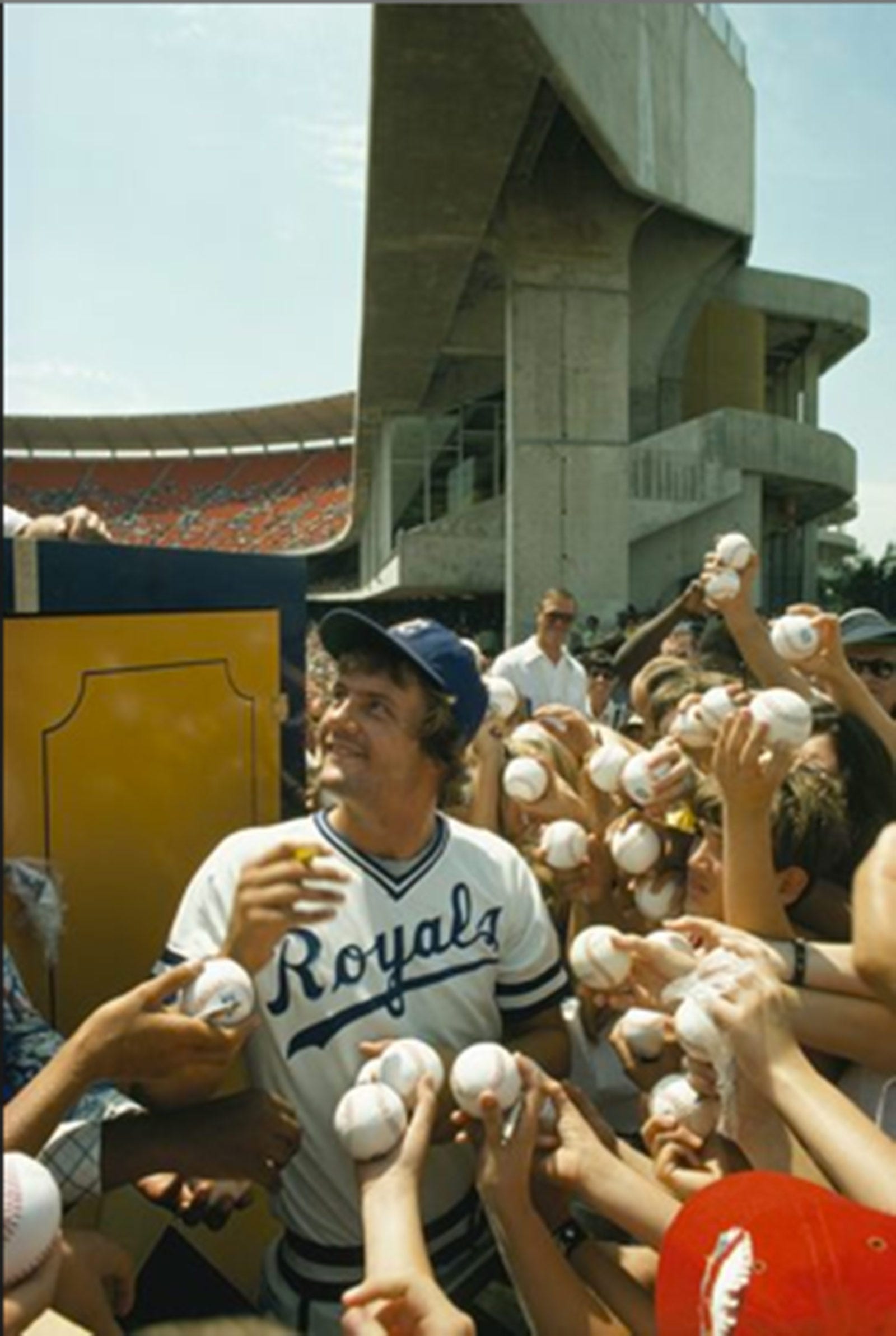 — The St. Louis Rams haven't really been making headlines with their minor moves in the offseason — re-signing offensive tackle Rodger Saffold and bringing in former Titans wide receiver Kenny Britt and former Lions quarterback Shaun Hill rate highest on the scale — but you might want to make note of the team's new $100,000 fan contest. A list of the Rams' 2014 opponents has been released, and the contest asks fans to guess their 2014 schedule down to the 'T' — including the day of the week each game will be played, the opponent, the location and, lest we forget, the bye week. Think you can do it? Enter at stlouisrams.com for your chance at $100,000. This might be harder than this year's Warren Buffett March Madness bracket challenge. Well played, Mr. Kroenke.
— The issue of paying college athletes and their attempts to form a union is far too complex to tackle in this space, but I have to point you to the excellent article on the matter by Sean Keeler on FOXSportsMidwest.com. He wraps the story around former Missouri standout wide receiver T.J. Moe, who has been outspoken on the topic and recently discussed it with Keeler. I think this is, by far, one of the most interesting and important topics in sports today, and it isn't going away. This is just the beginning.
VIDEO PICK OF THE WEEK
Warning: this video may cause your mouth to water and your stomach to growl.
Adam Wainwright has proven time and time again that his lovable personality could land him a gig hosting a TV show after his pitching days are over. From his appearance on the Drury Outdoors Dream Season TV Celebrity on the Outdoor Channel to the kitchen of Pappy's Smokehouse in St. Louis — watch out, Guy Fieri — Waino knows his stuff. The Cardinals' ace just might be the next Food Network star.
SHOUT-OUTS
My first shout-out this week goes to Cardinals starter Joe Kelly. He is scheduled to undergo an MRI on his injured hamstring Thursday after tweaking it while trying to leg out a bunt Wednesday. We all hope he will be OK and return to the rotation soon.
Another shoutout goes to one of my best friend's brothers. Here at FOX Sports we take pride in saluting our troops and paying tribute to those who sacrifice for our country. Missouri National Guard Capt. Philip Kirk and his company deployed to Afghanistan last week and we wish them all the best and a safe return home. #FOXSalutes
Teryn, a journalism graduate of the University of Missouri, is a FOX Sports Midwest Girl. You can follow the FOX Sports Midwest Girls on Facebook (FOX Sports Midwest Girls) and Twitter and Instagram (@FSMidwestGirls).