FOX Sports Midwest Girl Kayla helps bring Spring Training to the Troops
I was honored to represent FOX Sports Midwest and Cardinals Nation in bringing spring training to American troops — last year in Germany at U.SS Garrison Grafenwoehr, and this week to Fort Bragg, N.C. Come along as I recap our incredible week at Fort Bragg!
FEB. 4
1400 HOURS: DEPARTURE
I met up with my fellow FOX Sports Girls and several major league players and broadcasters to fly to Fort Bragg. We dined at Sport USA, a sports bar on base. From there it was off to bed as PRT (Physical Readiness Training) would come early the next morning.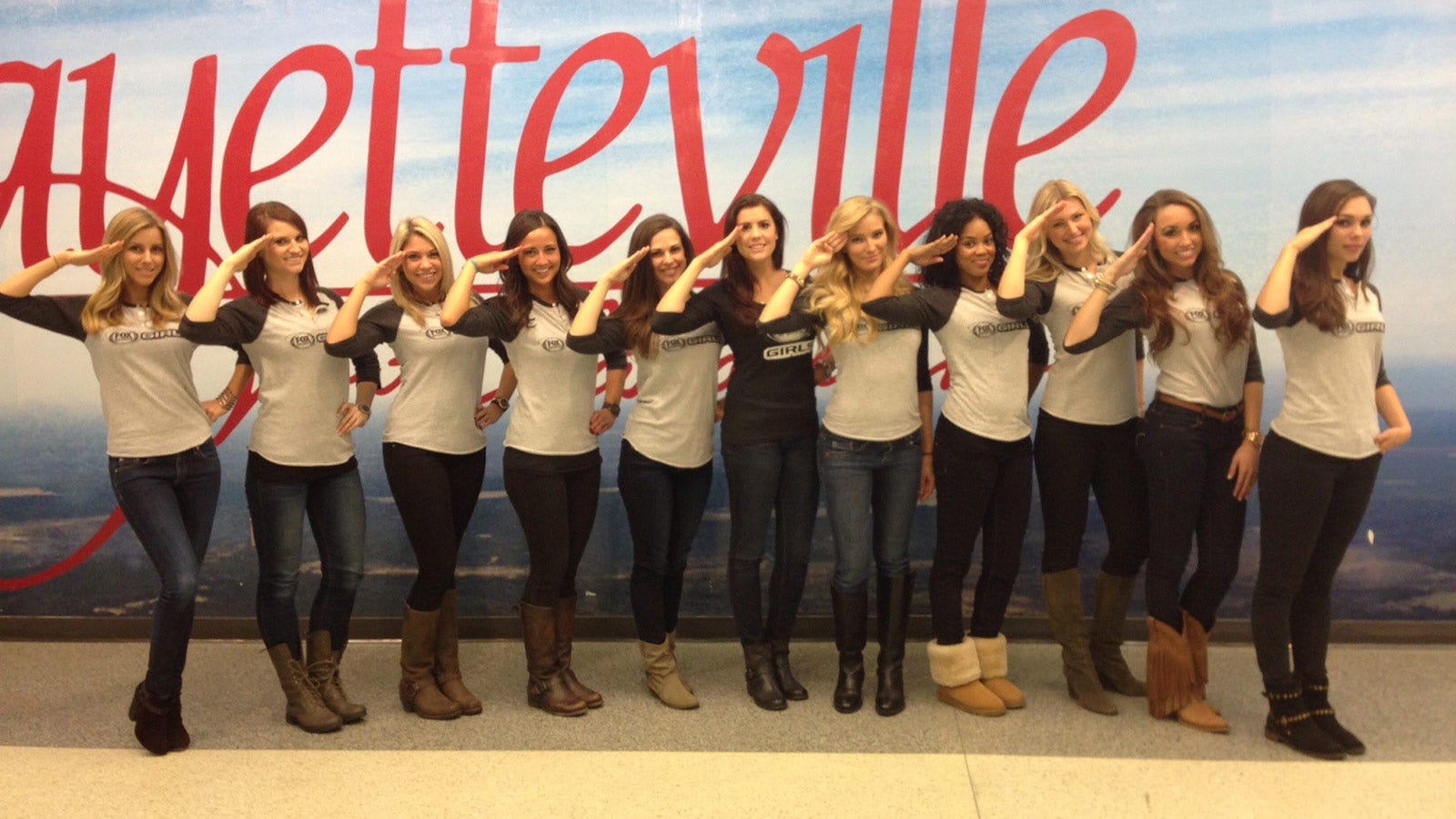 FEB. 5
0530 HOURS: PRT WITH THE NCO ACADEMY
We started each day participating in PRT with the troops, but let me tell you, there is nothing bright about this early morning. On the first day we met the NCO Academy at 5:30 a.m. We quickly got in formation and stood at attention. We started with a few stretches and were told we would be going for a "run." Miami Marlins pitcher Mike Dunn was appointed to lead. It's the Army, so this was no leisurely jog. Mike's pace was not my normal 12-minute mile. We began in what felt like a sprint and didn't stop. I lasted 3/4 of a mile before I had to take a breather. I continued with a jog as the Army's chants and songs motivated me to pick back up. On a normal day the NCO Academy would run 4-6 miles but they took it "easy" on us.
Just finished PRT with the NCO Academy!! What a workout! #FOXSportsSalutes 💪 -Kayla pic.twitter.com/4740uZyWOy

— FSMidwest Girls (@FSMidwestGirls) February 5, 2014
0700 HOURS: BREAKFAST 82D CAB DFAC/LUNCH
Every day for breakfast and lunch we joined the troops in their respective dining halls. It was one of my favorite parts of the trip because we got the opportunity to sit down and really get to know these men and women. On the last day I met Jeff from St. Peters, who wanted everyone to know, "Go Cards!"
Well look what I found at lunch in the dining facility! #MizzouNation -Kayla pic.twitter.com/Od5Li7jyqC

— FSMidwest Girls (@FSMidwestGirls) February 5, 2014
1000 HOURS: XVIII AIRBORNE CORPS HEADQUARTERS
After PRT we went to the XVIII Airborne Corps where General Chinn and Colonel Sanborn greeted us. We took a group picture in front of the Iron Mike Statue, the centerpiece of Fort Bragg It's based on a soldier from World War II. Fort Bragg is home to the Airborne and the Army's Special Operations Forces. It houses over 57,978 service members and 257,615 people, making it one of the largest instillations in the U.S. The men and women at Fort Bragg are the first to respond to a national crises and the last to leave. As they like to say, "When the President dials 911, the phone rings at Fort Bragg."
1100 HOURS: ALBRITTON MIDDLE SCHOOL
We visited Albritton Middle School where a few hundred kids greeted us with screams and cheers. While I'm sure they were more excited to see the MLB players, it was so fun to see the big smiles on their faces. Royals broadcaster Rex Hudler emceed a Q&A session. Tampa Bay Rays pitcher Chris Archer encouraged students not to take rejection and no for an answer when following your dreams. He left them with the quote, "don't fit in, stand out" that I myself took to heart.
.@ChrisArcher42 & @sluggernation helped make a memorable day at @FtBraggNC's Albritton Jr. High. #FOXSportsSalutes pic.twitter.com/i8gLuaaqOO

— FOX Sports: MLB (@MLBONFOX) February 5, 2014
1300 HOURS: PARACHUTE PACKING FACILITY
This Army job is a big responsibility that requires nearly four months of training. At the parachute packing facility, four leaders raced to pack the fastest parachute. After 15 minutes the winner was crowned. That was just one of the twenty-five they are required to pack every day. The parachutes they use today are the same type of parachutes they used in World War II because of how effective and durable they are. Next, it was our turn! I thought PRT was hard but ten minutes into this I was sweating. Parachute packing takes tremendous strength
Wrapping up at the Parachute Packing Facility with Chris Hammond. 95lbs of pack! @FtBraggNC #FoxSportsSalutes -Sara pic.twitter.com/WMSt2AyC66

— FOX Sports Girls (@FOXSportsGirls) February 5, 2014
0900 HOURS: MSTC AT POPE FIELD
We arrived at Pope Field for MSTC (Medical Simulation Training Center). What happened next was eye opening. We learned how to dress a wound depending on the type of wound and severity. We then were assigned to groups and sent out in the woods where a command officer guided us through a war scenario. We worked as a team to climb an eight-foot wall, crawled under barbed wire and ran through trenches, looking out for the fake land mines. Suddenly, we came across a four-wheeler stocked with face masks and loaded paint ball guns. We were told to keep the masks on until we got the "all clear." As we pressed forward, shots were fired and paint balls began to fly. It was at this moment I knew I was not cut out for the Army. And these were only paintballs. To imagine being in a real life situation was chilling. I hid behind a wall and screamed. We walked up to a war zone with mannequins whose wounds we dressed from the training we received earlier. At that point we had completed our mission.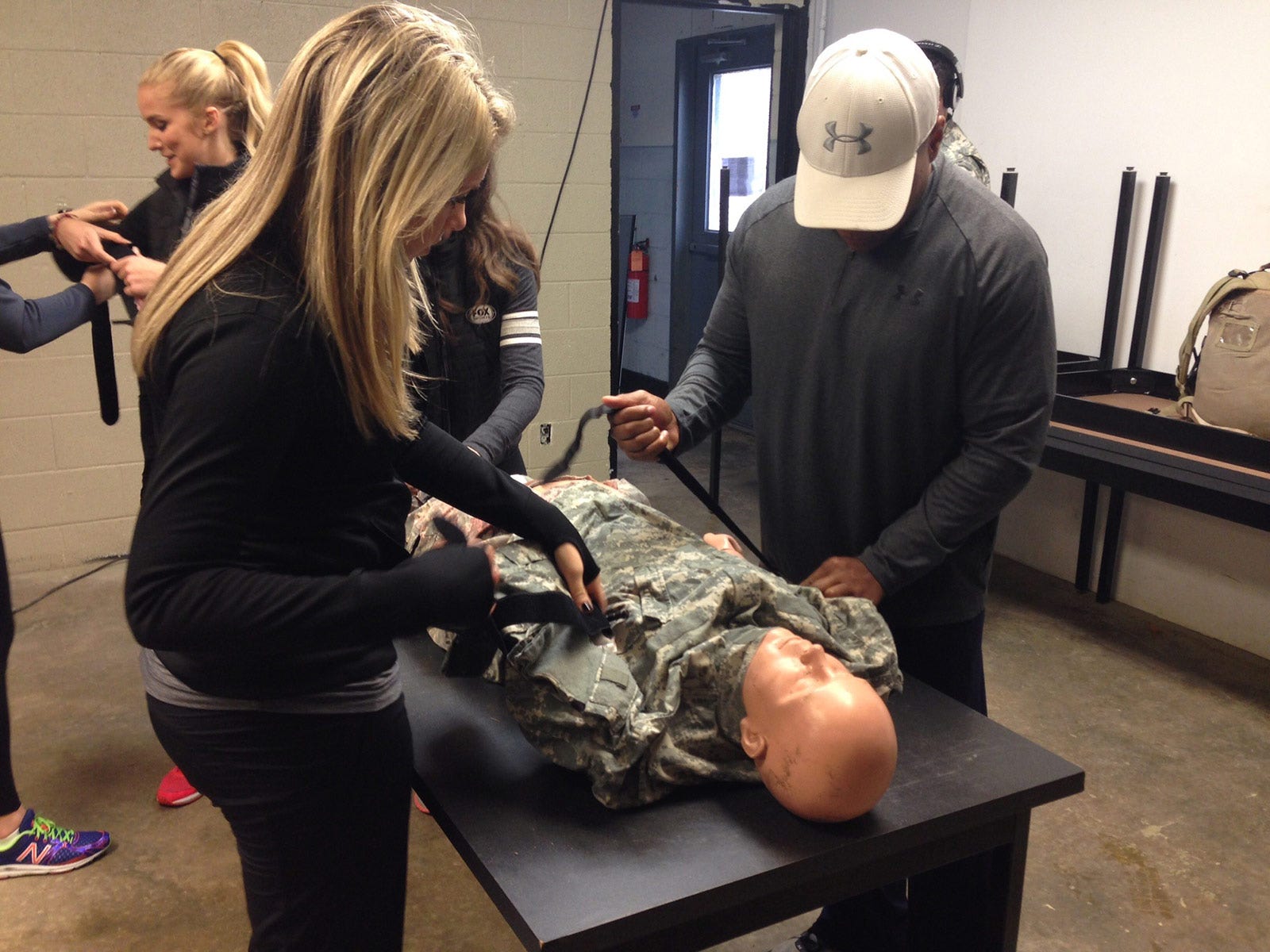 1600 HOURS: YOUTH BASEBALL CLINIC
Before we kicked off the baseball clinic we acknowledged the Gold Star families. These are surviving spouses, parents and immediate family members of Armed Forces members killed in combat operations. After the Gold Star families received a standing ovation, we split the 80 kids into groups where they were able to get instruction from Archer, Dunn former Cardinals shortstop Royce Clayton, former Reds pitcher Chris Hammond, Hudler, former major leaguer and Brewers announcer Davey Nelson and announcer and former Astro Jose Tolentino. After the clinic the kids received bats, team hats, posters & baseballs.
FEB. 6
0600 HOURS: PRT 16TH MP BDE
Day 2 of PRT was not any easier. As I started to walk with my group to the first circuit training station I was reminded that in the military you don't walk, you run. "Left, left… left, right, left." Pull-ups, sit-ups, push-ups, lunges, v-ups, flutter kicks and burpees.
Just finished breakfast with the troops, now off to the 34ft tower jump! #FoxSportsSalutes pic.twitter.com/Z4gVEsx0kt

— FOX Sports Girls (@FOXSportsGirls) February 6, 2014
1500 HOURS: 34-FOOT TOWER JUMP
In World WarII my grandfather Norm served in Korea while my great uncle Joe was a paratrooper on D-Day and at Battle of the Bulge. So the 34-foot tower jump hit close to home. You get the feel for what it would be like to jump out of plane. Although 34 feet isn't 35,000 feet, they said if you could pass this test you can train to be Airborne. After getting my parachute, reserve parachute and helmet I walked up the tower to take the leap of faith. Before jumping I stated my name and where I was are from followed by AIRBORNE. Then I held my breath and screamed while sailing through the air.
1100 HOURS: RANGE 37 WITH THE USAOC
We knew we'd get to see the USASOC (United States Army Special Operations Command) show their skills on the shooting range but we didn't know we would participate, too! My group started at target practice with a Glock and AR 15. The AR 15 is heavy and has a forceful kick. We then moved to sniper training.
1300 HOURS: WIFFLE BALL COMPETITION
It's in the books. Bragging Rights tops the Midnight Warriors 9-4 at @FtBraggNC. #FOXSportsSalutes pic.twitter.com/8g2mkdd0Ne

— FOX Sports: MLB (@MLBONFOX) February 6, 2014
Finally it was time for our second annual wiffle ball competition with the current and former MLBers, FOX Sports Girls, and service men and women. Afterward, I got to hand out Cards jerseys to troops that the Cardinals sent with me! There is nothing like seeing our men and women in uniform light up at the sight of their favorite team.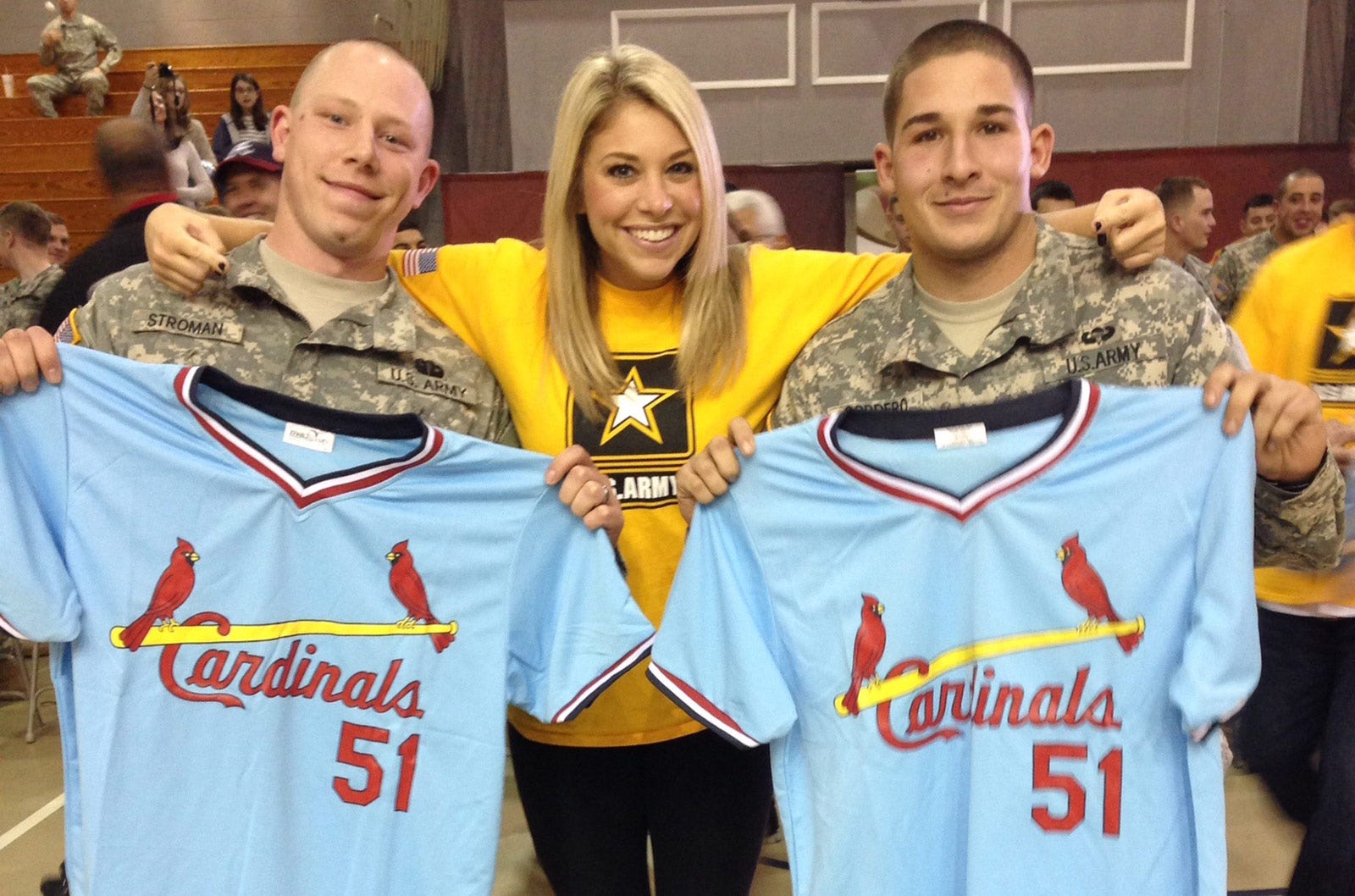 1900 HOURS: COMMAND LEADERSHIP SOCIAL AT McKELLERS LOUNGE
Our last dinner at Fort Bragg was with the Command Leadership consisting of General Chinn, Colonel Sanborn and other high-ranked officials at McKellers Lounge on base. There I met Sergeant First Class Eric Gray from the St. Louis area. SFC Gray was stationed in Iraq during the 2011 World Series. His roommate at the time was a Rangers fan and they watched Game 6 and 7 together. SFC Gray said he loves being able to come back home to Missouri. "When I'm on I-64 and can see the Arch near the border, its pedal to the metal. I can't drive fast enough!"
FEB. 7
0600 HOURS: PAY DAY ACTIVITIES RUN
Morning! Up bright and early here at Fort Bragg for the Pay Day Run!#FoxSportsSalutes -Sara pic.twitter.com/dacYgQGkF9

— FS Ohio Girls (@FSOhioGirls) February 7, 2014
The first Friday of every month is known as the payday run. This dates back to World War II when soldiers would line up to get their paycheck. In keeping with tradition, the troops join their platoons for the 5-10 mile run, or two if you're with the FOX Sports group.
These men and women serving our country have all my respect and admiration. I leave Fort Bragg humbled by the service and sacrifice of each and every soldier.