With the NBA and KC, never say never — though we're getting close
KANSAS CITY, Mo. — Now that the hangover has worn off (sort of) and we've emerged from Paul Rudd's mom's house relatively unscathed (kind of) and yep, the Royals are still in the World Series, like our heads, the rest of the world keeps on spinning.
And continuing with our 1985 throwback theme of the week, hey, the NBA is back in Kansas City!
Well, for a night.
And for an exhibition.
And no LeBron James.
But still: NBA! Here! Now! Mario Chalmers! Steph Curry! Heat! Warriors!
"I think the big thing is about ownership and corporate sponsorship and suites," says Scott Wedman, former star of the old Kansas City Kings, who called the city home — more or less, it was complicated — from 1972 through '85. "Whether they would be a part of it. Maybe it has potential where it would work. I just don't know if we're going to get a chance."
Oh.
The Heat and Warriors lock up Friday night at Sprint Center in a preseason tilt, and for Kansas City and AEG, the company that runs the facility, it's really more a drive-by than an open audition. It isn't that the dream of a permanent pro basketball tenant in the Power & Light District is dead so much as it … well, remains in limbo. As with sports fans in Kansas City, the powers that be in the NBA have their eyes on other things at the moment.
"I really think it's going to be (about) an NBA China and an NBA Europe someday," says Wedman, a native of Harper, Kan., who was drafted by the Kings in 1974 and later coached the Kansas City Knights of the defunct American Basketball Association. "It's going to be a global game. There are naturally viable teams on those continents right now."
It's coincidental and maybe a little freaky that we've had 1985 hammered into our brains here over the past six weeks or so as the 2014 Royals keep knocking down very, very old baseball benchmarks, benchmarks dating back 29 years — first playoff berth since '85, first postseason win since '85, first postseason series win since '85, first ALCS appearance since '85, first pennant since '85, first World Series since '85, zero playoff losses since '85, and on down the line.
Because 1985 is also when Pennant Fever Central stopped being an NBA city — and it hasn't really had a genuine bite of the apple since.
The NBA, that's an expensive ticket. There may be 10,000 NHL fans (in greater Kansas City), (but) are they going to be buying season tickets to every game and will they bring two friends to every game?
Kathy Nelson, president and CEO of the Greater Kansas City Sports Commission and Foundation
On Jan. 21, 1985, the then-Kansas City Kings filed paperwork with the NBA to start the process of a move to Sacramento, capital city of the Golden State. The last home date at Kemper Arena was on a Sunday, April 14, a 122-116 loss to the Los Angeles Lakers, putting the cap on a 31-51 season — the ninth losing campaign over 13 years in Kansas City.
"We had eight or nine different owners," says Wedman who, along with Otis Birdsong, lifted the Kings to the 1981 Western Conference finals against Houston, averaging 19 points and 5.3 boards per contest. "And it was inevitable.
"If they could have hung on for another couple years, I think they would have stayed. Everything just became that much more profitable and with the (new TV) contract and all that, then I think they would've had a good chance of staying."
In November 1989, the NBA signed a four-year, $600 million contract with NBC, cashing in on the momentum of the Bird-Magic decade. Of course, by then, it was too little, too late for pro hoops fans in Kansas City: The Kings had been on plywood planks from the get-go here, as was their history. The club has always been one of pro basketball's oldest but most mercurial operations, a franchise that never seemed to take anywhere, always moving west, launching in Rochester as the Royals, bailing after 12 years there, cuddling up to Cincinnati for 15 years before a 13-year stay in Kansas City.
Although the first six seasons here were strange, too, with the club christened the "Kansas City-Omaha Kings," a team for the Great Plains, the I-29 corridor, Big Eight country, splitting home dates between Kemper to the south and Civic Auditorium up in Omaha. The end result was that neither market gained a hell of a lot of traction, and the Nebraska side of the equation was eventually phased out.
"It's quite a bit different (now) than Kemper in the late '70s and early '80s — location, proximity around town," Wedman says of the P&L. "I think it's a great combination, the way they've got it set up."
But 30 years ago, not so much: The gates were not great, Kemper was not great, the teams were not great, and if you're a fan of the (now departed) Seattle Supersonics, you already know how this one ends — the saga that broke hearts in the Pacific Northwest played out in eerily similar fashion in the City of Fountains a generation earlier. An investment group from a big, pro-sports-hungry town (in this case, Sacramento) bought an established NBA franchise that was on shaky ground in 1983, then walked in and stated publicly that they had no intention of moving the team. Of course, the lease at Kemper was due to expire after the 1984-85 season, and when the investment group saw a club entering its "free-agent year," so to speak, it pounced.
Before long, there were reports of that same investment cadre sniffing around for possible stadium sites in Sacramento, then some snarky remarks between city officials and the new owners, and the game was over. The lesson then, as now, is the same: When an investor or investors from a city that wants to become an NBA town buys a team in your NBA town, chances are your NBA town is about to become less of an NBA town.
At any rate, what's done is long since done and dusted. But unlike Seattle, Kansas City has been sitting with an NBA-ready, NBA-worthy arena, in a world-class entertainment district, for nearly eight years now with everything in place. Everything, that is, except a so-called anchor tenant from the NBA or the NHL. The latter teased a possible Pittsburgh Penguins move when stadium negotiations in the Steel City hit an impasse in 2007. Ultimately, the Penguins got a new building and stayed put, and Sprint remained empty.
Fine, fine, fine, not empty. Flexible.
"You can't move a team without the ownership part of it, and that's not our focus," says Kathy Nelson, president and CEO of the Greater Kansas City Sports Commission and Foundation. "We're not (really) focused on the NHL or NBA."
Nelson is a local — she even played in the old Kings pep band. She bleeds Royals blue and Chiefs red and Sporting teal as proudly as anyone. But even she wonders if the market is, more or less, tapped out at present.
"How far does that dollar go?" Nelson asks. "That's what's concerning. Are we really putting butts in seats?
"The NBA, that's an expensive ticket. There may be 10,000 NHL fans (in greater Kansas City), (but) are they going to be buying season tickets to every game and will they bring two friends to every game?
"So if you ask me if we're out there trying to attract a team, I wouldn't say that we are not, but at the same time, we're not aggressively doing that. That doesn't (necessarily) fall on the sports commission — that's a matter for AEG, Sprint Center business."
There's another factor in play, too in terms of trickle-down dollars left on the pie chart once the Chiefs, Royals and colleges (Kansas, Missouri, Kansas State, primarily) have gotten their bite of consumers: Sporting Kansas City. The MLS is now the star attraction for the new-money side of the metro, the heart of a retail-and-development district that marks the western gateway to town the way the Truman Sports Complex has done with the eastern gateway for generations.
Sporting Park has a capacity of 18,467 seats for soccer matches; Sporting reportedly sold out its allotment of 14,000 season tickets before the start of the 2014 season for 17 home dates. An NBA and NHL home schedule each features 41 regular-season dates. The former's New Orleans Pelicans reached the 10,000-season-ticket mark only in 2011, when they were the Hornets, and had long been earmarked — in tandem with the Kings, again — as one of the league's leading targets for relocation until Saints owner Tom Benson and his group stepped in to purchase the club.
Given the overhead, a season-ticket base of, say, 9,500 for your MLS franchise isn't exactly desirable, but it's workable. But if an NBA or NHL club is dealing with the same kind of numbers, the owners are probably going to start looking to get the team out the door. Or get out themselves.
To put it another way, and this isn't to slight Sporting, but Kansas City at the moment — with a reported metro population of 2.34 million — probably has realistic room for 2.6 professional sports teams that can all fit on the boat. That 0.6 in question likely wouldn't sustain an NBA franchise, per se, but a well-run MLS one — and Sporting is considered one of the jewels of the league and has helped to fuel Kansas City as a major soccer hub for the United States — could endure, and even thrive.
"And then when you think about the demographics (with them) and how they're targeting that, they have done a great job targeting millennials and the people who are willing to spend that money," Nelson says. "And they provide an 'experience.' Sporting provides an 'experience.'
"We're a small non-profit; we don't pay great. And young people on our staff, they have season tickets to Sporting and they will not give them up. And to market that is incredible. They go early, they stay late, they go to watch parties when they're on the road, they go to Sporting Park and they get this 'experience.' With an NBA and an NHL game, does it feel the same? I don't know."
The more you look, the more hurdles you find. The NBA has set a pretty clear profile for its target markets: Either massive global metros that have yet to be tapped — Beijing, Mexico City, London — or, in considering areas outside the 10 largest in the U.S., would it be the first choice for the sports dollar or, better yet, the only big-league team in town? Memphis and Oklahoma City, like Sacramento before them, gave the NBA a clear, unblocked path to the front page of the sports section. And the Thunder's success to this point gives the league a Great Plains foothold again that makes Kansas City, in the big picture, on the giant league map, geographically redundant.
Of course, in pro sports, you never say never — look at the Royals, people — and Josh Riesgo has both feet firmly in the "never" camp. Riesgo is co-founder of Charlie Hustle sportswear, the local clothing line most famous for those "heart KC" shirts that you'll see worn by celebrities such as Rudd, who grew up in Overland Park. Among their many fashion offerings is a blue shirt that reads, in a very '80s, retro font:
"Our parents would talk about how they used to have the Kansas City Kings and the NBA was here, and it's gone," Riesgo says. "Think about the Chiefs leaving or the Royals leaving. How did you let them leave? What's going on? What, did you NOT go to games? (They said) 'They were terrible.' We're like, 'That is crazy to us.'"
Riesgo contends the Kings shirt remains among the top five best-selling items in their entire catalog, and that it makes "a good conversation piece." And speaking of conversations, AEG CEO Tim Leiweke told KHSB-TV exactly two Octobers ago that his group was, indeed, still in the hunt for anchor tenants, sniffing for teams that may want a sweetheart lease in a sweetheart of a town. But the urgency of 2007 is gone now.
"What everyone in the business community believes is the diversity of those events is far more appealing than trying to go compete with the Royals and the Chiefs and the soccer team and trying to pull more money out of season tickets," Leiweke told KHSB. "So if there's a team that is moving, we're engaged. We actually have a pretty good group of people here that are interested in buying a team, probably hockey more than basketball because (Kansas City is) a great college basketball marketplace.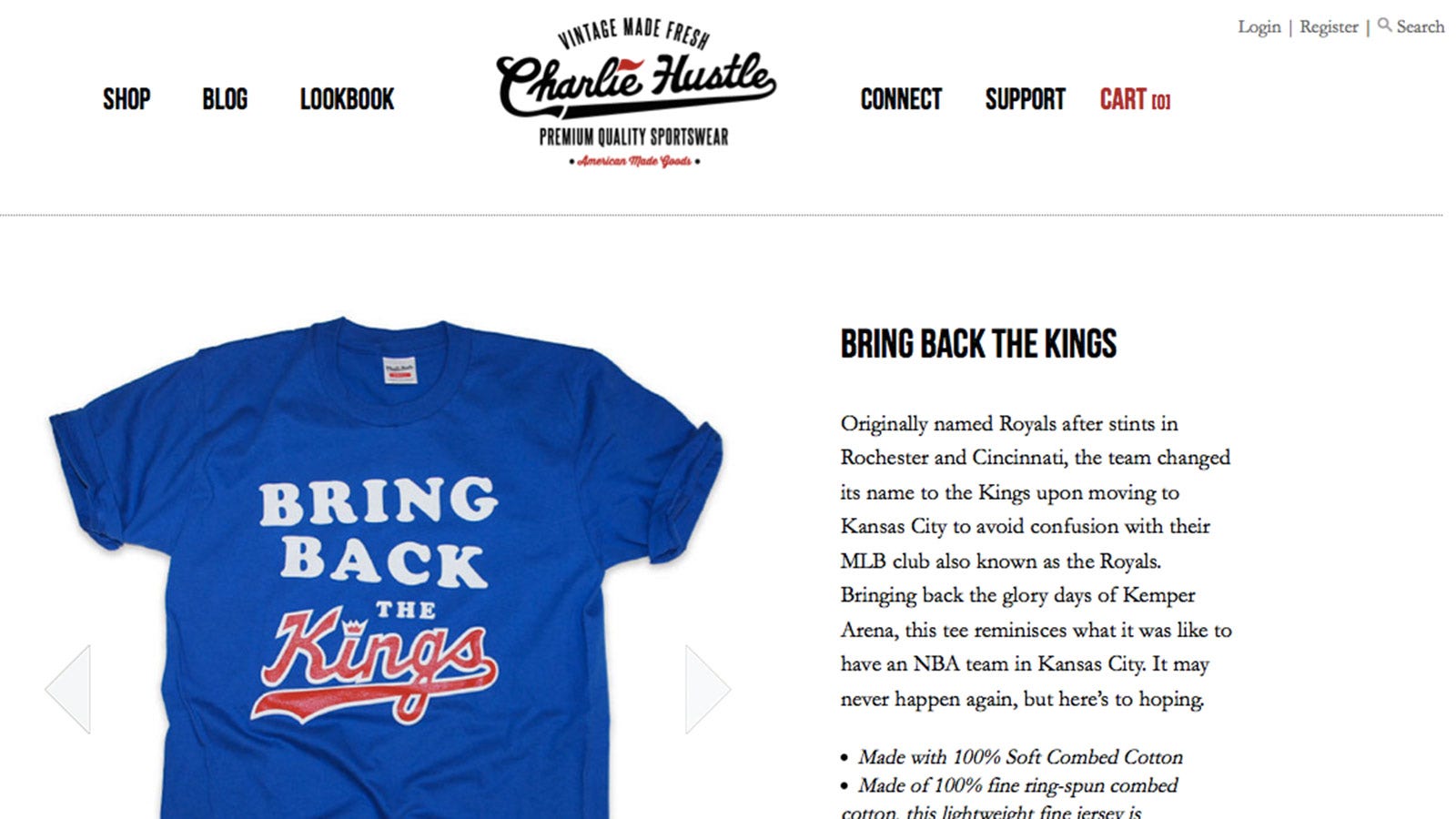 "That said, I think the brilliance of Sprint Center is, I think the business community and the community as a whole loves the diversity of the 140 events a year that we're doing here. We're making more money than anyone ever thought we would make. We're giving a lot of money back to the city. And whether it will be the mayor or the business community, what everyone is saying now is, 'You know what? Stay the course. This is pretty good, what's going on here.'"
Bottom line: Sprint isn't exactly hurting for dates. Or dollars. Because of the provisions in the management contract between AEG and the metro, Sprint Center director of communications and marketing Shani Tate Ross says the city of Kansas City proper has received $10 million in "unanticipated revenue," collectively, since the building opened in October 2007, or roughly $1.43 million, on average, per year.
The P&L district has hosted at least one NBA exhibition a year since 2008, save for the lockout fall of 2011. While Ross says there isn't one on the docket for 2015 yet, "we are very pleased with the event — as is the (Heat)."
That said, she also notes that plenty of good seats were still available as of mid-Thursday afternoon. After all, you'll need something to do with your disposable income between now and Game 1 at Kauffman Stadium on Tuesday night.
You can follow Sean Keeler on Twitter at @SeanKeeler or email him at seanmkeeler@gmail.com.