With postseason unlikely, upcoming homestand could be it for Royals' core
KANSAS CITY, Mo. — The Kansas City Royals will open their final homestand on Tuesday with the first three games against the Detroit Tigers.
Barring a miracle of Biblical proportions, the Royals will not rise to extend their season into the playoffs. Their "tragic" number is one after their Monday loss to the New York Yankees, meaning one loss or one Minnesota victory will result in Kansas City being official eliminated.
The Royals went 4-7 on their four-city final trip and ended with a 37-44 road record. They are four games below .500.
The list of Kansas City free agents this offseason include Eric Hosmer, Mike Moustakas, Lorenzo Cain and Alcides Escobar, part of the core of the club's back-to-back American League championships and the victorious 2015 World Series team. Also, Jason Vargas, who starts Tuesday, will be a free agent.
While the games might be essentially meaningless, manager Ned Yost recognizes the Kansas City fans will want to see their star players again before they likely bolt for greener pastures.
"You're definitely aware of the possibility that could happen," Yost told the club's website. "These guys have been going so hard this year and they're all beat down. You would really like to just give them a couple days off, but it's hard to do because our fans are going to want to see them.
"We'll pick spots and give them a day off — but multiple days off, probably not. We'll just try to balance it so they get a bit of a break, but it doesn't take away from giving our fans a chance to see them play."
Yost will get no sympathy from lame-duck Tigers manager Brad Ausmus on a team being beat up.
Tigers slugger Miguel Cabrera has two bulging disks in his back, a Sunday MRI exam revealed.
"He's already indicated to me that he wants to go on the road," Ausmus said. "We're certainly not ruling out the possibility that he can play again. I would imagine if he did it would be in a DH role. It really depends on the treatment."
Ausmus believes Cabrera should be utilized more as the DH and play fewer games at first base in future seasons.
"Not only do I think it would benefit him, I think that's probably going to happen. But that's not my call," said Ausmus, who did not have his contract renewed for 2018.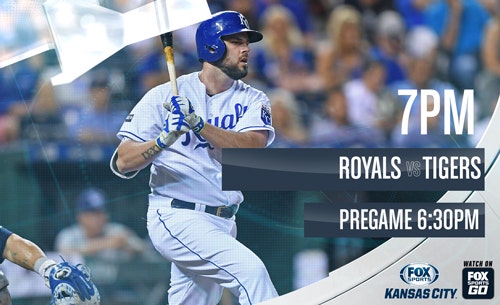 Other wounded Tigers are third baseman Jeimer Candelario (swollen right knee) and outfielders Tyler Collins (intercostal muscle issue) and Mikie Mahtook (groin strain). Candelario is expected to return Tuesday, while Mahtook is finished for the season.
The Tigers have lost seven straight and are 4-20 in September. One of those victories was a 13-2 rout of the Royals in a game started by Vargas.
Anibal Sanchez will start the opener of the series for Detroit. Sanchez will be making his 27th appearance and 16th start this season. He is 3-5 with a 6.68 ERA. Sanchez has thrown six innings and allowed one run in each of his last two starts.
Sanchez is 6-5 with a 3.03 ERA in 17 career appearances, 15 of them starts, against Kansas City. He is 0-1 with a 12.27 ERA in two appearances against Kansas City this season. He is 3-3 with a 2.49 ERA in eight career appearances at Kauffman Stadium.
Melky Cabrera is 18-for-42 and Hosmer 14-for-40 with one home run off Sanchez.
Vargas is 17-10 with a 4.03 ERA in 30 starts this year. Only Clayton Kershaw of the Los Angeles Dodgers and Corey Kluber of the Cleveland Indians, each with 18 victories, have won more. Vargas' 17 wins are the most by a Royal since Paul Byrd also won 17 in 2002.
Vargas has not fared well against the Tigers this season. He is 0-2, permitting 13 runs in 4 2/3 innings.