Move over, Rudy: KU suits up — and plays — its student manager against TCU
LAWRENCE, Kan. — Rudy, meet Huey.
As in Chris Huey, a senior at the University of Kansas who serves as a team manager for the Jayhawks' basketball program. Actually, make that team manager and backup forward.
The 6-foot-7 Kansas City-area native made his NCAA Division I debut late Saturday afternoon — as a player.
"I can't really put into words how it felt," said Huey, who entered No. 8 KU's 81-72 win over Texas Christian with 35.1 seconds to go, much to the delight of a riotous Allen Fieldhouse crowd. "But it's definitely a dream come true."
The Hollywood dream has a Hollywood back story, too. Huey had played collegiately at NAIA Saint Mary in nearby Leavenworth, Kan., only to have that chapter cut short by a collapsed lung — actually, three different collapsed lungs.
He transferred to Kansas and served amiably in the background for coach Bill Self's program, even cycling in as a practice player and dummy-holder. He served so well, in fact, that Self decided to give the manager one chance — and one chance only — to suit up before the home crowd at The Phog.
"We've talked about it for (more than) a month now, because you've got to make sure he's eligible and go through all of the things that you have to do," the coach said Saturday. "So I decided that, because he's a senior, that it would be a pretty cool deal."
Which it was. And Huey made the most of his chance in the spotlight, almost immediately diving to the floor in an attempted steal, then picking himself up and contesting the shot at the rim.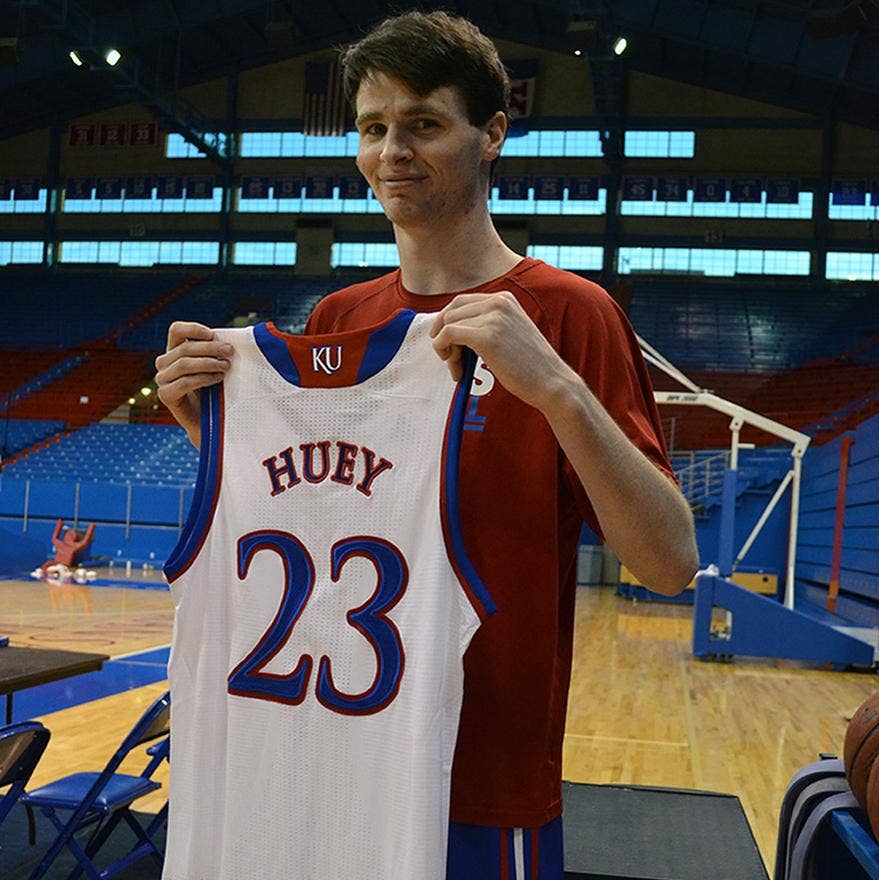 However, the Hollywood dream didn't exactly get the Hollywood ending. With 14 seconds to go and KU leading 81-72, Huey got the rock and cut hard to the right side of the lane, soaring in for what appeared to be a clean layup.
"A lot of juice, definitely a lot of juice," the manager cracked after the game. "If I could have jumped, I would. My legs were just shaking. My legs were just dead."
Alas, the ball went up too high off his hands, missing hard off the backboard.
"Stuff like this doesn't happen that often," teammate Jamari Traylor said. "I wish he'd made that shot so bad."
In the movie version, it bounces in. And in his head — and in the heads of a lot of student staffers who have probably wanted to live the same dream — it'll feel like a basket.
Now. Forever. Always.
"Even (when you aren't) a player, the crowd is amazing," Huey said. "But that's the best feeling I've ever had."
You can follow Sean Keeler on Twitter at @SeanKeeler or email him at seanmkeeler@gmail.com.